The 8th Glenmorangie Private Edition Release: The Glenmorangie Bacalta
CONTENT: Yiew Kai Jie
IMAGES: Glenmorangie
If you are a die hard whisky aficionado, collector of unique or rare whiskies in Singapore, you are in luck. For the first time, many will get to enjoy the award-winning Private Edition collection from Glenmorangie. The label has launched the eighth release of its Private Edition collection, the Glenmorangie Bacalta, in Singapore.
Eagerly anticipated by whisky aficionados for 2017, the Glenmorangie Bacalta is finished, stored and left to mature entirely in sun-baked Malmsey Madeira casks.
Each year, the Private Edition collections consists of rare and intriguing single malts that lures whisky connoisseurs to explore the Scottish Highland Distillery's passion for innovation. The limited edition Glenmorangie Bacalta was introduced by Glenmorangie's Head of Maturing Whisky Stocks, Brendan McCarron at an exclusive tasting at the lush Botanico at The Garage, nestled in the iconic Singapore Botanic Gardens held recently.
The Origins of the Bacalta
The gentle warmth of long, balmy days in the tropics has inspired the latest release in Glenmorangie's sought-after Private Edition. Glenmorangie Bacalta (Scottish for baked) has taken a unique journey through extra-maturation in its casks.
Bespoke at every turn, its custom designed Malmsey Madeira finish reveals a complex character which radiates sun-baked sweetness.The inspiration for this limited edition first glimmered more than 20 years ago, with the release of Glenmorangie Madeira Finish, the world's first whisky extra-matured in Madeira casks, by Dr. Bill Lumsden, Glenmorangie's Director of Distilling, Whisky Creation and Whisky Stocks.
As Dr. Lumsden's apparent heir, Mr. McCarron worked alongside the master distiller on the Glenmorangie Bacalta, where he learnt Dr. Lumsden's preferences, thoughts, work processes, and invaluable expertise. For the Glenmorangie Bacalta, Dr. Lumsden was determined to realize his vision of the perfect Madeira-finished Glenmorangie. He drew on the expertise gained from the Distillery's years of pioneering work in cask management.
Steps Towards Perfection
First, Dr Bill arranged for bespoke American oak casks to be carved and heavily toasted. The casks were then seasoned to his exact specifications by Malmsey Madeira wine, the sweetest and most prized of the range of Madeira wines, and baked to maturity as the casks lay in the heat of Madeira's sun to ensure that the finest flavours would emerge. Once the casks had reached peak maturity, they were emptied, shipped to Scotland and filled with specially selected spirit – already matured in ex-bourbon barrels – the Malmsey casks lent layers of sun-baked sweetness to the Glenmorangie Bacalta.
"For years I had longed to create the best Madeira-finished whisky possible. Realizing that ambition took time and dedication, as every step of extra-maturation was tailored exactly to our specifications – rather like haute couture. Connoisseurs will recognize the radiating warmth of our bespoke sun-baked casks in Glenmorangie Bacalta's aromas of ripe apricots, white chocolate and mineral notes. There are complex tastes of mint toffee, baked fruits, honeycomb, almonds and dates, mingling with marzipan, white pepper and melon – and a rich, syrupy finish. Glenmorangie Bacalta is a burst of sunshine in a glass."said Dr. Bill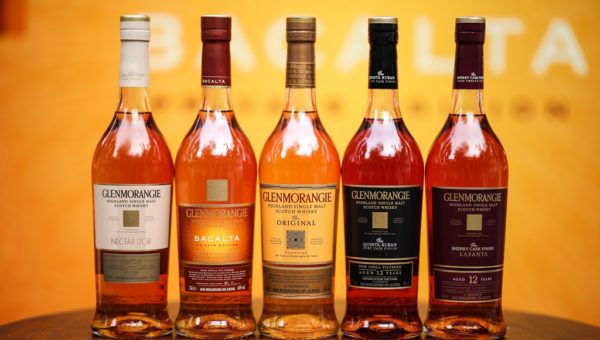 Explaining the appeal of the brand's Private Editions, Mr.McCarron said, "For Private Editions, a few select bottles are created in one batch and we keep it small intentionally so we can experiment and really push the flavours through. At Glenmorangie, we pride ourselves in our innovative spirit and in creating very complex whisky. All these things brought together make up the Private Edition. We see Singapore as an emerging market for whiskies, and one that is noticeably drinking more Glenmorangie whiskies. By introducing the Private Edition here, we hope to give more people in Singapore a chance to savour our special creations."
So if you are looking forward to taste or to collect a bottle of unique edition of whisky, do try out a bottle of The Glenmorangie Bacalta. Despite there being a wide variety of limited edition whiskies being released by various brands over the past years, The Glenmorangie Bacalta will not fail to impress and soothe any whisky lover's soul after a hard day's work!
The Glenmorangie Bacalta can be enjoyed in Singapore at bars including Chop Suey Café, Dempsey — PS. Cafe, Liquor Bar, The Garage at Singapore Botanic Gardens, Monti, The Summerhouse, and 1-Altitude.
Those interested to purchase a bottle of Glenmorangie Bacalta can do so from the following retailers: The Whisky Distillery, Le Vigne, 1855 The Bottle Shop, The Standish, Le Rouge, Bottles & Bottles, and popular online liquor store Asher BWS (www.asherbws.com).
The Glenmorangie Bacalta is produced as a small-batch special edition and will be available in Singapore only while stocks last.