Tong Xin Ru Yi Traditional Hotpot: Indulge in Soups Chocked to the Brim with Ingredients in a Refined Artsy Atmoshpere!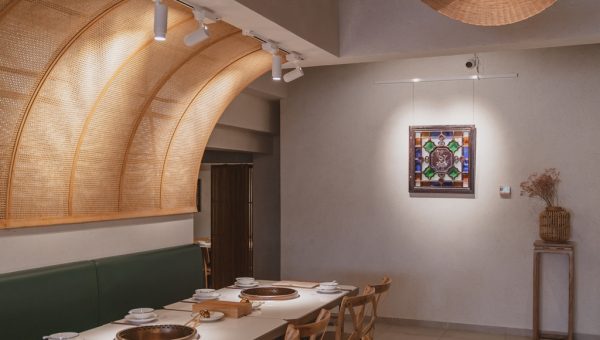 CONTENT: Yiew Kai Jie
In a highly competitive hotpot market that is largely dominated by Hai Di Lao and Beauty In The Pot, a new hotpot establishment intends to carve its own stake in the hotpot market with its unique slow-cooked soup bases that will be sure to astound many hotpot veterans.
Located at Boat Quay, each soup at the 150-seater Tong Xin Ru Yi was conceived through months of conceptualizing, R&D and repeated modifications to the recipe until it achieved perfection. Just like a well-oiled machine, various ingredients are added in at the right moment to ensure that the entire hotpot works as a cohesive feast. Additionally, the long hours of slow-cooking ensures the build-up of the bold and robust flavours of each soup that will go along well with the various ingredients on the menu.
The Broth
While there is a wide range of soup bases to choose from, two of them are deemed to be the crowd's favourite soups so far. The Spicy Marinated Beef with Spicy Soup ($48) contains a plethora of knife-tender braised beef meat chunks, tender beef tendons and delicate slices of backstrap beef and includes deep-fried golden tofu and finally a fiery combination of Sichuan peppercorns, Sichuan Chilli slices and traditional herbs and spices. Be warned: This soup is extremely lethal! The sharp and intense spice will instantly hit or overwhelm the palate, sending inexperienced customers crying in a puddle of their own tears or gasping for a cup of ice water. Despite the intense spice, the ingredients in the soup are well-seasoned and easily melts in the mouth when chewed upon- just wash some of the chilli oil before consuming the protein.
The newly created Golden Chicken/Frog Soup ($68) is a non-spicy variation of a harmonious blend of heartwarming chicken broth and delectable golden pumpkin with a medley of vegetables immensed in a pot of liquid gold. The soup is perfect for customers who are unable to take the fiery spice of its spicy cousin and exudes a mildly salty, velvety smooth textured finish when slowly sipped upon. Customers are also able to turn up the heat from choosing from three different levels of spice levels. Chilli slices and pickled mustard vegetables can be added for an additional punch of flavour.
Other signature soups include the Catfish with Spicy Soup ($48), Fish with Pickled Cabbage Soup (Dory Fish: $38, Catfish: $48), Pickled Cabbage with Pork Rib Soup ($28), Tomato with Oxtail Soup ($48), Vegetarian Spicy Soup ($16) and Corn with Tomato Soup ($16).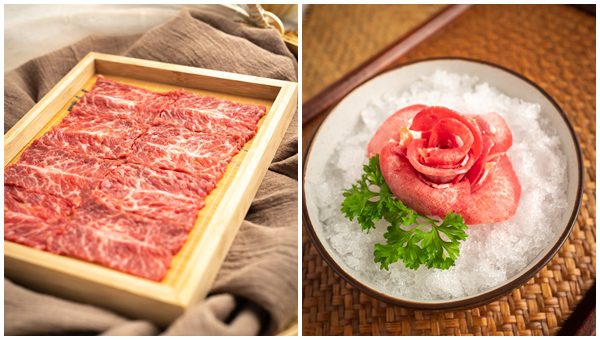 Meat, Fresh Vegetables and Everything Nice
No hotpot is complete without indulging in a bountiful selection of proteins, seafood, leafy greens and carbs. To satisfy that need, Tong Xin Ru Yi has a wide selection of ingredients that come from all over the world that includes New Zealand, the US and Japan. Beef lovers can indulge in the Premium Eight Second Beef ($24) that involves dipping the beef in the boiling soup for just eight seconds before consuming it. The Beef Tongue ($22) is possibly the most instagramable item in the entire menu- where strips of beef tongue are rolled to form a delicate rose that must be slowly unwrapped and taken apart before cooking in the soup. The Premium Chef-sliced Beef Shin ($28) and Spicy Beef Cubes ($16) just helps to further enhance the experience with their exquisite marbling and intense flavours.
Other notable hotpot ingredients include the Hand Cut Mutton ($24), Gracilaria vegetables, ($6) Pea Sprouts ($8), Fish Tofu ($14) and Vince Tofu ($8).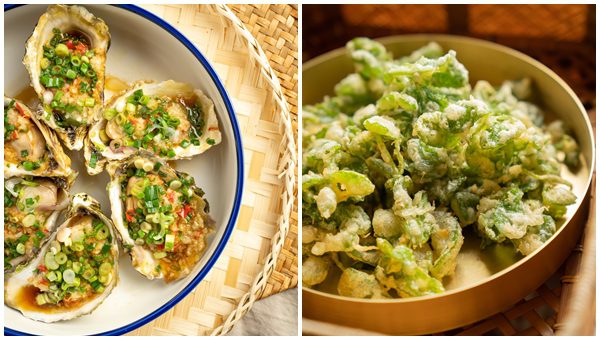 While waiting for the main star of the meal to arrive, customers can indulge in an array of chef's specialties and authentic local street snacks from China. Shipped over daily from Canada, the BBQ Garlic Oysters ($32 for 6 pieces) are roasted over hot coals, drizzled generously with a special house sauce made of garlic, chilli and spring onions. (The oysters can also be enjoyed freshly without any sauce.) The Fried Mint Leaf ($8) and Shake-Shake Crispy Pork ($10) can serve as appetizers or finger food for customers to curb their hunger while waiting for their hotpot to be served!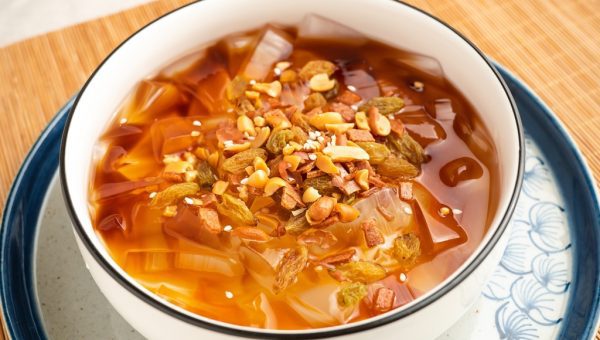 Customers should keep themselves hydrated with the signature Tong Xin Special Drink ($2)- especially if any spicy soups have been called to order to the table! Finally, customers should end off the meal with an icy-cold Traditional Ice Jelly ($3) to extinguish any remaining wildfires in the belly.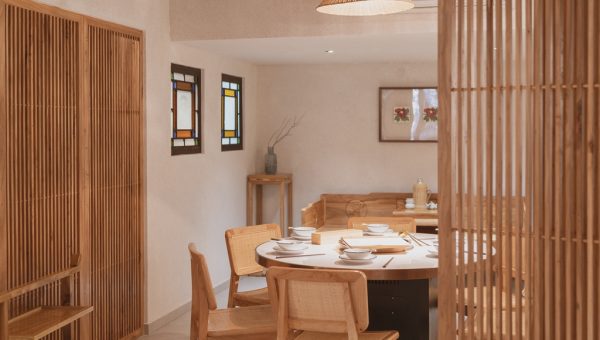 Come for the Food, Stay for the Art
Apart from the food, the restaurant is well furnished with elegant wooden furnishings and muted earthy tones. Similar to an art gallery that pays homage to China's rich history and cultural past, the dining area is adorned with artistic trademarks of Chinese craftsmanship that includes ancient Manchuria windows, traditional calligraphy, hand-weaved bamboo dividers and porcelain pieces.
Large groups and families will be able to dine in well-partitioned rooms that can seat up to 10 people in each room. As rooms are divided by movable partitions, they can be reconfigured to fit bigger groups should the occasion arise.
From now until 14th September, customers simply need to share photographs of their meal on Facebook or Instagram, tag @tongxinruyi and include the hashtags #tongxinruyi #tongxinruyisg to enjoy 12% off on all hotpot ingredients!
After 8pm daily, Tong Xin Hot Pot is offering Happy Hour promotions:
1 for 1 premium beef ($20) or Japanese Black Pork ($16)
Enjoy 2nd soup free with any purchase of Herb Chicken Soup
Buy three bottles of Snow Beer ($9) and get one for free!
Tong Xin Ru Yi is located at 6 Lorong Telok, Singapore 049019.
Tong Xin Ru Yi  is open daily: Weekdays from 11am to 10:30pm, weekends from 12pm to 10:30pm.
For reservations, please call +65 65368058.