Lisa von Tang's I Am Durga collection drops on the 12th and 13th of June 2018
CONTENT: Henry Boen

Ever since fashion became conscious and aware of it's political and social standing/influence, speaking out became the mandatory hidden value of a runway presentation. Be it no-fur, racial inclusion, image-acceptance or zero-sweatshop etc, these moralities became the talk to the walk, and often thread a fine line on the public's views that will affect the brand's overall standing. And though precarious, fashion label such as Lisa Von Tang saw this as their golden opportunity to make an impact, and have been doing so proudly ever since its early start of Chi Chi von Tang.
From the beginning, Lisa has constantly sought to establish a strong message of empowerment – especially women – with iconographies, beliefs and letterings being highlighted prominently throughout her works. Its almost like combustion of feminist riots, except that it is encapsulated in a single collection, very much subtler (or equivalent), and is constantly shifting its references from different cultures and identities.

For her upcoming show – entitled I AM DURGA – held on the 12th and 13th of June at the Straits Clan, the brand found inspiration and paid tribute to Hindu Goddess Durga, and her beliefs of righteousness, protecting the innocent and achieving world peace. In fact, Durga served as a reminder to the brand of the pre-patriarchal past where femininity was revered and carved status of women were worshipped as symbols of life and fertility. Custom embroideries of reworked sacred relics and lavish paintings were promised to be found in this collection, while sustainable fabrics such as organic cotton, silk and bamboo are accented with pops of brocade, velvet, and sport-luxe jersey. Colours are already expected to run wild.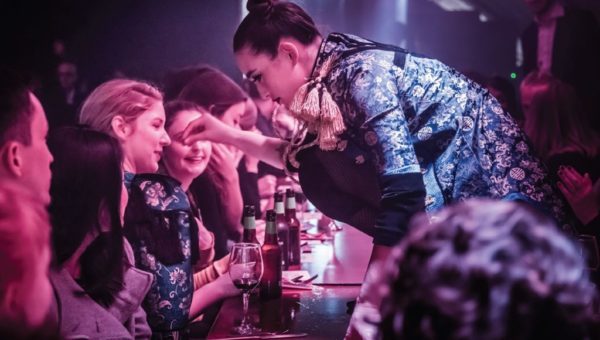 The by-invite-only show will be presented in a fully immersive theatrical experience, where guests will plunge headfirst into a trilling store and come face-to-face with dancers and actors wearing the new collection. When asked why the choice of presentation, Lisa replied, 'I design experiences just as much as I design clothing," and to 'push the boundaries'. Surely, we can all agree that the usual mundane runway presentations aren't made for all brands, and definitely can't do enough justice for Lisa von Tang. The brand also adopted the See-it-Buy-it retail strategy where guests can buy off the show immediately.
Interested to find out more, and even get the chance to see show? We are running a give-away from the 31st of May to 6th of June for two pairs of tickets to the show. It will be on the 13th of June. Simply check our Instagram account stories everyday @luxesocietyasia, and follow the rules to qualify! Go now!