LOEWE Contributes To The Fight Against Coronavirus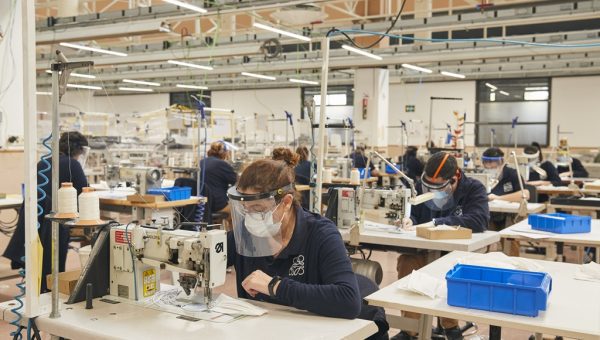 As the battle against the ongoing health crisis ensues, several children in socially-vulnerable groups are hit hard by its consequences, consequentially trickling down to greater school dropouts and education inequality. During such troubled times, LOEWE strives to remain optimistic, looking to contribute in any way to aid children from these affected groups to uphold the House's focus during this period – Joy.
"Joy, in these troubled times, means to maintain a positive outlook on things. Children are joy and deserve joy" said  Pascale and Jonathan Anderson, CEO and Creative Director of LOEWE
Pushing at the forefront to stand in solidarity against the pandemic, LOEWE closely collaborates with Plataforma de Infancia, a Spanish alliance of social organisations that works to protect children and adolescent's rights, spearheading the way to launch an array of educational programs this summer. These measures work towards achieving a better future for the children of today, propelling and supporting them to stay in school to receive the vital education they deserve.
To fuel such educational projects, for each and every product of the Paula's Ibiza collection sold between May and August 2020, both from LOEWE stores and on loewe.com, the House will dedicate a donation of 40 euros. To kick-start this initiative, LOEWE will pledge an initial donation of 500,000 euros. Through these steps, LOEWE aims to narrow the educational inequality gap between children of different socio-economic backgrounds, empowering each child to receive their basic rights of a quality education, equipping them with the necessary skills to flourish.
However, the House's initiatives do not stop there. In order to give effective help to the institutions selflessly devoting themselves to fighting the pandemic on the frontlines, LOEWE has resolved to donate 100,000 surgical masks to the Spanish Red Cross. In turn, LOEWE looks to the Spanish Red Cross to distribute masks equitably to frontline institutions based on urgency, closely ensuring that the resources will be directed to those who require them the most. In addition, aware that protection aids are of extreme importance to contain the pandemic, LOEWE is producing non-surgical masks in its Getafe factory. The masks are to be distributed to volunteer workers, LOEWE employees and their families.

As the countless individuals, groups and organisations step up to respond to the health crisis, LOEWE is determined to play their part in the battle, while also showing appreciation to those who have contributed in aid to forging a better tomorrow.