New Hotel Openings 2020 Amid Coronavirus Travel Restrictions
Whilst travel is temporarily on hold, everyone is waiting for the day when travel restrictions are lifted for us to visit our favourite places and destinations, again.

To prepare your upcoming travelling plans, here's 2020 newest hotel openings you would want to earmark for a visit when you are able to do so.
Bawah Reserve, Anambas Islands, Indonesia
Accessible only by private seaplane from Singapore, Bawah Reserve is an off-the-beaten track group of six tropical islands in the Riau Archipelago, Indonesia, located between Malaysia and Borneo. The stunning eco-conscious reserve combines high-end design with sustainability and a "back-to-nature" concept. In Summer 2020, Bawah Reserve will expand its offering and unveil six brand-new cliffside lodges on a previously untouched island named ELANG. This will offer the ultimate private island experience, exclusivity for guests over 18 years old and they can opt to book one lodge or to take over the entire island for a large family or group of friends.
Perching on the slopes of the island, six lodges have been created by Singaporean designer Sim Boon Yang, with sustainability at their core and each with their own private butler. Interiors will be made from recycled natural materials, bamboo, driftwood and hand-cut stone. Each lodge will boast spacious living areas, private butler service, balconies with sparkling ocean views and private paths leading to hidden rocky coves and into the sea.
The new island will have its own guest-only clubhouse which has been carefully designed around a rock formation and inspired by tribal communal houses in Indonesia with unobstructed views of the sea. It will also be home to a beachside restaurant and bar, Aura spa, private beach and salt water infinity pool, created from a natural hollow and refreshed with every tidal change. Guests of ELANG will have full access to the reserve's main island, restaurants and bars, just a short boat trip away.
Far from being just a "fly and flop" destination, a plethora of activities are included in Bawah's rate, in addition to full board dining experiences as well as a daily spa treatment at the Aura Wellness Centre. Guests can get out and explore the 13 beaches and two lagoons that make up the reserve by paddle boarding, snorkelling, kayaking, sailing, diving and boat excursions and on land there is hiking, star gazing, bird watching and nature trails.
ELANG Private Island will launch in Summer 2020. Rates for a one-bedroom lodge start from $3,280 USD (approx. S$4,597) per night or to take over the entire island, rates start from $21,000 USD (approx. S$29.436,).

For more information, visit Bawah Reserve Website 
White Elephant Palm Beach, South Florida
From an icon of Nantucket hospitality, comes a fully renovated destination resort in Palm Beach. The new White Elephant Palm Beach hotel, opening in September 2020, is being completely reimagined by Boston-based New England Development, and represents the total renovation of the Bradley Park Hotel which dates back to the 1920's and was one of the first hotels in the area. Located on Sunset Avenue, White Elephant Palm Beach will be home to 13 rooms and 19 suites spread across four storeys.
The hotel will maintain the welcoming feel of a private residence, with each accommodation offering a private outdoor space draped in a neutral colour palate and bringing timeless seaside New England charm to South Florida. Contrary to the bright pinks and greens that dominate the Palm Beach aesthetic, the new White Elephant Palm Beach will showcase the subtlety of Nantucket Island's luxury and elegance to the South Florida social scene, with a brand-new Palm Beach sensibility. This contemporary interpretation of Mediterranean-revival architecture reflects the pulse and excitement of Palm Beach, while capturing the spirit of a grand stately home, while maintaining the ambiance of a landmarked boutique hotel.

Rates to be confirmed. For more information, visit White Elephant Palm Beach website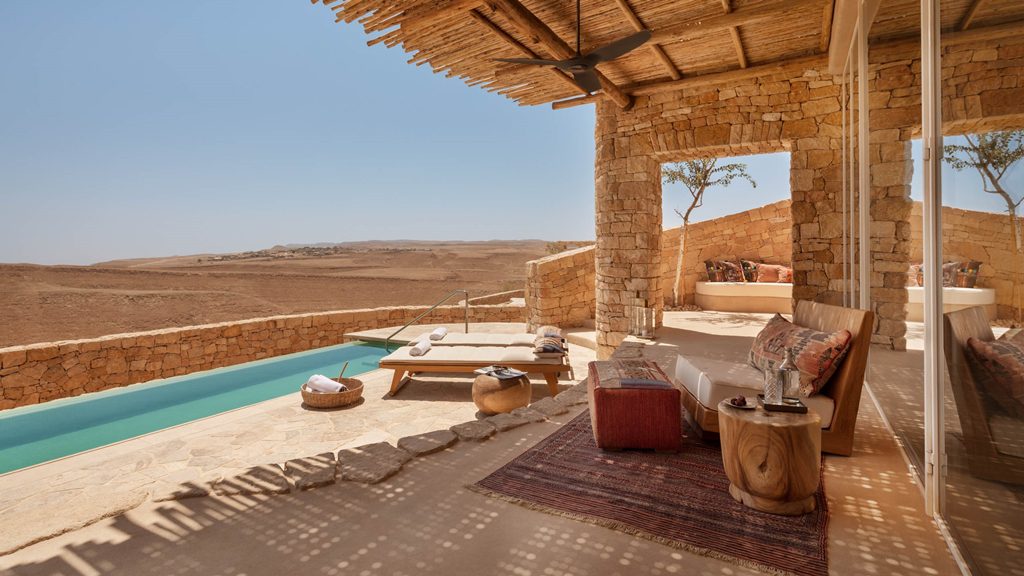 Six Senses Shaharut, Israel
Set in the Israeli Negev Desert, Six Senses Shaharut will open in September 2020. Lain into a dramatic cliff with panoramic views of the desert landscape, the resort will comprise suites and villas including one three-bedroom retreat. The villas will be built from, and inspired by, local rocks and pigments and the landscape will utilise regional cacti and indigenous desert blooms while much of the resort's furnishings will be sourced from local community artisans.
There will be one main restaurant, a poolside bar and grill, a juice bar, as well as an authentic tented Bedouin dining experience with a fire pit for late night feasting. The Spa will be home to a signature Alchemy Bar – Six Senses' innovative, interactive wellness workshop where guests can work with a variety of local herbs, fruits and spices to skilfully blend sustainable, artisanal and entirely organic ingredients to create their own lotions and potions. Fresh ingredients will be harvested seasonally from the resort's own gardens or from local farmers at the nearby kibbutzim.
Other Spa facilities will include an indoor pool, outdoor lap pool, fully-equipped gym, yoga studio with desert views and a nail bar. Six Senses Shaharut will also be home to a desert activity centre which will incorporate Six Senses' brand-wide 'Earth Lab' scheme, and showcase its sustainability efforts to reduce consumption, produce locally and support communities and ecosystems. There will be functioning camel stables with an arena and grooming area, as well as an open-air amphitheatre created from the natural terrain contours and transformed into a Six Senses signature 'Cinema Paradiso' beneath the stars.
Additional activities will include a kid's club, off-road driving, mountain climbing, mountain biking, camel safaris, craft workshops, bird watching and wine tours. For those who want a truly immersive desert experience, guests will be able to head off into the Negev desert on camels and spend the night camping under the stars.

Rates at Six Senses Shaharut will start from $1,000 (currently approx. S$1,400) per night based on two people sharing including breakfast.

For more information, visit Six Senses Website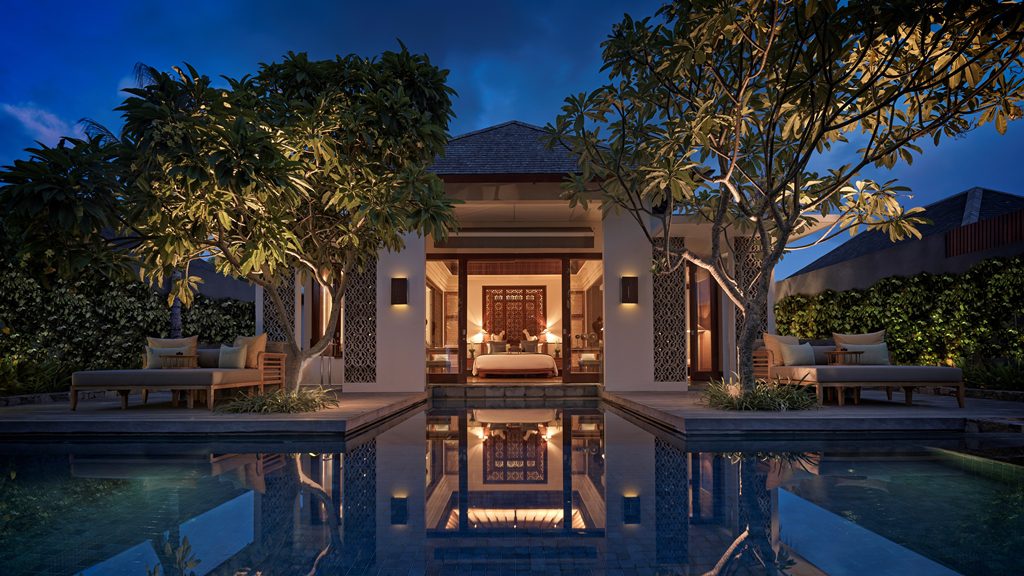 The Legian Sire, Lombok, Indonesia
Newly formed luxury hospitality and lifestyle brand LHM (Legian Hotel Management) is expanding its presence and is set to build on the iconic reputation of its grande dame hotel, The Legian Seminyak, Bali, with ambitious expansion plans for wider Indonesia, Asia and beyond. The first step in the brand's expansion will be the launch of The Legian Sire, Lombok – opening December 2020. Located on one of Lombok's finest beaches, the 3.8-kilometre Sire Beach, the all-suite and villa resort will help make the destination more accessible and attractive than ever for discerning travellers. Building on the success of its sibling hotel in Bali, and in line with LHM's aim to offer highly personalised levels of service and a strong sense of exclusivity, The Legian Sire, Lombok will be boutique in size with 45 suites and 15 pool villas. All of these will overlook Lombok's crystal-clear sea and be notably spacious (all measuring over 110 square metres).
Set to make one of Lombok's most impressive and most luxurious design statements, the architecture is by award-winning ESA International headed up by Indonesian talent Putu Edy Semara whose aim is to adopt 'Taksu' meaning 'Indonesian architectural soul', within his work. The interiors are by Agnes Affandy and Shaun Yeo, who are prodigies of Indonesian design legend Jaya Ibrahim, who designed the interiors of The Legian Seminyak, Bali. Lombok is much admired for its slow pace, the quality of the water – crystal clear, calm and perfect for swimming, incredible scenery with white beaches, forested mountains, paddy fields and coconut palms. Visitors can surf, snorkel, dive, trek and hike thanks to the varied landscape.
The Legian Sire team will organise a range of excursions for guests from visits to waterfalls, rice-paddy adventures and unlimited trips to the neighbouring Gili Islands thanks to their complimentary, five-minute shuttle boat service. The Gili Islands, famous for diving and snorkelling, have long been popular with backpackers, but not so accessible for the luxury traveller, which will change with the launch of The Legian Sire. The hotel's wellness concept Wellness by The Legian will include an Apothecary Bar, where the expert team will create fresh products for the locally-inspired spa treatments using all-natural, organic ingredients including Lombok volcanic clay. The Wellness Gardens will grow all ingredients used at the adjacent restaurant, which will be the first vegetarian restaurant in Lombok. The hotel will also be home to a Wellness Villa, a specially designed villa with well-being in mind, inclusive of a private yoga studio and treatment room and serviced by a dedicated wellness butler.

Rates for a suite at The Legian Sire, Lombok start from $347++ USD (approx. S$486) per night and $613++ USD (approx. S$859) per night for the villas at The Club by The Legian Sire, Lombok.

For more information, visit The Legian Sire, Lombok Website or Luxe Society Asia
Xiegera Safari Lodge, Okavango Delta, Botswana
Situated in Botswana's unspoilt wilderness, Xigera is a bold new statement set to pioneer a new era of safari lodges, illuminating Africa's hottest young designers in a new design direction for Red Carnation Hotels and a legacy project of the Tollman family – the renowned South African born hoteliers. Opening on the western side of the Moremi Game Reserve in the heart of the Okavango Delta, Xigera ("Kee-jera") will feature 12 individually designed suites, including one two-bedroom family suite situated on two islands, bridged together with an extraordinary bronze lily centrepiece designed by Anton de Kock and created by Otto du Plessis.
Each suite will float delicately above the water, allowing wildlife to pass uninterruptedly beneath, innovatively created without the use of any concrete. Inspired by a sighting on his first visit to the site, Architect Anton de Kock conceptualised each suite as a Pel's Fishing Owl in flight– one of Africa's most sought-after and elusive birds. The lodge's design has been conceptualised by Toni Tollman, Philip Fourie and Anton de Kock, who have collaborated with Southern Guild in a game-changing design partnership like never before.
Guests will stay in a 'living gallery' of bespoke works commissioned exclusively for the property by more than 30 of the most compelling African artists and craftsmen, including Adam Birch, Madoda Fani, Porky Hefer, Otto du Plessis, Stanislaw Trzebinski and many more. Quietly surprising touches will be everywhere; from human-sized woven nests resting on decks for guests to nestle in, to a life-changing sleep-out in a three-story steel baobab tree located 1km from the camp.
Unlike other highly structured safaris, Xigera will offer guests total flexibility. Morning, afternoon and evening game drives are at guests' leisure, while they can also explore the Delta's waterways by traditional canoe, glass-bottom mokoro and motorboat – complete with 'feet-in-the-water' sundowners. But it is the people that will define Xigera, as you'd expect from a Red Carnation creation, with 105 exceptional staff looking after 24 guests.

Rates at Xigera Safari Lodge will start from USD $2,550 (approx. S$3,574) per adult per night sharing. This includes accommodation on a full board basis, park fees and all activities.

For more information, visit Xiegera Safari Lodge Website.