A Taste of Fresh Authentic Thai Recipes at Chang Sensory Trails 2018
CONTENT: Yiew Kai Jie
IMAGES: Luxe Multimedia
Thailand's leading beer brand, Chang, celebrates the delicacy and diversity of Thai cuisine with the return of its annual gastronomic adventure Chang Sensory Trails, a multi-sensory experience focused on iconic Thai flavours. Having travelled to London and Los Angeles, Chang Sensory Trails will land in Singapore from 31 August to 1 September 2018 at The Lawn at Marina Bay.
Thai cuisine, like the crafting of Chang beer, embodies the Thai philosophy of Lamiat, which emphasizes attention to detail and looking beyond the ordinary. Underpinning this philosophy is the deep and authentic appreciation of the small things that refine and produce perfection. In Thai cuisine we see the purest expression of Lamiat, with its use of many different herbs, spices and fresh ingredients, each contributing to the overall balanced flavours thus creating special gastronomic experiences for the palate.
Chang beer, through the Chang Sensory Trails, collaborates with Thai chefs and restaurants around the world, to share the Thai philosophy of Lamiat as expressed through food. Cooking for an international audience outside of Thailand, they strive to bring the real and natural flavours of Thailand, ensuring that what they serve is authentic and not your average "tourist" Thai cuisine.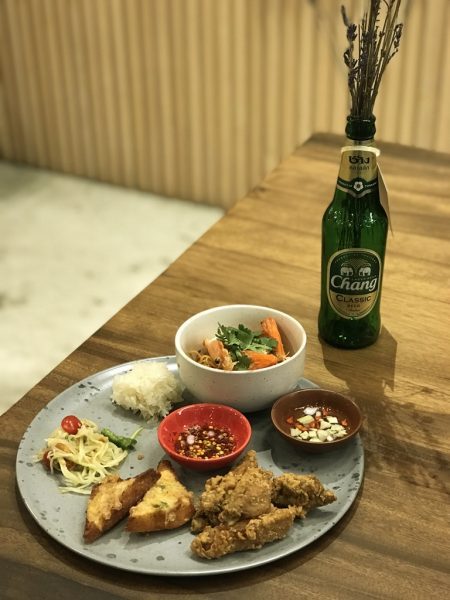 In keeping with this theme, eight Thai restaurants participating in Chang Sensory Trails 2018 will prepare their signature dishes inspired by home recipes their Thai chefs grew up with. Each of the eight restaurants will have on offer three signature dishes that would hark back to the familiar recipes from their hometowns in Thailand.
One of the restaurants, newly opened Baan Ying focuses on using only the most authentic and freshest ingredients that are directly imported from Thailand to cook up their northern thai mainstays that does not use any artificial flavouring or colouring in their food. The chef behind the kitchen ensures that their dishes follow the exact same recipe back in Thailand- everything from the appetizers to the desserts.
One such example would be their Green Curry Chicken that has the typical sweet smell that we're all used to eating at any thai restaurant, but does not have that unpleasant sweet taste to it once it is mixed and eaten with rice. Even the Rainbow Ruby dessert which would typically be sweet was surprisingly light and helped to finish the meal on a balanced note that didn't leave us bloated as we finished the last spoonful of the dessert.
Some of Bann Ying's signature dishes that will be found at Chang Sensory Trails 2018 is their Dry Tom Yum Goong Noodles With Lava Egg, Som Tum (Green Papaya Salad) & Hat Yai Fried Chicken Served With Sticky Rice and Fried Shrimp and Pork Paste Toast.
Chang Sensory Trails 2018 will be the third edition in this unique culinary series that gathers a selection of Thai culinary flavours over one weekend in Singapore.The eight participating restaurants are: Aroy Dee, Baan Ying, Bangkok Jam, Gin Khao, Little Elephant, Long Chim, Tamarind Hill and Un-Yang-Kor-Dai.
Chang Sensory Trails 2018 will take place at The Lawn at Marina Bay from Friday, 31 August to Saturday, 1 September 2018 from 4pm to 10pm.
For more information please visit: www.changbeer.com/changsensorytrails