Beat the Heat with IPPUDO's New Cold Ramen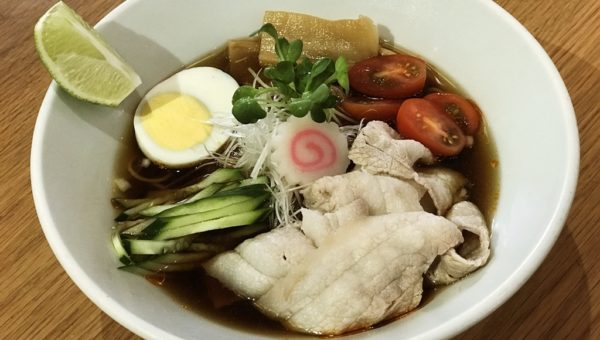 CONTENT: Yiew Kai Jie
While Singapore's weather is in complete disarray, you might opt for a cold glass of lemonade or cower at home with the air conditioning turned on to high just to escape the heat. But what if you wanted to eat something cold and refreshing that would take the heat away and leave you with a full stomach?
To combat this problem, Ippudo has released it's new Hiyashi Sugita Shoyu Ramen ($15++) at all of it's outlets in Singapore! For the first time ever, this popular seasonal offering which could only be found in IPPUDO's japan outlets, has made it's way to our little island in order to help Singaporeans find relief from the heat.
Unlike the usual hot Japanese ramen dishes you might be familiar with, the dish is served cold. The light and refreshing ramen is accompanied with fresh shredded vegetables. The fish and kombu broth is cooked using three different types of fish: urumebushi, soudsbushi and sababushi. The kombu (dried kelp) and the special Shoyu are mixed together to help lend a subtle umami note to the dish.
Hidden deep in the bowl are thin ribbons of ramen noodles, the same kind used in IPPUDO's aka and shiro ramen. The thin noodles were chosen after several strict rounds of testing and they were deemed by IPPUDO's chefs to be the best noodles to go with the cold, light shoyu broth.
The dish is also topped off with pork belly slices which are served on their own without any kind of marinade. The idea was inspired by sukiyaki- to let diners enjoy the natural flavour of the protein. Pair the Ramen was the special in-house chilli oil then squeeze lime juice or add vinegar for that extra kick!
Initially, the thought of drinking a ramen broth that was made using three different types of fish was rather off-putting because it could mean that the broth was going to have a rather strong fishy taste. But upon the first sip, that was not the case as the essences of the vegetables in the broth helped to mitigate the taste of the broth. The noodles were rather chewy, which helped give some bite to the overall dish.
It is highly recommended that the lime juice be added into the broth as the soup would taste flat after a few sips and since it's a cold broth, the scent of the lime will not dissipate- giving you a refreshing broth with a mild sour kick to it!
The Hiyashi Sugita Shoyu Ramen is now available at all Singapore IPUDDO outlets.
For more information and outlet locations please visit: www.ippudo.com.sg