Blue Lotus Opens New Mediterranean Kitchen and Bar Concept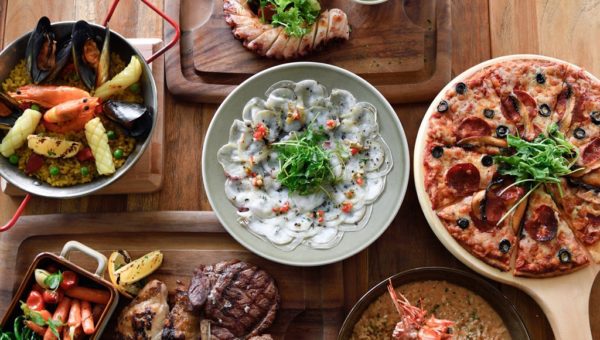 Blue Lotus's newest concept breaks away from their acclaimed Chinese Cuisine concept as the company heads in the opposite direction to start it's first Mediterranean concept restaurant
CONTENT: Yiew Kai Jie
Blue Lotus Concepts International (BLCI) takes a bold step forward as it opened its latest and first Mediterranean concept, Blue Lotus Mediterranean Kitchen + Bar. A calm dining establishment located on Alexandra Road near Hort Park, this marked a new chapter for BLCI, exhibiting the company's evolution alongside the progressive trends in Singapore's dynamic dining landscape. The beautiful 2400 sq. ft. restaurant is able to accommodate up to 120 people, boasting an indoor and an al fresco seating. The décor is cheerful, radiant and quirky, with splashes of the trademark Blue Lotus blue on it's walls. The vibrant earthiness of the Mediterranean ambience is felt in the lush al fresco dining area and beautiful natural light pierces through into the main indoor dining area.
"When people walk into Blue Lotus Mediterranean Kitchen + Bar, they will experience all the hallmarks of the Blue Lotus brand, from our signature blue colour to the design quirks within the restaurant's décor, which reflect the Blue Lotus spirit," said Ricky Ng, BLCI's Owner and Creative Director. "As we continue to grow, our main focus is to maintain and take our food offerings to the next level for people who love a great dining experience and with that focus, Blue Lotus Mediterranean Kitchen + Bar is a guaranteed excellent dining experience."
A New Beginning
The restaurant offers delectable Mediterranean favourites that ranges from tapas and pizzas to pastas, paellas and succulent meat dishes. This new concept offers its customers a completely fresh flavour and experience whilst staying true to the Blue Lotus food philosophy – that no MSG is used and the focus is on using only the freshest premium ingredients for a true Mediterranean dining experience.
Here's are some of the dishes that stood out:
Octopus and Squid Carpaccio (S$16)– The seafood were thinly sliced and they did not have a pungent smell despite them being served raw. However, do pace yourself with this dish, lest you would be overwhelmed, if not try eating the seafood with the vegetables that come with the dish.
Signature Chili Pomelo Crab Balls (S$22) – As an integral part of the Blue Lotus family, diners can look forward to the brand's original and signature Chili Pomelo Crab Balls. Despite the portion size being dubious in nature in relation to it's price, you will not be disappointed by it's rich and intense flavour the moment you bite into the crunchy ball of goodness. Do be careful not to scald your tongue as the inside of the ball is really hot!
Tiger Prawn Risotto (S$28)– The huge tiger prawn topped off the risotto will be the first thing that catches your attention, apart from the extremely strong cheese smell. Shudder at the near sight of the creamy and cheesy rice as you scoop it up with your spoon and see it stretch out. The giant size of the prawn is extremely satisfying to have, the prawns are not frozen and are only cooked to order to ensure the highest quality is made available to you.
Grilled Atlantic Octopus Leg with Herbs (S$26.00) – Gigantic octopus leg carefully prepared and served with extra virgin olive oil, herbs and salad is a dish which made us wonder how they even catch and perfect the art of cooking a huge octopus leg and still served chewy and juicy without loosing its flavour. no words could describe how good this dish is, you must just order and try for yourself.
Serrano Pizza (S$20)– The crust is very well baked, the smell of the pizza will waft around everyone's nostrils when it is placed at your table. Resist the urge to grab the whole pizza for yourself and get those cameras out to get that perfect Instagram group shot with your friends.The Iberico ham and the various combinations of olives, mushrooms and Manchego cheese go hand in hand with each other, creating a perfect harmonious balance that does not overwhelm each other. Forget about using utensils, this is a pizza that needs to be cradled by your own two hands. You can request for the thick or thin crust, but we recommend you choose the thick crust because it's much more firmer and their definition of a thick crust equates to "a few pieces of paper thin crust".
Grilled Meat Platter (S$38)- A must order on the menu, this platter contains 3 different types of proteins on one plate and even comes with 2 side dishes! The beef, lamb and chicken are beautifully cooked to perfection and you can specify how well done do you want them to be. Do not be shy and grab a huge chunk of the meat for yourself, dip in their homemade sauce and savour the tenderness and richness of the meat accompanied with the slight hint of spiciness of the sauce. Sharing is always caring, but in this case, "the first bird gets the worm" rule applies for this specific dish.
Happy Hour- All Day and Night
Among a range of popular beverages, diners will find Spanish beer Estrella and Blue Lotus' own selection of award-winning wines, Blue Lotus Private Bin 88 Sauvignon Blanc Semillon 2016 and Blue Lotus Private Bin 88 Cabernet Sauvignon 2014 from Xanadu Wines estate of West Australia's celebrated Margaret River:
To make thing even more enticing, the restaurant offers happy hour from 12pm to 10pm for it's house pour beer and wines going at S$8++ per glass! With such enticing offers for both food and drinks, why not head down to Blue Lotus Mediterranean kitchen+Bar with your friends or colleagues instead of paying exorbitant prices at the CBD area just to have a fun time?
Blue Lotus Mediterranean Kitchen + Bar is located at 991B Alexandra Road, #01-10, Singapore 119970 and is open from Mondays – Fridays: 11.30AM – 10:00PM, Saturdays: 11:00AM – 10:00PM.
For enquiries or reservations please call: 6665 0880 or email: blmk@bluelotus.com.sg