Enjoy Healthier Traditional Chinese New Year Dishes at Lotus Vegetarian
CONTENT: Yiew Kai Jie
IMAGES: Luxe Multimedia / Lotus Vegetarian
Pineapple tarts, mandarin oranges and soft drinks these are the perfect little ingredients to celebrate the perfect CNY with your family. But then your overzealous relative decides to invite or drag the whole family to a chinese restaurant for a 8 course meal that is sure to burst the calorie counter and ruin your new year's resolution on losing weight when you've come so far.
Fret not, for this Chinese New Year, Lotus Vegetarian has a specially created line-up of exquisite CNY Set Menus, that includes roaring dishes such as Pen Cai and Yu Sheng for a sumptuous festive feast!
Mark an auspicious and healthy beginning to the year with a family reunion dinner at Lotus Vegetarian! Choose from the 5 different set menus, which cater to 4 to 10 persons starting from S$188++. Every year, Lotus Vegetarian devotes their great efforts into creating brand-new set menus to welcome the brand-new year. Diners may kick back and enjoy healthier versions of traditional creations, such as: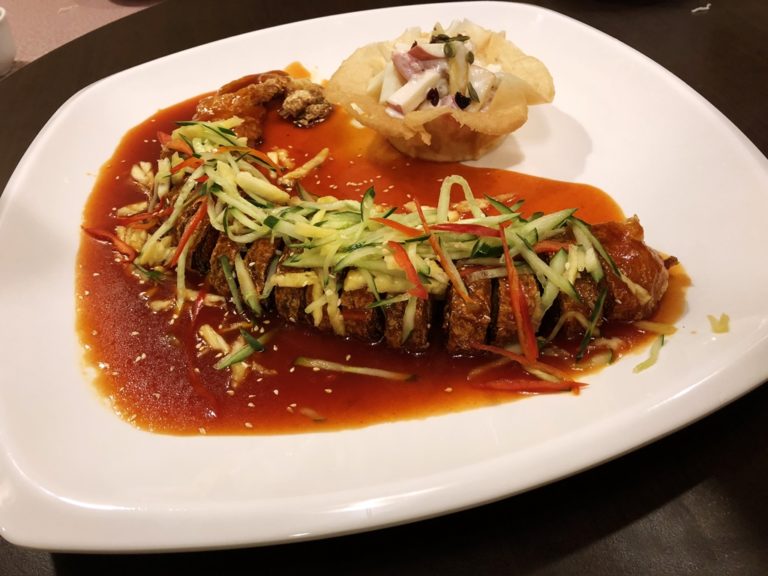 Homemade Veg Fish with Fruit Salad – One of the most important courses of any CNY dinner, as the propitious fish represents a year of abundance (年年有余). This Lotus Kitchen exclusive was the result of overcoming the culinary challenge to create a delicious vegetarian fish dish without eggs. The healthy creation is served with a homemade sweet and sour sauce for an added zest to the dish. The fish is nicely cooked and fried, but it could be better if it was fried a little more till it was crispy, to enhance it's taste and texture with the delicious sweet sauce.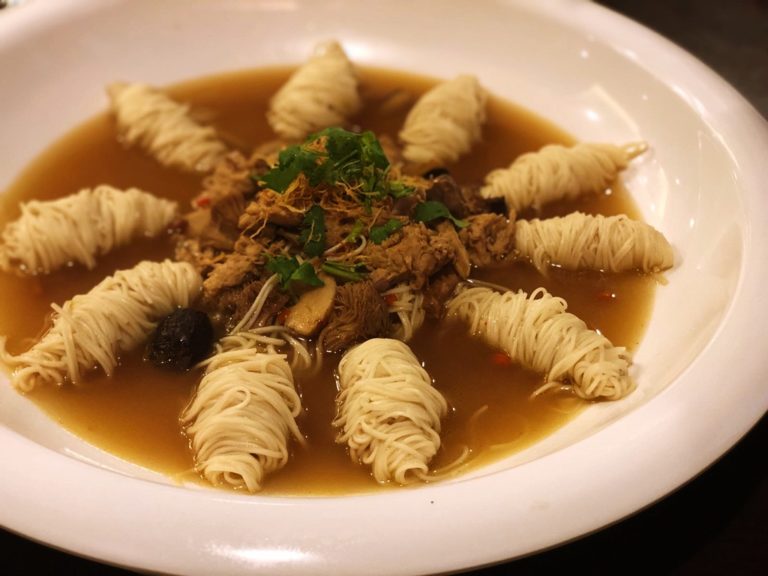 Longevity Noodles – Visually, one might assume that their noodles are like any mundane noodle dish that many traditional chinese restaurants serves up, but looks can be deceiving when it comes to food. The silky smooth mian xian is specially imported from Taiwan and drizzled with premium top-grade black sesame oil vegetarian chicken and sauce. An accompanying fragrant herbal soup is served with a mixture of Chinese herbs, as well as the health-promoting ginger. The noodles are very smooth, springy, fresh are not as starchy as most noodles turn out to be and the broth has a very strong herbal taste that goes extremely well with the noodles that is sure to help lighten your stomach before you move on to the dessert.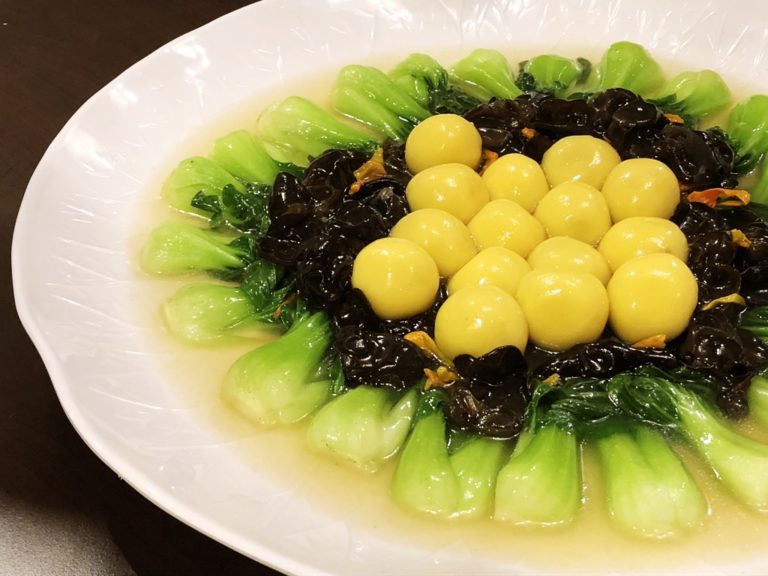 Pumpkin Balls with Lily Flowers & Greens – These homemade fresh pumpkin balls are filled with mixed mushrooms, paired with healthy black fungus alongside seasonal vegetables. Prized mountain lily flowers grown in the mountainous areas of Taiwan acts as the finishing garnish to the dish. The pumpkin balls themselves are extremely soft and has a texture almost akin to muah chee. Once bitten down into, the ball can be softly pulled apart like muah chee or a gummy candy. The inner pumpkin filling is filled with the pumpkin flavour but the grittiness reminds me of a peanut filling.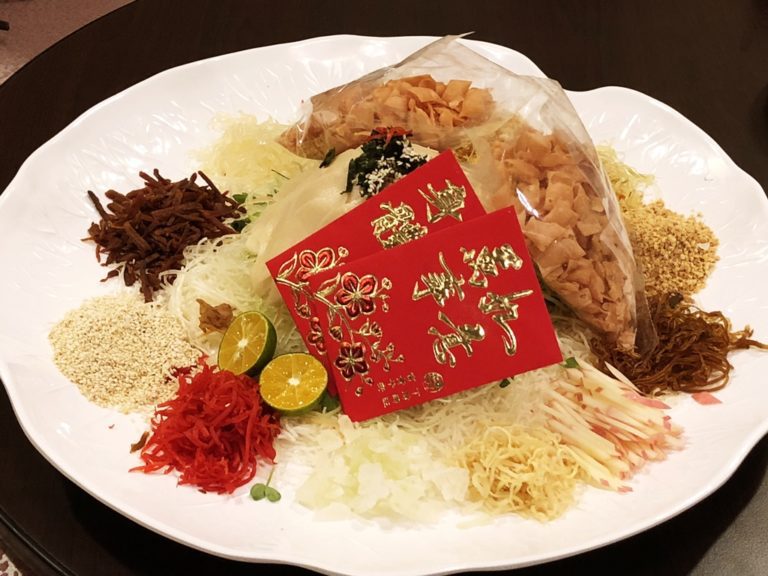 As it is tradition with every Chinese New Year festivities, a meal isn't complete with a toss to prosperity and longevity with the Lotus Vegetarian Prosperity Yu Sheng, a colourful dish that consists of over 30 ingredients! Featuring premium vegetarian salmon and fish slices made from a konnyaku plant, as well as vegetarian ba kwa, lotus root slices, julienned apple and has a unique taste due to the ingredients being cooked and fried with olive oil and lemongrass.. The Prosperity Vegetarian Salmon Yu Sheng and Prosperity Vegetarian Abalone starts from S$28++ and S$38++ for 2 – 4 pax respectively.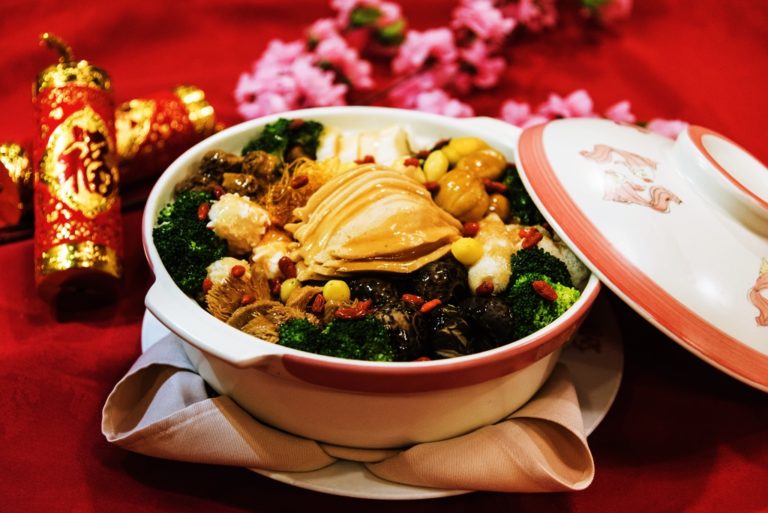 Finally, usher in good fortune with the Golden Bowl of Fortune Pen Cai (S$148 for 8pax), brimming with over 22 wholesome ingredients and lovingly prepared with many different cooking processes! Best shared with your family and loved ones, enjoy premium vegetarian abalone, sugarcane shoots, bamboo pith, barley, wolfberries and many other traditional ingredients! Unfortunately despite the visual aesthetics of the dish, the ingredients lack a lot of flavour with them and the sauce needs more seasoning to be more flavourful to add more flavour to the ingredients. The Pen Cai is available for dine-in, take-away or delivery (at least 1 day in advance) at both Chinatown Point and Lotus Vegetarian Quality Hotel.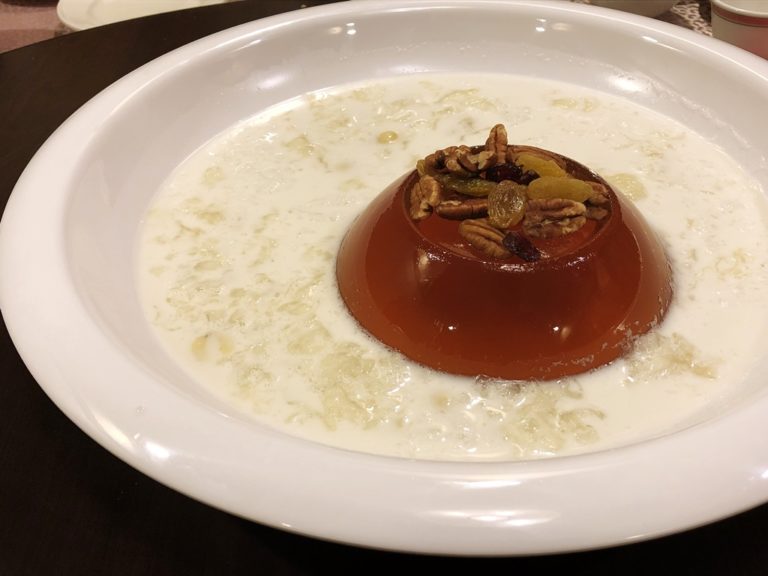 For those who prefer to celebrate CNY at home, Lotus Vegetarian is also launching the Five Fortune Blessings takeaway menu for utmost convenience. Starring dishes such as prosperous yu sheng, pen cai, homemade traditional fish, fragrant rice and tea jelly dessert, the takeaway menu serves 4 pax for S$168++ and 8 pax for S$308++. Pre-order is required 2 days in advance for the Five Fortune Blessings takeaway menu.
Breaking the stereotypes that vegetarian food tastes bland, the restaurants aim to amaze with a variety of delicious and healthy creations, that won't break any banks- both in terms of money and calories. So head down to both restaurants this year for a nutritious and sumptuous Chinese New Year feast!
Both restaurants are open throughout Chinese New Year, and will be offering the Chinese New Year menu from 9 February to 2 March for Lotus Vegetarian Quality Hotel, and 14 February to 2 March for Lotus Kitchen Chinatown Point.
Lotus Vegetarian is located at: Level 2, Quality Hotel Marlow, 201 Balestier Road, Quality Hotel, 329926. For reservations please contact: (65) 6254 0090.
Lotus Kitchen is located at: #01-01/02, Chinatown Point, 133 New Bridge Road, Singapore 059413. For reservations please contact: : (65) 6538 1068
For more information, please visit: www.lotusvegetarian,.sg