InterContinental Singapore Unveils Two New Aternoon Tea Menus Influenced By The Tropics and Healthy Eating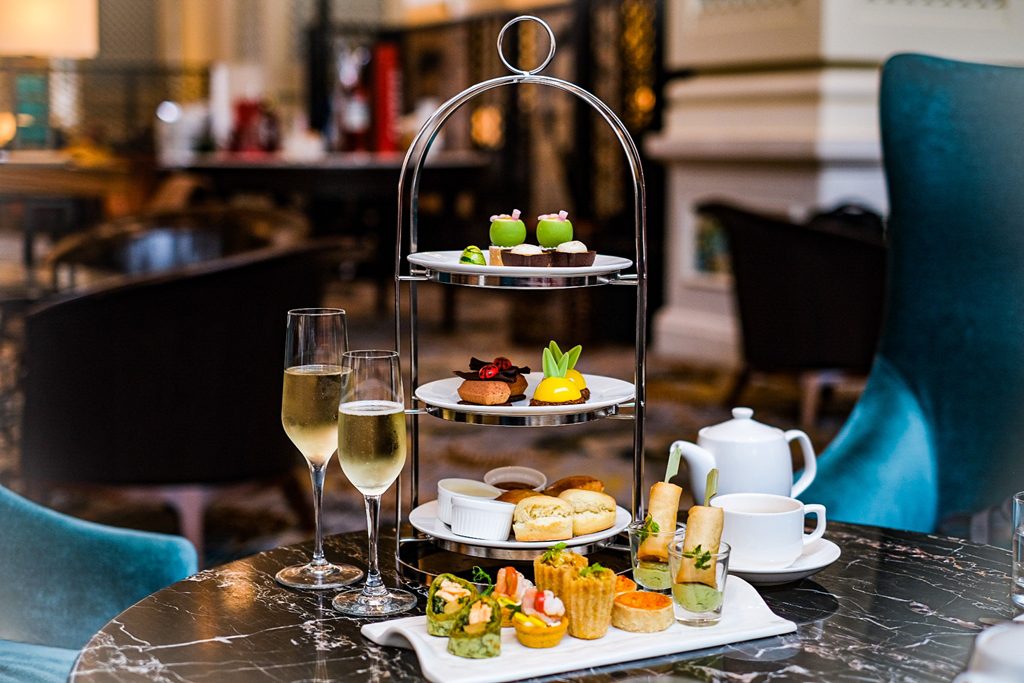 CONTENT: Yiew Kai Jie
IMAGE: Luxe Multimedia

From now until 30 April 2021, The Lobby Lounge at Intercontinental Singapore has curated two different afternoon tea set menus for customers to kick back and relax in the peaceful ambience of The Lobby Lounge!

Aptly named for the seasonal change, the Classic Afternoon Tea: Tropical Paradise (S$98++, S$128++) features a medley of decadent pastries and sweets that take their inspiration from the different cultural heritages and flavours of the tropics!

Start off with the savoury options such as the Fried spring roll with prawn and mango with an avocado cilantro mayonnaise that will serve as a tantalising start to your experience with its rich and spicy flavours to open up the palate. The Hawaiian chicken quiche serves as an all time favourite for any diner with a big appetite with its generous helpings of cheese and chicken to placate their hunger. Other savoury treats include the Prawn with Potato and pickled mango tart, Spiced yoghurt chicken tortilla wrap and Nyonya spicy chicken with grated coconut kueh pie tee.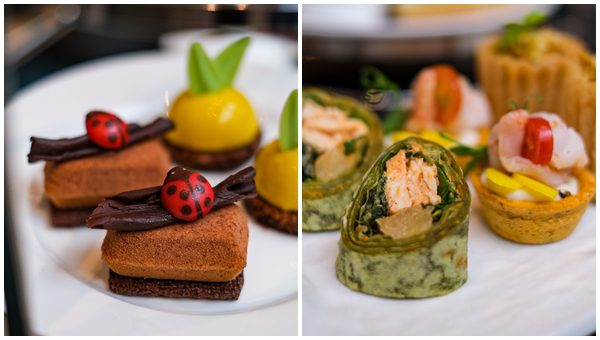 Moving over to the sweets, the Candied ginger scones and English scones with the new seasonal mango peach jam promises a fruity punch with a velvety finish that pairs well with the fulfilling scones. The most eye catching dessert on display has to be the Coconut lime mousse with mango passion fruit compote that mimics an actual coconut resting on a soft sponge cake. Other sweet treats include a Milk chocolate mousse on a almond sponge topped off with pineapple chutney, White coffee bean crémeux with lemongrass pomegranate and pomelo jelly, Kaffir lime banana praline and a Cempedak catalana on a gula melaka sponge with vanilla bavarian.

As diners are constantly on the search for more healthier food choices or trying out a vegan diet, InterContinental Singapore has stepped up to meet that need with with its new Vegan Afternoon Tea (S$98++, S$128++), an elegant three-tiered showcase of dainty sweets and delicate savouries made especially for vegans or vegetarians that does not sacrifice flavour or taste for the nutritional benefits!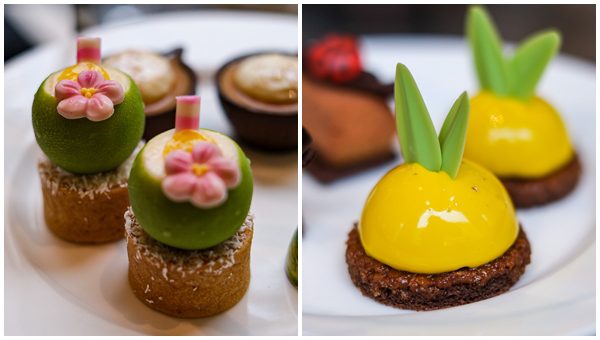 A few highlights from the tea set include Coconut sponge cake with caramelised banana jam and lime whipped cream; Raspberry Belgium slice; and dome-shaped Lemon lime curd with lemon almond sablé. Some savory treats include a Meat-free barbecue bun; and Japanese-style gyoza with ginger, citron shoyu.

Diners can elevate their high tea experience with a flute of Taittinger Brut champagne and a glass of alcoholic Copenhagen Sparkling Tea GRON- which just happens to be the star drink of the high tea experience! Made with an aromatic tea base combined with flavoured soju, the drink is sweet, easy to drink and goes well with the savoury treats in the afternoon tea sets- perfect for an easy-going afternoon tea session!

Diners can also enjoy unlimited servings of ice cream to their heart's content from a traditional push cart which complement the culinary presentation.

Both afternoon tea menus are available daily at two seatings daily from now until the end of April 2021:
– 1st seating 1:00pm to 3:00pm
– 2nd seating 3:30pm to 5:30pm

*S$98++ for two guests, inclusive of two glasses of non-alcoholic Copenhagen Sparkling Tea BLA, fine loose-leaf tea or coffee, and unlimited ice cream.
*S$128 ++ for two guests, inclusive of two flutes of champagne, two glasses of alcoholic Copenhagen Sparkling Tea GRON, fine loose-leaf tea or coffee, and unlimited ice cream.

The Lobby Lounge
InterContinental Singapore, 80 Middle Rd, Singapore 188966