Recreated European Classics Take Centerstage at Tablescape
Contemporary restaurant and bar in Singapore's City Hall unites traditions with modernity
CONTENT: Yiew Kai Jie
IMAGES: Luxe Multimedia / Tablescape
In an age where food trends have become passe and boring,Tablescape—a brand new modern European restaurant and bar located within the luxurious Grand Park City Hall—is a breath of fresh air. Tablescape focuses on delivering wholehearted, comforting favourites that can be enjoyed time and time again without the dish falling out of fashion or style. Paired with artisanal cocktails, extensive premium wine and craft beer lists while being given attentive, personalized, unobtrusive service; the Tablescape experience connects tradition and modernity in a truly elegant setting.
Fusion Ambience
The restaurant itself has a neoclassical interior design style which features decorative Peranakan style accent floor, pastel coloured chairs, and lets plenty of natural light through its floor-to-ceiling windows.
At the bar, one can choose to lounge comfortably at the private sofa seats with a warm cove lighting, or unwind with friends at the solid wood feature communal table that delicately connects the bar and restaurant. The interiors exude a quiet elegance, setting the stage for a cosy, relaxed time with close family or friends or treasured colleagues.
With almost two decades of culinary experience directing high volume hotels and restaurants, Executive Chef Robert Chan returns to his fine dining roots as the Executive Chef of Tablescape. Fresh from his recent stint at The Carvery, Chef Robert has led the teams at renowned luxury hotels and F&B establishments in Singapore. No stranger to culinary accolades, Chef Robert was listed by UOB as one of the Top 20 Chefs in Singapore in 2009, featured in various cooking television programmes, and has amassed an impressive repertoire of restaurant awards over the years of his illustrious career.
"I wanted to strip back the fine dining experience to showcase what's most important—the food," says Executive Chef Robert Chan. "Having been part of the industry here for almost two decades I'm proud to see our restaurant scene blossom, but I had a sense of nostalgia for how fine dining used to be. There was no pretension or fluff, just great classic flavours executed really well with exceptional traditional cooking techniques. That's the kind of restaurant, I feel, we constantly return to reminisce and create our fondest memory; that's the experience we want to achieve for Tablescape."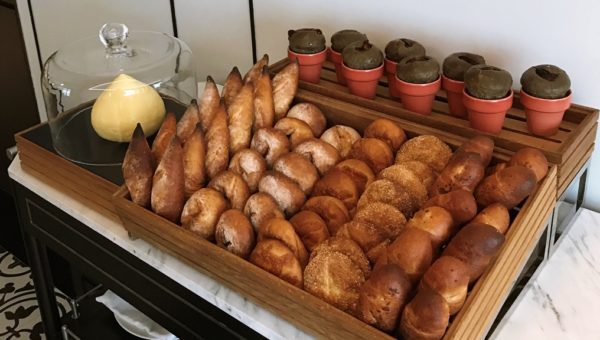 Unity in Flavour
Chef Robert specifically curated a menu for us to taste his unique creations, his intentions were to showcase the various different flavour profiles of his dishes and how well they worked with each other despite having distinct textures or tastes.
Here's what we had:
Bread from the Trolley
The restaurant has a very wide variety of fresh bread baked on a daily basis that ranges from fragrant cheese breads to classic buttery French croissants. The waiters will give you more information about the daily spread available on the trolley- don't be afraid to ask for more as the breads are really fragrant and tastes phenomenal.
The restaurant also offers their special cultured butter that comes in a huge teardrop shape that the waiters will give you to accompany the bread. You can choose from the salted and unsalted version, but the butter itself is absolutely mouth-watering! The butter itself was extremely creamy but it did not have that excessively butter texture nor aftertaste that it leaves on the mouth that results in a slight guilty feeling or queasiness from the remaining oil on the lips.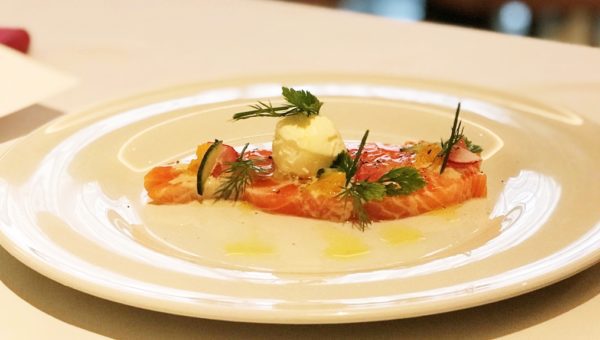 Salmon Gravlax with Vegetable shavings, Lemon Myrtle Oil and Cream Cheese Ice Cream (S$16)– The salmon was house-cured for 24 hours then paired with citrus caviar or finger lime, dressed in lemon-myrtle oil and a hint of dill, and finally topped off with a mixture of cream cheese ice cream. The marbling on the salmon is phenomenal, full of fat and flavour and easily melts in your mouth when gently chewed on. The lemon oil has a very significant taste at the back of the tongue when combined with the salmon while the cream cheese helps to elevate the dish with a creamy texture to the salmon and blocks out any excessive fishy taste that the salmon might have.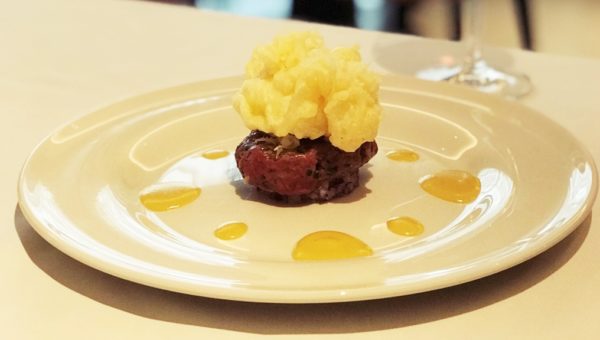 Steak Tartare and Crispy Battered Poached Egg (S$24)– The dish involves finely hand-chopped USDA beef mixed with red onions, gherkins, parsley and capers. The dish is finally stacked with a crackly, battered poached egg for texture, and dotted with aioli mustard.
The flavour of the beef was very strong, insanely strong, but the egg helps to compensate for the grit and balance it with a creamy texture if the uber soft texture of the beef is too off-putting.
Chef Robert uses a very unique knife chopping technique to achieve the consistency of the beef to ensure that every piece of meat is finely minced to perfection. The poached egg itself was extremely rich in flavour and was extremely soft inside, with a fried hard texture on the outside. Don't be put off by the look of this dish, It is a awesome culinary artpiece- I would say take a video of the dish as you cut into the egg and watch the luxurious yolk flow out, but then again this is a fine dining restaurant so be discreet about it.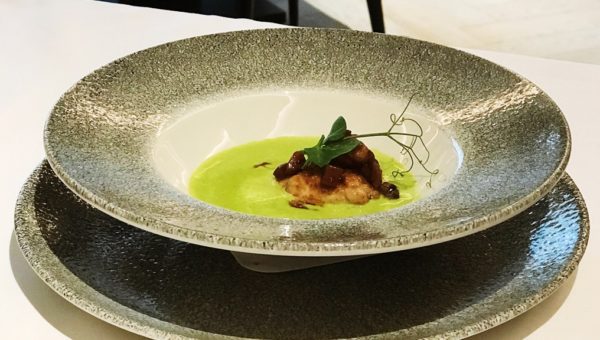 Veal Sweetbread in 2-minute Pea Soup with Ceps Mushroom Ragu (S$18) – Veal sweetbread is nicely seasoned, pan-roasted in butter; paired with porcini and shimeji mushroom ragù and served with a opulent creamy pea soup. The peas are plucked fresh from the pods, blended, and cooked with white wine and chicken stock for two minutes to retain the colour and nutrients of the pea.
The soup has a very creamy texture, there are still gritty bits of pea in the soup that gives it a bit of a rough texture, while the veal is rather smoky and tremendously soft as well. The soup has an abundant veggie taste overall, but the veal and mushrooms helps to compensate the dish with a delightful meaty flavour.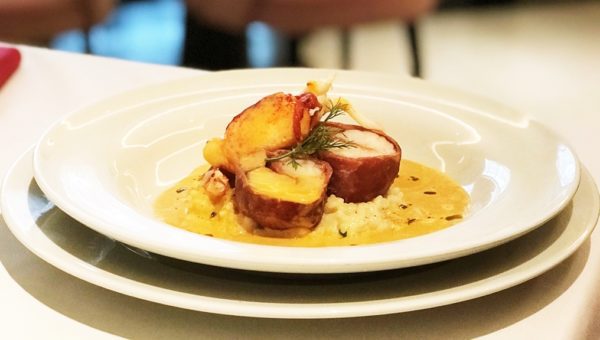 Prosciutto Ham Wrapped Monkfish and Maine Lobster on Risotto in Armagnac Bisque(S$38)– The monkfish is wrapped in a thin layer of prosciutto and pan-seared, plated up with a Maine lobster sous vide in clarified butter, and risotto in Armagnac bisque, where the Arborio grains are gently simmered in lobster broth and cream. The risotto has a very creamy texture and is sublime, soft and extremely rich in flavour because of the accompanying bisque.
The Prosciutto goes well with the monkfish by giving it a rustic salty flavour, but the monkfish had a pretty rough texture and was rather hard when bitten down on. The lobster was extremely appetizing and fresh, and had a garden-fresh herbal taste in it. Overall it's an amazing dish that will keep you licking the plate for the amazing creamy flavour, and got me wondering for a second portion (for every single grain of risotto rice) – a definite must order dish on the menu!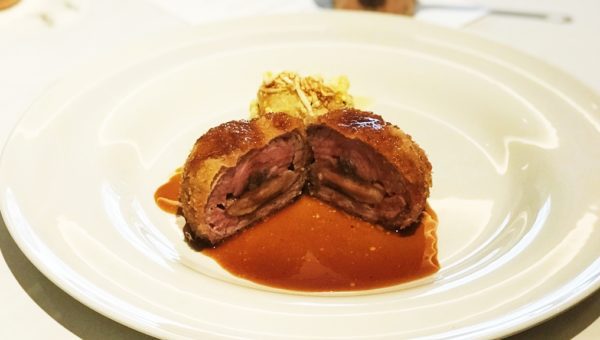 Milk-Fed Veal stuffed with Foie Gras, Duxelles and Sage with Cauliflower Mimosa and Madeira Jus (S$38)– A cooking process that takes two days to come to fruition, the milk-fed veal tenderloin is stuffed with seared foie gras, flattened duxelles and sage, wrapped and left to set for a day. The soft veal is then deep fried and baked in the oven.
While both proteins have conflicting textures- the veal being rather tough while the foie gras is rather soft and chewy, they come together as one in terms of flavour and help to balance each other out to create a harmonious dish.
The breadcrumbs covering the proteins are extremely delicate and give off a satisfying crunch sound when you cut into the dish. The soft texture of the cauliflower and the other vegetables in the puff veal pastry work really well to compensate for the richness of the meal- all protein and no fiber makes an imbalanced meal no?
Dessert from the Trolley
No meal is finished without a satisfying dessert and Tablescape's dessert trolley was filled with a vast assortment of desserts, that ranged from tarts, pies, brownies and even champagne jelly!
In all, there are over 15 different types of desserts, all of which are sure to amaze you and get you thinking about bringing home that delicious cheesecake!
Spicy Mango Mousse – Mango mousse cake encased in a shell of white chocolate with a touch of Tabasco sauce.
Raspberry Lychee and Almond Cake – a tribute to the classic Ispahan dessert.
Camembert Cheesecake – a twist to the traditional cream cheesecake.
Tablescape's diverse bar menu showcases premium wines, craft beers, and the best of classic cocktails with a modern twist, well suited to the city dwellers. The cocktail programme focuses on a decidedly European approach accented with floral, savoury nuances including enticing, playful concoctions paired with mediterranean-inspired bar bites.
Tablescape offers a la carte as well as set lunch and dinner menus every day. The attractive two- or three-course set lunch (priced at S$32++ and S$42++ respectively) is a fantastic option for a weekday business meal, or a leisurely one in between museum stops on the weekend
Tablescape is located at: Level 3, 10 Coleman Street, Grand Park City Hall, s179809
The Restaurant is open for Lunch – 12.00pm to 2.30pm, Dinner – 6.00pm to 10.30pm while the Bar open from 5.30pm to 1.00am.
For reservations please contact: (+65) 6432 5618 or email: hello@tablescape.sg