The Salted Plum Takes Root at its New Outlet at Suntec City
CONTENT: Yiew Kai Jie
With the official opening of its second outlet in Suntec City, The Salted Plum has come a long way since its inception as a pop-up store. Its new outlet at Suntec City features a vast dining area complete with a self-service system (that helps to save costs and passes it on to the customer) and new outlet-exclusive Southern-Taiwanese dishes, plus an enhanced version of their signature braised pork belly, aptly named Lu Rou 2.0.
The 76-seater establishment offers customers the option of a Taiwanese dining experience on a budget – a first for The Salted Plum. To kickstart the day on weekdays, the restaurant offers a wholesome Taiwanese breakfast eats that can be enjoyed dine-in or on-the-go from 8am to 11:30am. Each breakfast set ($5) consists of either a tantalizing bowl of Mee Sua with Oysters or a fluffy Gua Bao with a choice of Lu Rou 2.0 or Burnt Chilli Chicken filling and Soya Bean Milk (served warm or chilled, sweeten or unsweetened).
For the hard-pressed office worker looking for a quick lunch during the afternoon rush hour, The Salted Plum offers customers a wide range of lunch bowls to choose from to satisfy their hunger pangs from 11.30am to 2.30pm!
The Petite ($11) and Regular ($13) lunch bowls come complete with a selection of Lu Rou 2.0 Bok Choy (Chinese cabbage), Fried Oyster Mushroom, Tau Kwa (firm bean curd) and Beef Belly with Pickled Ginger.
For customers who missed their breakfast (presumably due to work) and are absolutely famished, the Supreme Bowls ($16 to $26) will prove to be more than sufficient to satisfy a customer's ravenous hunger for meat. The literal Goliath of a lunch bowl comes with Lu Rou 2.0 , Burnt Chilli Chicken and Pork Chop; while the Salmon Fresh AF bowl ($16 and $18) is topped with a perfectly cooked salmon fillet, pickled carrots, and daikon.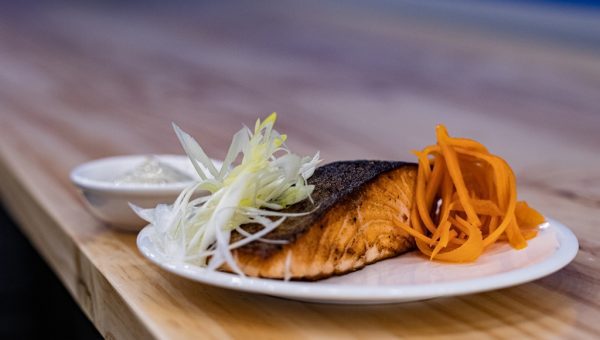 Each bowl is also crowned with a perfectly cooked Sous-Vide Egg for an added creaminess and richness to the dish. Customers are also able to further 'zhoosh' up their meal with add-ons of Bok Choy, Crispy Pork Croutons, Garlic Chips, Sous-Vide Egg and Fried Tau Kwa for only $1 each.
As the day finally comes to an end, customers may look forward to savouring signature zi char dishes and desserts for dinner from 6 to 9pm. Long time fans of The Salted Plum will be relieved to find that their signature dishes such as Joey's Lala ($15), Kao Rou ($15) and Long Beans ($10) have been carried over from their Circular Road outlet.
To celebrate the opening of its new outlet, three new dishes have been created that are exclusive to its Suntec City outlet. The dishes include: Dou Miao ($15), crunchy pea sprouts stir-fried with chucks of house bacon; Cold Tofu ($10) a comforting chilled dish of silky tofu, haus soy, topped with fried century egg and shallots; Salmon Fresh AF ($15) pan-fried fresh salmon served with leaks, pickled daikon with a side of seaweed mayo.
To further enhance the dining experience at it's new outlet, customers will have a choice to order from sets meals for two people ($50) or a group of four ($100). The set menu will include all-time favourites such as Burnt Chilli Chicken, Oyster Omelette, Lu Rou 2.0 and a few other mainstays to ensure that customers will be full and satisfied after their meal! (The set menu includes Red Tea Jelly for dessert and free flow drinks.)
The Salted Plum's new outlet is located at Suntec City Mall, 3 Temasek Boulevard #B1-122A Singapore 038983.
The Salted Plum is open daily, from 8am-9pm.