This National Day, YOKU MOKU Launches First Ever Country-Exclusive Tin in the World – The Singapore Heritage Tin
For the first time ever, YOKU MOKU presents a special edition Singapore Heritage tin to commemorate the brand's journey from Japan to Singapore. This is the very first country-exclusive tin that is designed outside of Japan from YOKU MOKU. Exclusively available in Singapore, the YOKU MOKU Singapore Heritage tin will be launched in conjunction with Singapore's National Day, marking a new milestone for the prestigious Japanese confectionery brand of over 40 years of history.
Designed by up-and-coming Singaporean artist, Chris Chew, the YOKU MOKU Singapore Heritage tin is a playful take on icons of both Singapore and Japan. Chris reinterpreted icons such as the Tokyo Tower, Mount Fuji, Singapore's iconic dragon playground and the Merlion during his creative thinking process in coming up with the YOKU MOKU Singapore Heritage tin.
The Singapore Heritage tin is not a mere cookie tin that is unique aesthetically. The design is also an interactive one that incorporates the classic game "Snakes and Ladders" to engage the owner. Each tin comes with a matching set of wooden magnetic pawns and a dice.
YOKU MOKU Singapore conceived the idea of the Singapore-exclusive tin with the theme of heritage in the hope that the younger generations can learn more about Singapore's heritage as they play the game with their parents or even grandparents. From the traditional kuehs to the iconic landmarks, the game offers opportunities for the older generation to share their knowledge as both young and old engage together to play the game.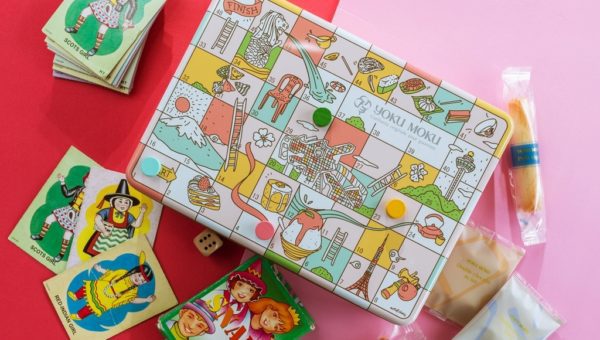 Kashma Budhrani, Director of YMSG Pte Ltd, the official distributor of YOKU MOKU in Singapore, shared: "YOKU MOKU tins are known to be collectibles by many and we believe the Singapore Heritage tin will be no exception. We are proud that YOKU MOKU Japan has chosen Singapore to launch the world's first ever country-exclusive tin that is designed outside of Japan."
"The Singapore Heritage tin marks the journey of YOKU MOKU from Japan to Singapore in more ways than one. It is truly meaningful to our local team here and the Singapore Heritage tin is a fitting tribute to Singapore."
Remarking on his collaboration with YOKU MOKU, Chris said: "I have a deep love for cultural heritage and I am happy that YOKU MOKU worked with me on such a purposeful project. I am thankful to help share the joy of heritage stories and passing them on to the next generation through my art."
The YOKU MOKU Singapore Heritage Tin retails at S$44 each, and is exclusively available at YOKU MOKU boutiques in Singapore from 1 August 2018.
For more details please visit: www.yokumoku.com.sg