Zouk Group Set to Launch Famous Foods Street Eats at Resorts World Las Vegas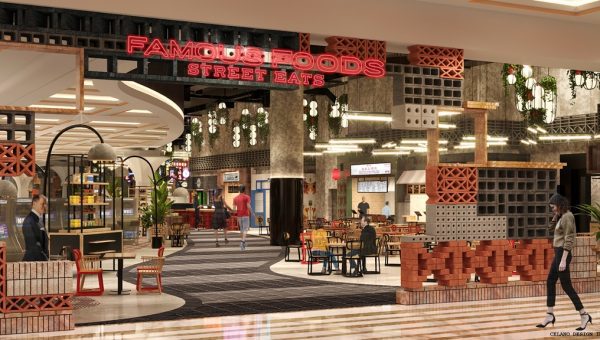 Blending Asian and Western food culture, Zouk Group, Singapore's leading nightlife and lifestyle brand, will introduce an Asian hawker-inspired food hall concept with authentic street food and cuisines from around the world to Resorts World Las Vegas, the Strip's new integrated resort opening this summer. Famous Foods Street Eats will be an interactive 24,000-square-foot street food destination, boasting 16 diverse food stalls from top chefs and restaurateur – and the only destination in the U.S. with the most Michelin Plate and Bib Gourmand recognized concepts under one roof. In addition, Famous Foods will feature a vibrant 16-seat center bar and a picturesque speakeasy hidden within the depths of the food hall.

Famous Foods will pay homage to the lively scene and culture that has been savored at Asia's most popular hawker centres for nearly a century. Known and loved across the region for their wide array of dishes, many hawker centres now proudly boast Michelin Plates and Bib Gourmand Awards – an award which originated as a way to honor restaurants that offer exceptional food at a reasonable price.

Zouk Group's Executive Chairman Hui Lim and Chief Executive Officer Andrew Li not only took inspiration from traditional hawker centres, but also recruited from them – bringing Asia's top food hawkers to the U.S. under one roof for the very first time. Lim & Li traveled throughout Asia to personally taste test the different hawker cuisines and curated a selection of food stalls for Famous Foods complete with unique Asian recipes that have been passed down through family generations. The marketplace will offer food enthusiasts the authentic opportunity to "hawker-hop" and indulge in culturally traditional dishes, as well as stalls from craveable U.S. eateries and their respective celebrated chefs.


Some of the popular Singapore food brands Boon Tong Kee, popular for its traditional Hainanese chicken rice, Geylang Claypot Rice, earned a Michelin Plate in 2016 and will serve up traditional Southeast Asian rice dishes slowly cooked in traditional claypots, Springleaf Prata Place , offering authentic cuisine from South India will also set to bring their flavours to the world, there will also be a Mamak ( a sundry store) store that will sell merchandise, unique snacks and keepsakes including take-home food kits, books and more for guests to commemorate their experience.


James Beard Award-winning Chef Marcus Samuelsson's Streetbird Las Vegas will also showcase one of America's favorite foods: fried chicken, highlighting Samuelsson's take on comfort food classics including his famous Sweet & Spicy Fried Chicken, Hot Honey Chicken & Waffle, Wild Wild Wings, and Mac 'n Greens. While James Beard Award finalist James Trees Las Vegas favorite Esther's Kitchen will be offering fresh mozzarella and burrata, housemade bread, small bites and signature sandwiches including chicken and eggplant parmesan at Mozz Bar by James Trees.

Music Fans will be delighted to know that DJ Steve Aoki and his restaurateur brother Kevin Aoki will also be opening Kuru Kuru Pa Yakitori, a Japanese and anime-inspired concept will feature a variety of yakitori, kushiyaki and yaki onigiri along with a selection of signature drinks and mochi.


The fun and energetic space, conveniently located right off the casino floor, is designed to offer an array of Instagrammable moments for a new-age dining experience, featuring vibrant neon signs and trinkets, and an open seating area with floor-to-ceiling views of the iconic Las Vegas Strip. With food "edutainment" at the forefront of the Famous Foods experience, guests can enjoy Michelin star meals at an affordable price while immersing themselves in the different cultures and origins of these authentic cuisines. Famous Foods will also feature two commissioned art pieces by Red Hong Yi, a popular Chinese-Malaysian contemporary artist known for her mixed media interpretations. Anchoring the space will stand a 10-foot tall Lucky Cat sculpture made entirely of gold coins, while a distinct eight-tone mural made of 18,000 tea bags welcomes guests upon arrival.

"Famous Foods will transport guests to an authentic Asian hawker market – an experience that's never been replicated in the U.S.," said Andrew Li, Chief Executive Officer of Zouk Group. "After months of planning and carefully curating the perfect mix of partners, Zouk Group is thrilled to be able to unveil this special culinary concept to the city of Las Vegas, and equally as excited to bring it to the Strip's most anticipated new resort" added Li.

A true celebration of the best of the Asian hawker culture and cuisine paired with world-class western dishes, Famous Foods is primed to be one of the top food experiences in the city.

Resorts World Las Vegas
Website