Theatre Review: DISGRACED
CONTENT: Andrew Kho
IMAGES: Singapore Repertory Theatre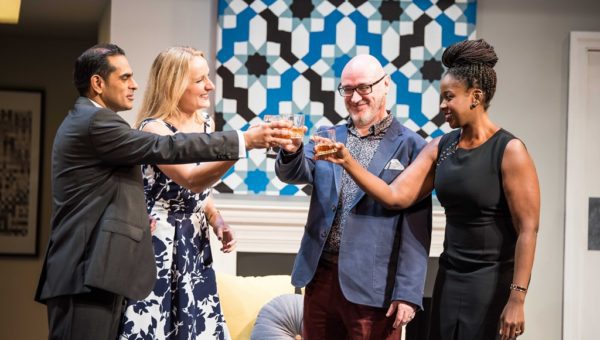 The Pulitzer Prize-winning play by writer Ayad Akhtar "Disgraced" opened to a sold out performance at the KC Arts Centre – Home of SRT last Friday.
This contemporary modern play centers on Amir (Gaurav Kripalani), a successful lawyer working in a Jewish law firm of Pakistani heritage who has renounced his Muslim faith and Emily (Jennifer Coombs), his artist wife who constantly contradicts his criticism of the faith and insists there is "beauty and wisdom in the Islamic tradition".
Set in an Upper East Side apartment setting, the play opens with Amir posing for his wife Emily who is painting him after a heated incident in a restaurant showing her artistic persona that contradicts to her Islamic perspective and underscored when his nephew Abe (Ghafir Akbar) who asked for his support for an terrorism related issues.
The play further heats up when the couple hosts a dinner party for Jory (Lanisa Frederick) , Amir's law firm colleague and her husband, Isaac (Daniel Jenkins), an art curator who has an eye for Emily's paintings. They get head to head during the dinner when Amir speaks about his feelings as he watched the twin towers of the World Trade Centre fall during the 9/11 and further goes deeper when they touches on Islamic and cultural issues.
Each of the perfectly casted characters has their own personal identity and belief that connects them to each other and unfolds shocking revelations as the story further continues. Amir, who turned his back and kept secret his racial roots yet in his own actions naturally revealed them in due course. Emily, self-contained in her own privileged acts of cultural belief, discreetly ambitious and less noble at her own cost. Jory, provides a comedic relief throughout the play, puts on a mask to further her career and chose to go with the flow of the waters and Isaac, knowledgeable, smart, strong willed who will eventually put a thorn in Amir's mind and heart.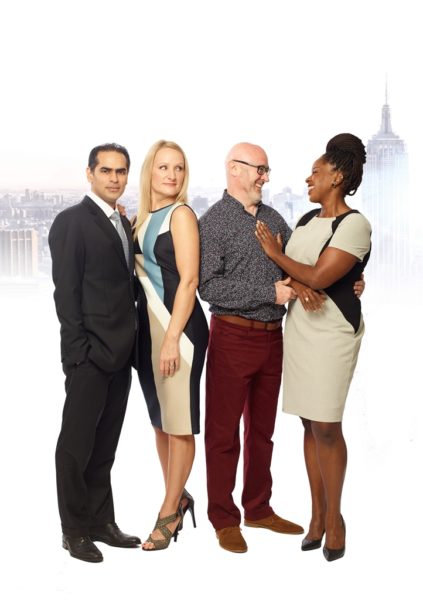 "Disgraced" is a welcome change in Singapore's theatre scene and very realistic where everyone of us have seen and experienced in our society today. The play enables each and everyone of us to reflect on our cultural, political beliefs and changes the way we see the world.
Each and everyone of us has our own ideas of freedom and how we create our own images according to our desires to make it more ideal to our daily convenience than be realistic according to the needs of our society. Our choices sometimes livens up to accusations, hatred, lies and desperations and leads to the disbandment of our once culturally untied society.
Disgraced is extended till 9 December 2016 at KC Arts Centre – Home of SRT. Performance commence at 8:00pm. Tickets from $35 onwards are now available from www.sistic.com.sg , at all SISTIC outlets and the booking hotline (65) 6348