"Mickey Go Local" in Celebration of Mickey Mouse's 90th Anniversary
CONTENT: Yiew Kai Jie
The campaign supports the President's Challenge with a pledge to donate S$300,000 through CapitaLand's philanthropic arm, CapitaLand Hope Foundation.
In celebration of Mickey Mouse's upcoming 90th anniversary and Singapore's 53rd National Day, Raffles City Singapore has collaborated with The Walt Disney Company (Southeast Asia) to launch the first "Mickey Go Local" campaign. Being part of Raffles City Singapore's long-running Arts in the City programme, the month-long campaign features a wide range of activities that celebrates the character's 90th anniversary while paying homage to Singapore's rich heritage and culture. The public exhibition of 90 Mickey Mouse figurines were designed and decorated with a Singaporean twist by various local individuals from different walks of life, including popular artistes JJ Lin, Nathan Hartono and even President Halimah Yacob herself who launched the campaign.
Binding generations together, Mickey Mouse reminds people of all ages the benefits of laughter, optimism and hope. The year 2018 marks 90 years since the beloved mouse made its first appearance in American animated short film Steamboat Willie on 18 November 1928. To commemorate this milestone, a series of world-wide celebrations has been lined-up.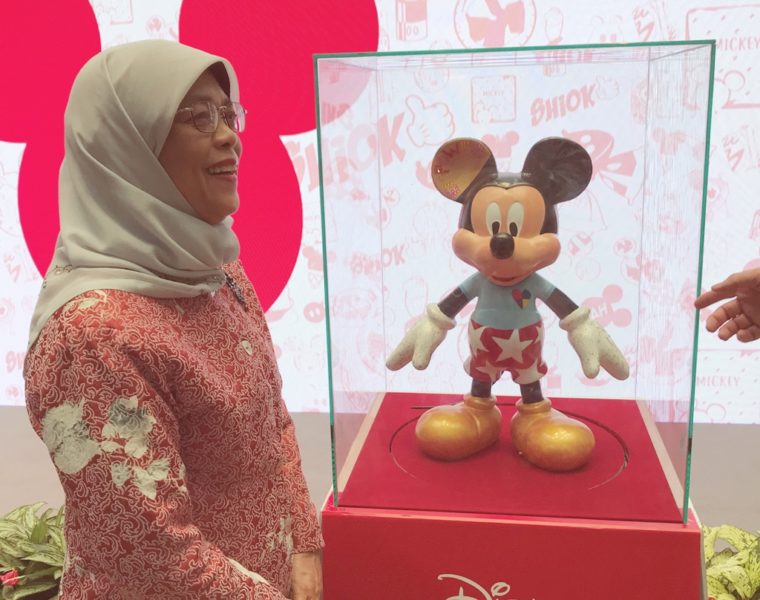 Kicking off the celebrations in Singapore is Disney's "Mickey Go Local" campaign at Raffles City Singapore, which aims to connect the iconic character with Singaporeans and tourists in a surprising and fun manner. Specially created "Mickey Go Local" products, including household items, fashion merchandise and accessories, feature Mickey Mouse in uniquely Singaporean settings that showcase local heritage, customs, language and delicacies. Over 80 of these products will debut at the "Mickey Go Local" pop-up store at Raffles City Singapore, and a larger range will be made available later at all major retailers.
"For over 90 years, Mickey Mouse has brought laughter, optimism and hope to millions of fans all over the world. As part of the global celebrations of our beloved icon's 90th anniversary, Disney Singapore is pleased to launch "Mickey Go Local" at Raffles City. The campaign will engage fans of all ages in a locally relevant and fun manner, providing more ways for people to celebrate with their favourite Disney character," said Amit Malhotra, Country Manager, The Walt Disney Company Singapore and Malaysia.
In conjunction with the campaign, CapitaLand has pledged to donate S$300,000 through its philanthropic arm, CapitaLand Hope Foundation (CHF), to the President's Challenge 2018. To date, CHF has committed S$10,000 for the completed artwork by President Halimah Yacob, and S$2,000 per completed artwork by notable Singaporean personalities and individuals from different walks of life as well as the top ten designs submitted by Raffles City Singapore's Design Your Version of Disney's Mickey Mouse participants.
Held from 13 to 22 July 2018, the design competition was opened to all Singaporeans to style Mickey Mouse in the most quintessential local motifs, such as food, customs, heritage, architecture and language. The top 10 designs are part of the exhibition at Raffles City Singapore.
The "Mickey Go Local" Exhibition is located at Level 1, Raffles City Singapore, 252 North Bridge Road.
The exhibition is ongoing until 29 August 2018, from 10am – 10pm. (Admission is free.)