Popular Taiwanese DIY Baking Studio Funsiamo has Opened in Singapore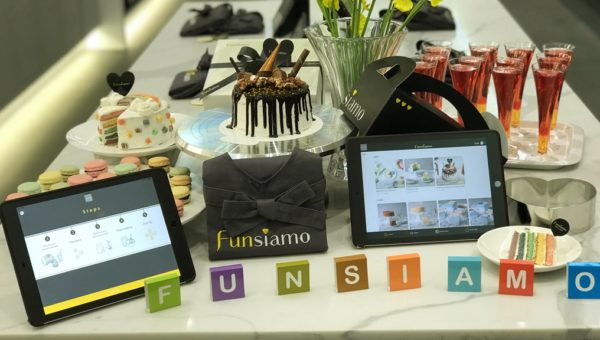 CONTENT: Yiew Kai Jie
Funsiamo, Taiwan's premium DIY baking studio, has just opened its first overseas outlet in Singapore. Founded by Ms Brenda Hsieh, Funsiamo has taken Taiwan by storm and it is ready to do the same in Singapore. The 1,200 square feet studio features a minimalistic look with a blend of yellow, black, and white furnishing, equipped with top-of-the-range baking appliances.
Funsiamo's Singapore studio offer flexible booking schedules and a vast library of recipes to choose from; such as favourites like Rainbow Cake, Valhorna Banana Chocolate Cake, macarons, fruit tarts and mousse cakes, or more exciting bakes like Hokkaido cupcakes or adorable unicorn cakes. There will be 15 recipes rolled out in various phases within the first month and more to come after. All ingredients and tools will be supplied by the studio, so guests only need to call to make a booking or walk in to try out a DIY baking session.
Ms Brenda Hsieh, founder of the Funsiamo brand in Taiwan said: "I am excited to be bringing Funsiamo overseas for the first time, here in Singapore! Funsiamo is something that is very close to my heart, as I started it with the intention of recreating an experience reminiscent of the warm memories I had in childhood of a happy home filled with the happy laughter of friends and the delicious aroma of baking. The essence of Funsiamo is exactly that – a space for friends to come together and have a good time baking while enjoying each other's company."
The name "Funsiamo" translates to "Let's have fun together", from the word "fun" and "we are" in English and Italian respectively. Regardless if you're a seasoned baker or someone who has never touched a mixing bowl, there will be a tutorial video and steps for you to follow to ensure that you will have a fun and enriching time at Funsiamo! Should you need any further assistance, Funsiamo's staff will be on hand to assist you with making your cake and cleaning up the mess- the bane of every baker's existence!
In celebration of Funsiamo's official opening, visitors to the store can enjoy a 20% discount for recipes of the Valhorna Chocolate Banana Cake, rainbow Cake, and Hokkaido Cupcake.
Funsiamo is located at Suntec City, North Wing, #02-458, SIngapore 038983
For more information, visit their website at www.funsiamo.com.sg .