Enjoy Fresh, Pure Water at Home with Singapore Exclusive RUHENS V Water Purifier Pink Edition.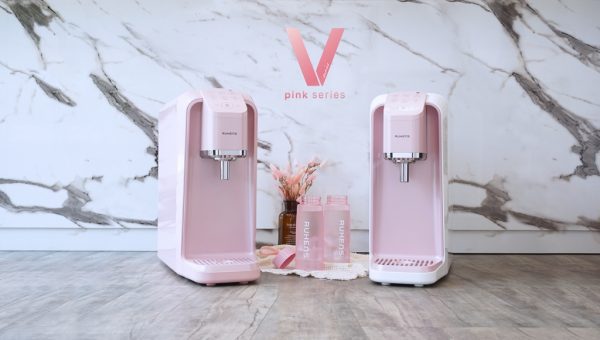 With water making up more than 60% of our bodies, nourishing our bodies with fresh, pure water is essential for enhancing our well-being. This season, RUHENS unveils two brand-new pink editions; Bubblegum Pink and Marshmallow Pink, of their signature RUHENS V (WHP3000) Water Purifier, exclusive to the Singapore market. Now, Singaporean consumers have an even wider choice in incorporating this sophisticated luxury in the home to suit every interior aesthetic.

Multi-Temperature Convenience
The RUHENS V has been highly lauded by homemakers as an essential home product for its tankless, multi-temperature capabilities. Get hot, cold, room temperature or warm water at the touch of a button with the RUHENS V, which offers five different precise temperature controls – at 4ºC, 27ºC, 40ºC, 60ºC and 87ºC – through a direct cooler and heating technology. These varying temperatures conveniently provides homeowners' their needs for a variety of occasions:

• 4ºC : Great for cold-brew iced-tea sachets, or to hydrate on a hot day
• 27ºC: Great for hydration at room temperature throughout the day
• 40ºC: The perfect lukewarm temperature to make baby formula
• 60 ºC: Perfect temperature for brewing hot tea
• 87 ºC: Easily sterilize any kitchen utensils, or prepare coffee and cup noodles

Tankless and Compact
As no additional tank is needed in the process of cooling and heating the water, the risk of bacteria building up is largely reduced, while allowing the water purifier to stay compact with this design. The slim profile of the RUHENS V makes it easy to place it on the countertop or table, fitting in seamlessly in every living space.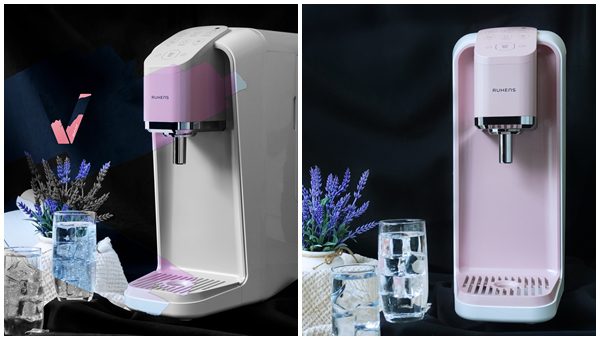 A Piece of Mind with RUHENS' Filters
Enjoy a peace of mind with the RUHENS' cutting-edge filtration system exclusively developed for the RUHENS' water purifiers. The Micro Antioxidant Carbon Filter reduces sediment particles, while the Nanofact Plus Filter removes water contaminants such as waterborne micro-organisms, bacteria as well as viruses. These filters are also detachable for easy cleaning and replacement. The filter change indicator automatically reminds users when the filters need to be changed, thus keeping the filters optimised.

Keeping It Clean
The intelligent design of the RUHENS V packs many automated features within it for utmost convenience. Minimal maintenance is required, as it has an automated sterilisation feature where the filter is automatically cleaned using a UV lamp. Fret not about dispensing more than what is needed, as the quantity control feature dispenses precise amounts of 120ml, 550ml, 1500ml automatically.

Keeping the RUHENS V clean and well-maintained has never been easier, What's more, with a detachable faucet that can be easily rinsed under the tap, any risk of contamination from dirt or dust particles from the surrounding air is also lowered.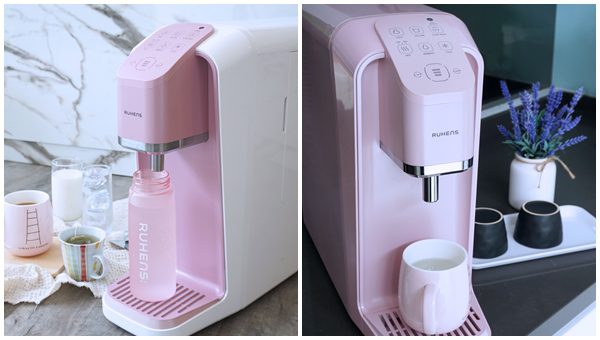 Eco-Friendly
Recognising many modern households' emphasis on eco-friendliness and cost-savings, the RUHENS V's eco mode helps reduce power consumption by 30%. With RUHENS V, enjoy clean, purified water that is better for the environment, and better for good health.

The new pink RUHENS V retails at S$2,599 (inclusive of 3 years' worth of filters) at Ruhens' showroom. Other colour options include Yogurt (white) and Charcoal (black).

For more information, please visit: http://ruhens.com.sg/