Gill Mask: Singapore Designed Reusable Respirator Provides Sustainable and Cost-Effective Solution for Airborne Contaminants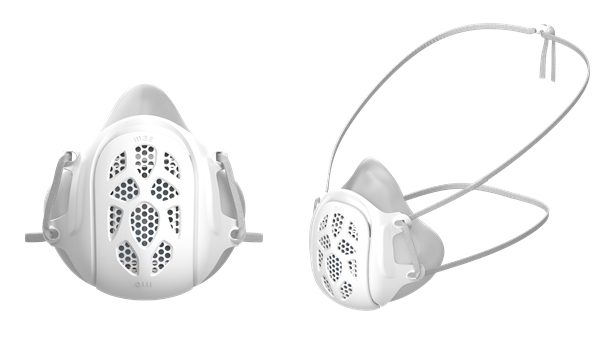 In response to the recent global mask shortage, Singapore designed Gill Mask was invented and manufactured for front-line workers in high-risk environments. This eco-friendly reusable silicon respirator with a detachable cartridge that allows for easy filter replacement extends the life of a single-use mask by six times.

Gill Mask respirators are produced in industrial-grade ISO 13485 compliant medical-grade factories and certified as a personal protective equipment (PPE). Materials used to produce Gill Mask comply with FDA standards receiving exemption approval from the Health Sciences Authority of Singapore (HSA) to distribute the respirator mask as a medical product.

The mask's unique face piece was designed with 3D face data to suit a variety of facial shapes. Soft silicone conforms to wearers' facial contours, making it comfortable to wear for long duration without adjustment, bruising or irritation. Made from bio-compatible skin-friendly materials, the mask can be easily sterilized in boiling water or with household disinfectant. The adjustable straps allow for a snug fit without side gaps to provide safer, more effective protection for users.


Gill Mask can be reused daily and lasts up to two years. The detachable filter cartridge fits into the silicone part of the mask providing an air-tight seal, and the level of the filter can be adapted to personal choice and purpose. This innovative adaptable cartridge design is first of its kind and ensures a high- protection comfort fit with long-lasting durability and less maintenance.

Pre-cut Gill filters of various protection levels is available for purchase or you may cut any filter material to fit the detachable cartridge. Gill Mask uses 10 times less raw filter materials compared to disposable face masks.
The Gill Mask respirator is available in two sizes – regular (118mm wide x 125mm high) and large (129mm wide x 130mm high). Ideal for children ages 5-13 years (or petite adults) and will be available for purchase from mid-June 2020.

Gill Mask retails from S$28.50 (excluding shipping costs S$5 in Singapore and S$8-10 in Malaysia) and is available to purchase online.