The 8th Singapore Yacht Show Returns this April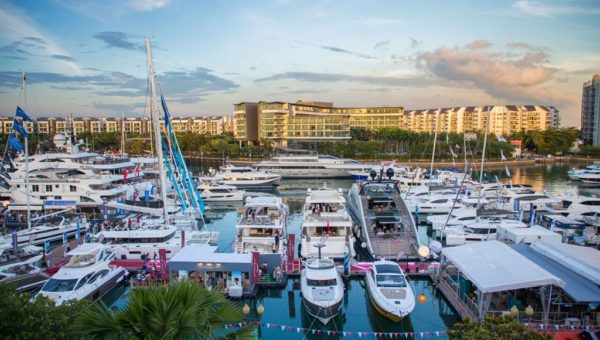 Excitement and anticipation are building up as the eighth edition of the Singapore Yacht Show (SYS), set to take place from 12 to 15 April 2018 at ONE°15 Marina Sentosa Cove, Singapore, is rapidly shaping up. This year will see an expanding line-up of the world's most prestigious superyachts and boating brands at Asia's biggest boat show, along with a dazzling social calendar replete with glamorous parties, networking events and high-end entertainment.
In an impressive array of regional debuts, Boat Lagoon Yachting, Simpson Marine, Hong Seh Marine, Azimut, ProMarine, and Multihull Solutions, to name but a few, will all unveil new models recently released by their respective brands – some up to 30m long. Nautical Habitat, a newcomer to SYS and to the region, will be debuting as an exclusive distributor of leading yacht brands and first-class yacht brokering services, demonstrating the industry's belief in the growing business potential in the region.
Stunning Superyachts
One of the biggest yachts currently confirmed in the 2018 line-up is the 52m Prana by Atzaro, a majestic newly-built eight-bedroom Phinisi yacht making its world debut at the Show in partnership with renowned brand Sunbrella. Featuring interiors by Philip Gonda from Ibiza's Atzaró Group, and custom-made furniture by Javanese artisans, Prana's unique design draws inspiration from the traditional Indonesian two-masted sailing ships and the sun-kissed shores of Bira in Sulawesi, Indonesia. Phinisi boat-building is considered an artform and Masterpiece of Oral and Intangible Heritage of Humanity by UNESCO.
Asian Premieres & Debuts
Boat Lagoon Yachting, one of Asia's largest importers and distributors of luxury yachts, returns once again to Singapore Yacht Show to present two of the latest additions to the iconic Flybridge range from Princess Yachts in Southeast Asia – the Princess 62 and Princess 55. These brand new models made their world premiere at the recent Cannes Yachting Festival and will join the impressive fleet. Boat Lagoon Yachting will also announce the Asia première of the Princess 30M and Princess S65, the Show debut of Jeanneau's distinguished powerboat Merry Fisher 895, and the thoughtfully customized Princess 75 motor yacht
Simpson Marine, Asia's leading yacht dealer, present at every edition of SYS' since the very beginning, will lead the regional premieres with the Beneteau Oceanis 51.1 – the first of a new generation, featuring taut lines, a new stepped hull and a stylish deck plan; Beneteau Gran Turismo 50 – the flagship of the latest generation of sport cruisers by Beneteau; Beneteau Lagoon 50 – with a new visual identity, rigging and hull design; and Beneteau Lagoon 40 – Lagoon's new sailing catamaran mode.
Also making its regional première, the new Ferretti 780, presented by Hong Seh Marine, will show off its aerodynamic design with clean shapes and sleek lines that are a feature of the Tai He Ban collection – a special new range with design customization aimed specifically at the Asian market. Hong Seh Marine will also be launching the Boston Whaler 315 Conquest, great for fishing and cruising.
Italian yacht builder Azimut Yachts will introduce its Grande 27 Metri in Asia for the first time. Recently crowned winner of the 2017 World Yachts Trophies' "Most Achieved" Trophy in the 80' to 125' category, it features the use of carbon fibre, a construction choice that allows volumes and surfaces to be increased in size while keeping the same weight maintaining excellent levels of dynamic stability.
ProMarine will be presenting the 34m superyacht Majesty 110 and the 18m Nomad 55 by Gulf Craft. Carefully designed by the celebrated British yacht designer Andrew Wolstenholme, Nomad 55 is perfect for long-distance travelling. Multihull Solutions will unveil their Fountain Pajot MY 44, a brand new 44-foot power catamaran.
Sustainable mobility and some of the latest developments towards mindful conservation at sea will also be present at SYS. Azura Marine will be unveiling the solar electric catamaran Aquanima 45, a brand new ecological yacht with unrestricted and unlimited sailing range and no operation cost. The Aquanima 35 and Aquanima 28 versions which can be delivered as yachts, dive boats, tour boats, ferries and water taxis will also be introduced.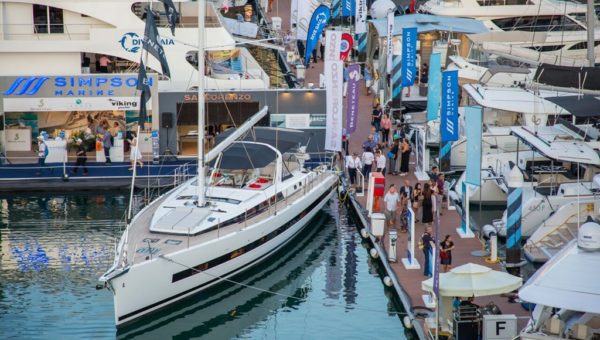 Lifestyle Destination
On top of the amazing line-up of yachts, SYS 2018 promises an exciting social calendar and a plethora of activities for everyone. Visitors of all ages will enjoy a bumper schedule of live demonstrations, trials, luxury retail, give-aways, wellness workshops and yacht cruises.
The Floating Leisure Hub located in the heart of the Show will be back-packed with the latest recreational watercrafts for diving, fishing and water sports. Kids can join creative workshops and admire supercar displays, whilst parents enjoy sommelier-led craft beer and wine tastings as well as activities on board some of the biggest yachts in the show.
The fun will continue at night with glamourous VIP dinners, chic yacht parties and unique networking events.
All That Glitters
The celebratory "All That Glitters" Sentosa Ball, opens the social proceedings. Held in the Grand Ballroom of the W Singapore at Sentosa on Thursday 12 April, this will be a fun and glamorous evening bringing together the world's leading yachting personalities, Asia's most influential people, yacht owners, and industry captains in an extravagantly stylish setting.
350 VIP guests will celebrate developments in the growing Asian yachting market, whilst enabling those new to the yachting lifestyle a chance to learn more about it. A silent auction will also take place during the Sentosa Ball with proceeds going to the Biosphere Foundation.
Tickets to the Ball are available at SGD $5000 for a table of ten or SGD $550 per individual.
Tickets can be purchased at: www.singaporeyachtshow.com/show/gala-dinner-2018
The 8th edition of the Singapore Yacht Show will take place from the 12-15 April 2018.
For enquiries, please contact: info@singaporeyachtshow.com or visit: www.singaporeyachtshow.com