Breaking down COS's Autumn/Winter 2018 Collection: Post-War, Past-Fashion
CONTENT: Henry Boen
COS tweaked their fashion rules in their Autumn Winter 2018 Collection – and we're more than happy to take it.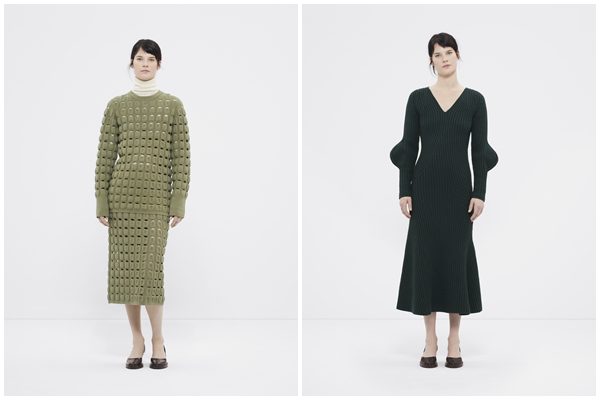 The collection was a beautiful crossover between street avant-garde and basic silhouettes that features subtle, but prominent detailing throughout. Cut sculptural forms in textured fabrications – well, there are some downsides, but there are also plenty of standouts to look out for. Knitted jumper and pencil skirt with geometric cutouts and quilting technique being one; and the other in a knitted dress with organic ribs that exaggerates the ergonomic shape of the elbows. There's an aesthetical ease in this particular design research, and it looked fresh and promising for the brand.
The colour palette reminisce the old industrialised British movies found in British Pathé newsreel stash, or simply put – a less vibrant case of Mad Men's closet. Nature inspired tones of green and browns with sulfur and muted lilac paired with colder grey, petrol and off-whites spread evenly. Staples also ran throughout for those seeking easier separates for pairing (especially menswear), like the elongated belted peacoat in black; fitted trousers; roll-neck wool tops, while cotton shirts and A-lined skirts are available for ladies.
The vast range of outerwear dominated the lineup as expected, but it also seems tasking for someone to slowly ease up and feel comfortable with the overwhelming takeover of the human figure. Unless you're all about that bulk layering and non-conforming shapes, we suggest advancing safer with the simpler options like the sculptural felted wool coat or the flirtier re-proportioned lightweight wool coat in taupe. Accessories like the welling boots in high shine leather for the ladies; and square-toed leather zip boots for men; sterling silver earrings and felted wool backpacks completed the collection – adhering to the macro theme of uniformed fashion. It's a throwback collection to the quieter era of fashion – or even to a post-war likeness – where unpretentiousness was once the fad. After all, simplicity is and will always be the ultimate sophistication.