Cherry Garden Presents Three Delectable Rice Dumplings for this Year's Dragon Boat Festival
From 8 to 18 June, Cherry Garden at Mandarin Oriental, Singapore presents three delectable rice dumplings perfect for Dragon Boat Festival.
Making a debut this year is our Five Grain rice dumpling (鸡肉五谷米粽 – SGD 16 per piece), which is a delicious spin off from the restaurant's all-time favourite Five Grain Fried Rice. With the melange of brown rice, glutinous rice, black glutinous rice, sorghum and millet, this unassuming small parcel of joy caters to the health conscious, and packs big flavours and textures. Before the fillings are stuffed into the bamboo leaves, they are wok- fried with chicken floss, chicken sausage, minced chicken, mushrooms, black-eyed peas and oyster sauce.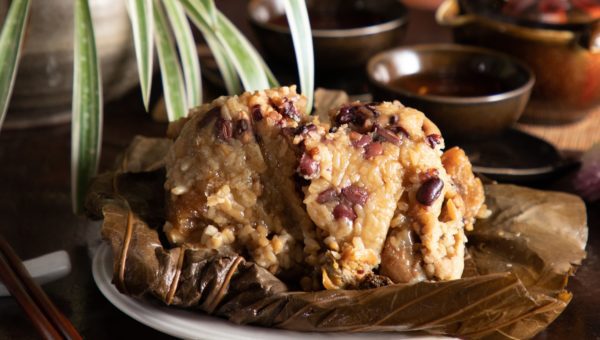 A popular mainstay is the Black Garlic rice dumpling (黑蒜豚肉竹炭粽 – SGD 18 per piece) with sea whelk, preserved vegetables, bamboo charcoal powder, chunks of nutritious black garlic and kurobuta pork. As a result of submerging the dumpling in boiling water for four hours, it is sweetly scented with the meat moist and tender.
For a taste of tradition, don't miss the indulgent and plump Golden Pearl rice dumpling (怀旧 鲍鱼裹蒸粽精装版– SGD 28 per piece). Expect the classic combination of pork belly, chestnut and mushrooms, elevated with slow-braised baby abalone, and replete with other ingredients such as mung bean, salted egg yolk and lotus seeds.
The savoury dumplings are best enjoyed with White Silk Tea by TWG Tea, specially selected by Executive Chinese Chef Cheng Hon Chau, for its hints of honey and caramel, attributed by the medley of China blue tea, green tea, and the finest silver tips of Yin Zhen.
The gourmet rice dumplings are available for in-house dining and takeaway orders. For reservations or enquiries, please email mosin-dining@mohg.com or call Cherry Garden at +65 6885 3500. Prices quoted are subject to 10% service charge and 7% government tax.