Chloé Fall-Winter 2019 Collection: Love, Nature and Commitment
Sentiments of volcanic sensuality stir the Chloé Fall Winter 2019 collection to great heights – from the aurora borealis through lost forests and ancient seas – as a clan of Chloé girls navigate the volatile territory between love, passion, and commitment. Totemic femininity is laced with unbridled emotion, on a mythic expedition of the self and the other. With a pioneering spirit, Natacha Ramsay-Levi explores the intimate landscapes of the heart.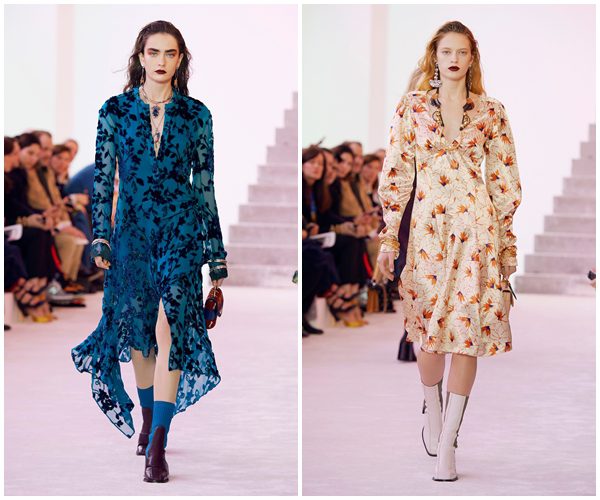 In intrepid crescendo, the collection battles the elements – coaxing the trappings of old world ceremony towards new zeniths of womanhood. Equestrian and naval regalia are reclaimed, imbuing the silhouette with airs of rampant conquest before a fantasia of aquatic flowers blooms. Contrasting pale Chloé neutrals with tones of the tundra, the palette plays both hot and cold in shades of navy and petrol, indigo, umber, dusty pink, and cornflower blue.
Through deconstructed archetypes and brass button finery, outerwear and flou become entwined in fitted redingote or cape shapes, open kilt skirts, and slim, high-waisted flares. In tattersall cottons and blooming jacquards, long-sleeved ruffled blouses with 'C' lace cuffs are layered with raw denim or under mariner's coats and capes in smooth leathers or shearling-trimmed wool. Bias-cut and flounced shirt dresses appear in wallpaper jacquards and a highland toile de jouy, as lurex argyle knitwear and wrap skirts are knotted in spontaneous volumes. From a lingerie bust encrusted with rosy lace, dresses undulate in swathes of velvet dévoré and silk crepe, their skirts tumbling with night iris and nymphoïd poppies.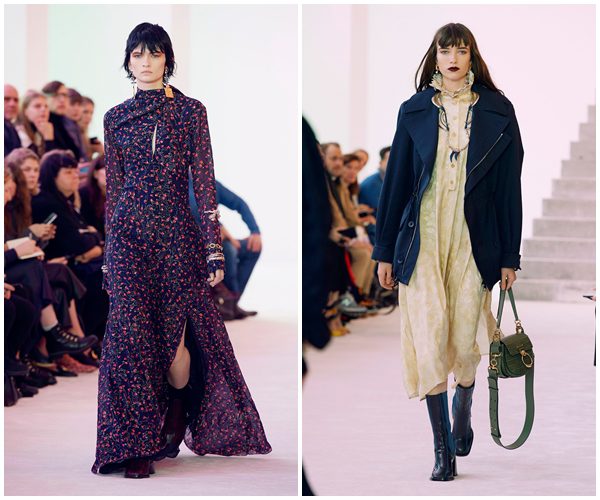 Mixed-media jewels encompass ombré resin amulets and cuffs, as the Femininities motif finds new duality as a two-tone lovers' charm. On foot, square-toe ankle boots on a stacked heel are inlaid with piped leather, checks and ribbed knit. In embossed leathers and soft calfskin, the belted Aby chain bag is joined by the Aby Padlock clutch in stamped croc, whilst the Chloe C and Tess shapes return in two-tone ombré leathers.