House of Krug Embarks on a New Culinary Discovery with a Single Ingredient: Pepper
Since 2015, the annual dining series started by House of Krug partners with talented chefs worldwide to create unique and delicious dishes paired with Krug's Champagne. Previous years have focused on potato, egg, mushroom and fish. This year the spotlight is on the pepper.
This year, Three of Singapore's award-winning chefs, Chef Kirk Westaway of JAAN by Kirk Westaway, Kenjiro 'Hatch' Hashida of Hashida Sushi and Tristin Farmer of Zén have accepted the challenge to create unique dishes that pair well with the Krug Grande Cuvée Edition 163 focusing on pepper as their main single ingredient.
Kirk Westaway, Executive Chef of the eponymous JAAN by Kirk Westaway has created The Langoustine's Garden, an ode to his iconic English Garden dish but reimagined following a recent trip to Mexico. In January, Chef Westaway embarked on a culinary adventure to the birthplace of the pepper alongside Cellar Master Éric Lebel and 12 other Krug Ambassade Chefs from different countries. The Langoustine's Garden draws inspiration from the national staple Mole; its unique flavours produced by the alchemy of near endless possibilities of ordinary and humble ingredients. Chef Westaway's dish is an assortment of fresh, simply steamed vegetables, served with mole made from poblano peppers, and topped with a grilled Langoustine from Mozambique.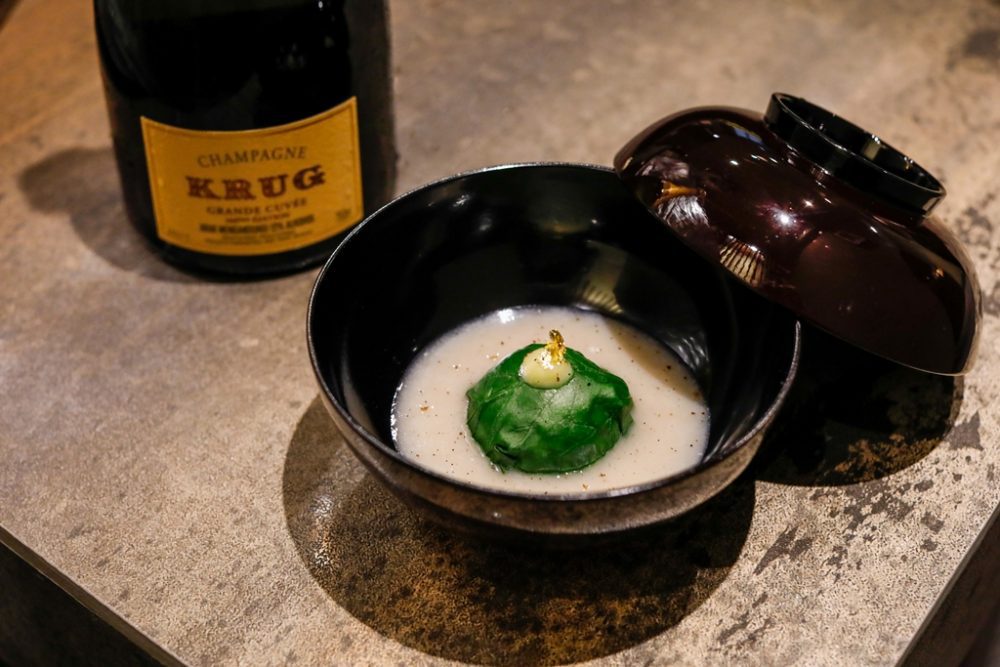 Hashida Sushi chef-owner Kenjiro 'Hatch' Hashida's dish, Crab and Sea-Eel Dumpling Soup with Timur Pepper, was influenced by the peppery, spiced broth in Singapore's famed Bak Kut Teh. Chef Hashida uses specks of Timur Pepper to influse his soup, chosen for its fragrant, passion-fruit notes that translate to a flavour similar to Sichuan pepper. Made with Japanese bonito and kelp together with Timur Pepper, Chef Hashida's soup is accompanied with a Crab and Sea-Eel dumpling wrapped in cabbage and topped with gold leaf.
Tristin Farmer, Executive Chef of Zén opted for sweeter notes with his creation Yubari Melon Sorbet, Wild Strawberries, Espelette Pepper & Nasturtium. Designed to refresh the palate after dinner, this light, refreshing and fun dish draws on the smokey yet sweet Espelette pepper from the Basque region. As the dining experience traverses through the three-storey shophouse restaurant, guests will arrive on the third floor to energising dish. In line with Zén's creative and playful character, Krug Grande Cuvée is poured over the sorbet tableside.
Krug Ambassades are part of a select network of unique ambassadors that reflect the individualistic spirit of the House of Krug. There is a total of 153 Ambassades globally with a total of five based in Singapore; Chefs Kirk Westaway, Kenjiro 'Hatch' Hashida and Tristin Farmer along with retailers The Moomba and Crystal Wines. Two weeks ago, Éric Lebel, the Chef du Cave of Krug Champagne visited both Zén and Hashida Sushi to host an intimate induction ceremony that welcomed both Chef Hashida and Chef Farmer as Ambassades.
The three aforementioned dishes will be available at each respective restaurant throughout July and August as part of a special menu. The Langoustine's Garden at JAAN by Kirk Westaway and The Crab and Sea-Eel Dumpling Soup with Timur Pepper at Hashida Sushi must be requested in advance of booking.
Price of each menu available on enquiry at each restaurant.