Fly To Love Exhibition: From Hardship to Art
In "Fly To Love", Turkish artist Coplu showcases artworks that are inspired by a personal experience in which he almost lost his eyesight.
CONTENT: Yiew Kai Jie
Contemporary art gallery Ode to Art has collaborated with popular Turkish artist Coplu to present his "Fly to Love" art collection, a series of new paintings and masterpieces with a recurring theme of a butterfly being present in the painting. Being a self-taught artist, Coplu developed his own style of painting and uniqueness by expressing his free soul and mind. His works are widely showcased in various art exhibitions throughout Europe, North America and Japan.
Born in the Turkish town of Ushak, Coplu's journey as an artist begun while his mother worked as a weaver, taught him about important figures, meanings of patterns and the deep emotional effectiveness of colours. Coplu himself deploys three strong elements in his paintings: colour, humour and technique.
Being raised against a backdrop of cultural diversities, Coplu is deelply moved by different feelings and levels of expression, which he represents with colour. Humour is a key component as well, as the artist sees the funny side of things, which is his conviction that it is an effective way to open minds and raise consciousness.
In his latest series, Coplu combines butterflies, his image of love and dream in a single painting. The artworks were inspired by a personal tribulation that he experienced that almost left him blind. After a series of eye operations, he could not read, paint, watch anything or even sit upright to eat. He could only talk to his wife, who encouraged him to imagine himself as a butterfly and to undergo a metamorphosis in order to get through to the ordeal.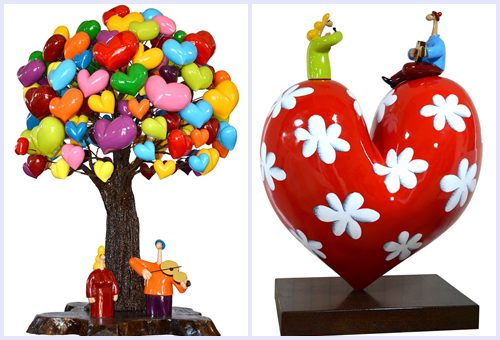 The theme of the art pieces reminds us the importance of being unconditionally loved, be it by our spouses, children, friends or neighbors. Many art connoisseurs have come to appreciate his painting as a symbol of peace and serenity whenever they glance at it. Some may even decide to get the painting as a tribute of love to their significant others. In such troubling times at this moment in the world, maybe getting a painting full of symbols of love, hope, tranquility will help inspire you to make the change you want to see in the world.
The exhibition showcases approximately 25 new works by Coplu and are priced from S$7,000 to S$85,000 and is open to the public.
Fly To Love Exhibiton details:
Date: 23 May- 22 June 2017
Opening Hours: 11am- 9PM (Mon-Sun)
Venue; Ode To Art Raffles City
252 North Bridge Road, #01-36E/F Raffles City Shopping Center, Singapore 179103