Larry Jewelry Unveils 50th Anniversary Limited Edition Collection
Larry Jewelry, one of the most established jewelers in Asia and known for their expertise in jewelry design, refined craftsmanship and highest quality gemstones used is celebrating a milestone this 2017 as the brand celebrates its 50th Anniversary.
As part of the celebration, the brand unveils their 50th Anniversary limited edition collection featuring 50 exquisite, hand-crafted, one-of-a-kind pieces of treasure, inspired by the ever-changing and empowering roles of women.
The Cascading Dew Drops Collection
Like the bright sunshine erupting from behind the clouds after a glorious morning, the Cascading Dew Drops collection glows bright with GIA Certified pear shaped fancy yellow diamonds. A beautifully crafted pair of earrings, and a ring are completed with a stunning bangle that drips with marquise diamonds and cushion and radiant cut fancy yellow diamonds.
The Swirling Deep Blue
On the opposite spectrum of the dazzling Cascading Dew Drops is the cool beauty inspired by the depth of the ocean. Like the most spectacular whirlpool in the vast ocean, The Swirling Deep Blue Collection is inspired by the mystique and mysterious nature of a woman.
The Collection has selected the most luxurious pieces of sapphire and emerald cut diamonds. The show-stopping diamond necklace complete with two extraordinary sapphires dangling from each end and surrounded by round brilliant diamonds.
Keeping versatility and function in mind, the designers from Larry Jewelry have engineered the piece to satisfy the occasional desire for a spectacular look but for less conspicuous piece, the necklace can be detached and worn as either stud or dangling earrings.
The captivating Collection is completed with a white gold bangle, ring and earrings.
Twist and Twirl
In line with the brand's heritage of using highly complex craftsmanship, the splendid high jewelry Sapphire Twist and Twirl Collection is exceptional.
A long chain of intricate knots of white gold set with round sapphires and white diamonds are twisted and woven to create an everlasting and unbreakable spiral pendant. A second pendant in the Collection revolves around intensely individual stones and their intense blue colour and quality – each element exceptional in quality.
Two classic rings, of two individual designs, both set in 18K white gold, are perfectly matched with a necklace each. These classic rings and their matching necklaces are modern heirlooms ready to be passed down generations.
Nature's Allure
Floral designs are a perennial favorite and remain a timeless classic. For the 50th Anniversary, the design team has looked to nature to create the Nature's Allure.
This Collection draws on nature and its powerful yet delicate beauty as its inspiration. The bangles wrap around the wrist like a flower on a vine – the 18k white gold base perfectly contoured and framed as thousands of intricate diamonds are hewn to perfectly fit their setting and follow every curve of the petal. Nature's Allure Collection consists of bangles and whimsical rings.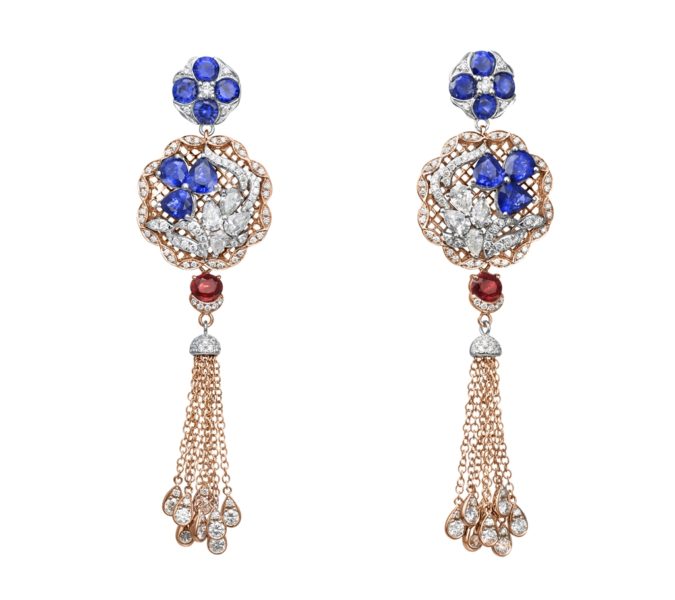 Oriental Fling
For the 50th Anniversary, Larry Jewelry has added a touch of playfulness. The colorful Oriental Fling Collection is vibrant and alive!
With three-dimensional floral and cat inspired motifs, each piece has been painstakingly created with hundreds of hours of workmanship. Larry Jewelry's artisans have created a series of pieces that are easy to wear but with resplendent workmanship. Each piece has been designed to allow the wearers to showcase their elegance easily and demonstrate their unique personalities. Heavily inspired by the theme of floral vintage, the workmanship for each of the seven pendants is exquisite.
Lazare Legacy
The final highlight for Larry Jewelry's 50th Anniversary is a collection made using Lazare diamonds. Given that only up to two percent of Lazare production meets the quality and uncompromising ideal-cut standards deserving of LAZARE Diamonds®, this necklace set is simply striking.
The delicate open-worked lacework comes to life in the Lazare Legacy high jewelry necklace. Exquisite white diamonds are linked together in such a way to make the necklace resemble fine embroidery work, an effect that is achieved by incorporating an open space into the design. A pair of seductive long Lazare earrings with crisp diamonds gently hovers over the shoulders. The Collection is completed with a sensational bangle – set on 18K white gold and 134 diamonds.
Each of the Anniversary Collection piece is a one-of piece and all 50 are currently on sale at Larry Boutique, Paragon. Prices start at $12,000.
Larry Jewelry is located at:
Larry Jewelry (Paragon)
290 Orchard Road #01-21 Paragon, Singapore 238859
Tel: (65) 6732 3222
Larry Jewelry (ION Orchard)
2 Orchard Turn, #03-04 ION Orchard, Singapore 238801
Tel: (65) 6235 5848
For more details please visit: www.larryjewelry.com