Lipault Paris Launches Special Edition Collection
Lipault Paris focuses on a state of mind where form and function meet urban chic and Parisian flair. The Lipault Paris bags are designed to accompany you wherever you go, an everyday essential that is an extension of your personality. Lipault Paris is reinventing the must-haves of the urban fashionistas, constantly on the move and perfectly in tune with the trends.
Special Editon Collection: Psychotropicale
This season, embroidery is claiming its rightful place in our wardrobes and dressing up our fashionistas. Lipault Paris is embracing this latest fashion trend and reinventing its iconic bags through a Special Edition Collection christened 'Psychotropicale'. A perfect set: a black leather bowling bag and the essential cabin bag. Veritable must-have items these two models are adorned with bold and colourful leafy patterns. The blue offers an electric touch and blends harmoniously with the leaf green colour. The touches of pink are included to heighten a spicy yellow colour for a summer replete with sunshine in the tropics. Prices start at S$350.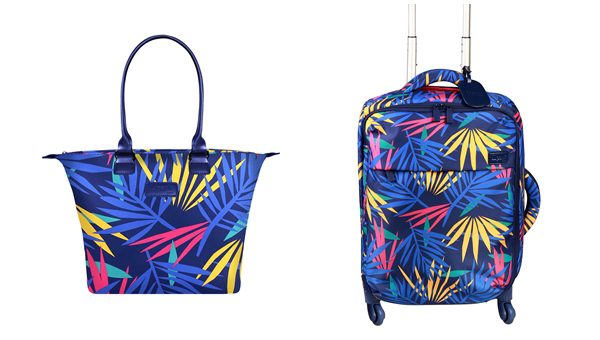 SS18 Collection
Tropical Night is the new print for the SS18 Collection. An elegant and singular design signed by Lipault. Tropical night is the perfect print to match with all colours from blue to pink. Available in a series of models; spinner, weekend bag, bowling bag, tote bag and leather accessories. Prices start at S$120.
Miss Plume Collection
Intergalactic space is an endless source of inspiration for Lipault's Miss Plume Collection. This feminine, rock'n'roll collection comes in a series of models ( spinner, weekend bag, bowling bag and backpack), which will energize your quintessential summer outfits. The collection are available in Exotic Blue. Prices start at s$100.
Lady Plume Collection
Lipault Paris has created a chic range of easy-to-carry bags to complement any wardrobe. Lady Plume is perfectly designed for everyday life, the collection is ideal for shopping trips, work events and more. The functionally designed bowling bag features removable straps which is ideal when you want to use as a handbag or shoulder bag. The Lady Plume collection is available in Tahiti Pink. Prices start at s$150
Lipault Paris Flagship Store is located at: VivoCity, 1 Harbourfront Walk #01-91 Singapore 098585. Opening Hours: 10am-10pm. For more details please call: +65 6252 0722