Louis Moinet Launches First Ever Singapore Edition Watch
Renowned Swiss watch atelier Louis Moinet unveils an exclusive Singapore Edition luxury watch as a tribute to the history and culture of Singapore on her 52nd birthday. This monumental timepiece was created in cooperation with Wealth Solutions Singapore — a local branch of the Polish company specialising in delivery and creation of unique collector items, and the Singapore Watch Club, the leading association of timepiece aficionados in Singapore.
This special edition is limited to only 84 pieces (19 in rose gold and 65 in steel) and is endowed with decorative elements constituting references to iconic symbols of Singapore – The Lion City.
The black guilloche dial of the watch showcases the Singapore skyline with its most characteristic buildings, such as: Marina Bay Sands Hotel, Gardens By The Bay, ArtScience Museum and the Singapore Flyer. This artistic portrayal of local architecture has been engraved on the bottom part of the dial and illustrates the vitality and creativity of contemporary Singaporean genius. Over the skyline, you will find a crescent moon accompanied by five brilliant stars, which is in reference to key elements of the Singapore Flag.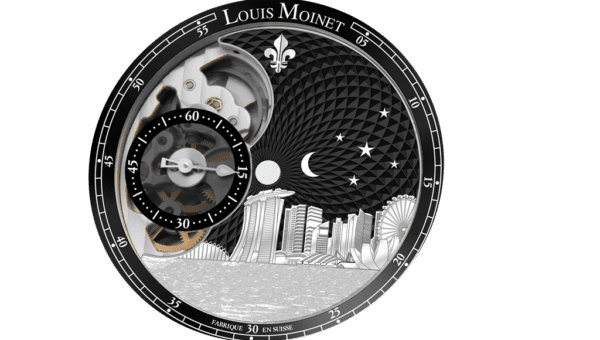 The dial is partially open, allowing one to observe each and every beat of the calibre. This represents the passing of time, allowing us to reflect unto every second of Singapore's independence and the tremendous perseverance and effort it has taken to get us this far. Equally beautiful on the back is the rotor decorated with a concentric version of the Clou de Paris pattern.
"I first came to Singapore on her National Day a few years back, as I was working on another special edition watch at that time. The project was a tribute to Polish freedom fighting in the 19th century, which led me to consider Singapore's path to independence. That's how the idea for this collaboration was conceived," said Mr. Pawel Morozowicz, founder and Chief Officer of Wealth Solutions Singapore.
The Louis Moinet Singapore Edition watches will be available in original Louis Moinet stainless steel and 18k rose gold Neo cases. This timepiece will be powered by the LM45 automatic movement, also designed and manufactured by Louis Moinet. The frequency of the balance is 28,800 vph (4Hz) and the movement contains 22 jewels.