Drink By Foo'd Invites You To Try Their Bespoke Cocktails
CONTENT: Michelle Ng
Right next to FOO'D by Davide Oldani is the latest speakeasy and cocktail bar on the block. Nestled in the depths of Victoria Theatre in an adjacent bar to FOO'D is Drink, which boasts an array of amazing cocktails, wines and bites.
Choose from al fresco seating, cushy couches or a seat at the bar where you can wind down a busy day in a mini-respite from the bustling heart of the city.
The bar is headed by award-winning mixologist Mike Cheong, who has won international and regional awards. Mike Cheong also cultivates his own herb and fruits garden which are then used in the cocktails as garnish, zest or ingredients.
You can pick from a selection of refreshing cocktails, or request a bespoke cocktail tailored to your preferences. You can also name the cocktail, which will then reside on their cocktail list for the next month. The only catch is that you have to spend at least $100 at the bar to get a customized cocktail.
One of their popular cocktails, Court-Adjourned – Let's Go Drink, is a whimsical drink that will please your tastebuds and your Insta feed. The drink comes bottled with fairy dust, which results in hypnotizing swirls when shaken.
If you don't fancy any of the cocktails on the menu, you can also chat up a bartender for their hidden menu items. One of the hidden gems we managed to uncover was the chai-tea whiskey cocktail, a heavier, spicier, drink for whiskey fans.
If you happen to be at FOO'D but fancy a tipple, feel free to approach a server to help you order a cocktail from the bar.
Whilst sipping on your drinks, snack on the complimentary canapés that will make their way around the bar. The lineup of canapés changes daily, depending on the menu and the seasonality of the produce. Some creations you can expect from Chef Simone includes assorted jellies, duck gelatin, a pea shooter similar to pea soup and Vol Au Vent Taleggio, a cheese tart.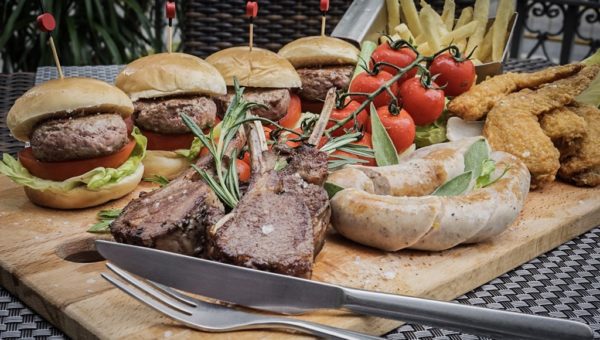 For something more substantial, you can go for their pizzas. They also have seafood and meat platters for sharing between 2 to 4 people. The meat platter will satisfy your inner carnivore, with mini-sliders, chicken wings, lamb chops, pork sausages and French fries. If you prefer to pair your wine with some seafood, indulge in a seafood platter which offers up fresh ocean catch like oysters, grilled squid, tiger prawns and battered halibut. Take it up a notch by paying a little more for a whole lobster, which comes de-shelled for convenience.
DRINK By Foo'd is located at 11 Empress Place, #01-01 Victoria Theatre & Concert Hall, Singapore 179558