Park Shin Hye Visits The Flagship Mamonde Counter In Vivocity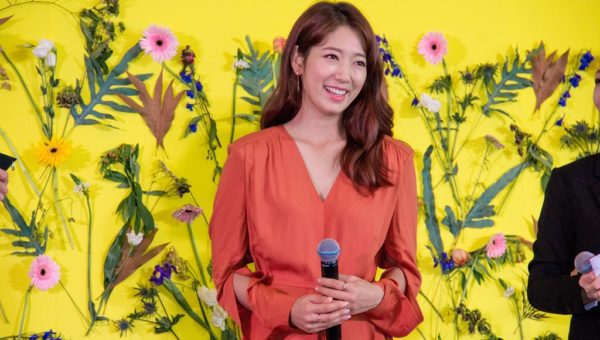 CONTENT/ IMAGES: Michelle Ng
Mamonde, which is French for "My World", represents females who are confident, feminine yet passionate in pursuing their goals. Their expertise in the study of flowers dates back to the 1990s, with breakthrough innovations in their floral skincare lines that have been lauded by beauty aficionados worldwide.
The floral brand appointed Park Shin Hye as its brand ambassador way back in 2014. As part of her tour to promote her latest film Heart Blackened and as a brand ambassador, Park Shin Hye made a stop in sunny Singapore.
Mamonde also just recently launched its first physical store in Singapore this year, and is known for their floral-based skincare and makeup range. You can find their popular creamy lip tint, colorful eye bricks and more at the Mamonde counter in TANGS at Vivocity.
We were lucky to be able to catch the actress when she was in town, and she shared some of her beauty secrets, as well as what to expect from her latest movie to the media present during the press conference.
What do you do to give your skin a good pamper?
During the summer season or when the weather is really hot outside, I tend to tan easily; that's when I really focus on brightening and whitening to soothe my skin. My complexion becomes drier too, so I will use more moisturizer as well.
What are your favourite Mamonde makeup products and what do you like about them?
I especially like the lip tints — the entire range, in fact! Because I don't wear a lot of makeup when I'm not working or on a shoot, I focus on my lips and make sure I wear a bright pop of colour which I feel gives your entire face a healthier appearance.
Being a Mamonde ambassador, you're really familiar with the brand's products. Which are your most-loved skincare goodies?
I always have my First Energy Essence with me, as well as the Rose Water toner. I constantly use these two together as my skin will get a little dry if I use them separately. After the toner, I top it up with the essence followed by my moisturizer. I also love using the mist whenever the weather gets too warm, as it's very cooling.
What are your must-do skincare or makeup steps before you leave the house?
Having well-moisturized skin is very important to me, so I'll first use the Ceramide Cream before I apply my foundation, which is the Cover Powder Cushion. Then I'll finish my look with the Creamy Lip Tint.
Any beauty advice you would give your younger self if you could go back in time?
I would tell my past self to really focus on keeping my skin moisturized! And also to cleanse my face properly. As an actress, I often have to wear makeup and sometimes really heavily too, which is quite bad for my skin in the long run. So as much as wearing makeup is essential in my line of work, cleansing away the makeup is very important too. So I'll definitely tell my younger self to be diligent with moisturizing and cleansing as they go hand-in-hand.
On top of your ambassadorial obligations, your schedule is also packed with movie shoots nowadays. Your next film, Heart Blackened, is coming out soon. Can you tell us more about it?
In the movie, I starred alongside one of Korea's top actors, Choi Min Sik, and it was my first time working with him. I really enjoyed myself and it was a great experience. I portray a lawyer and the plot is about the defense of a wealthy man's daughter who was suspected of murdering her father's fiancée. The storyline revolves around the legal system and it's also an exciting thriller. I haven't even watched it in its entirety myself, so I'm also curious to know how the screenplay turned out. Please look forward to it!