Preach To Dolce & Gabbana's Fall/Winter 2018 Collection
CONTENT: Henry Boen
Fashion's fascination towards faith and beliefs never cease to create theories of controversial debates; as seen on Christian Dior's Haute Couture F/W 2000 to Alexander McQueen's RTW Pre-Fall 2013, the appropriated use of religion and its possibly problematical impact from such runway presentations had left an unwanted sour taste in the believers mouth. And though other houses may have had strayed away from such attention, a continuous spotlight was placed on this touchy subject by long-standing fashion house, Dolce & Gabbana, and with their impressive 110 lineups for its Ready To Wear Fall/Winter 2018 collection, the brand has once again proven its boundless creative capability and fearlessness from backlash with their ongoing satirical obsession towards faith and modern fashion.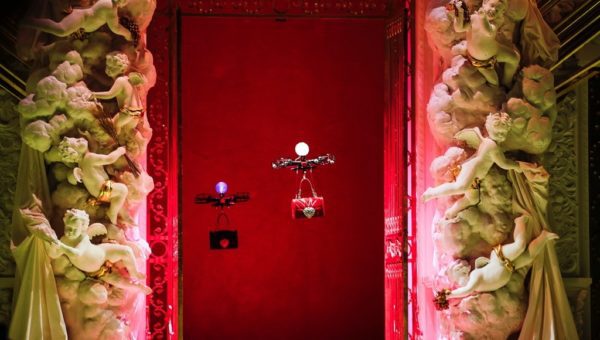 Setting the facade to the majestic baroque Oratorio di Santa Kita church in Sicily, Dolce & Gabbana broke the traditional boundaries this season by opening Fashion Devotion (the show's name) with remote-controlled drones. The 8 drones, each carrying The Devotion Bag series, hovered out and acted as a referential idea as a descent from the fashion heaven and also the unquestionable merit in excellent craftsmanship, creativity and passion of Dolce & Gabbana's. The use of robots against the medieval background also added a contradictory teaser, from the harsh difference between the era of technological progress now and traditional beliefs then, on how the show will continue.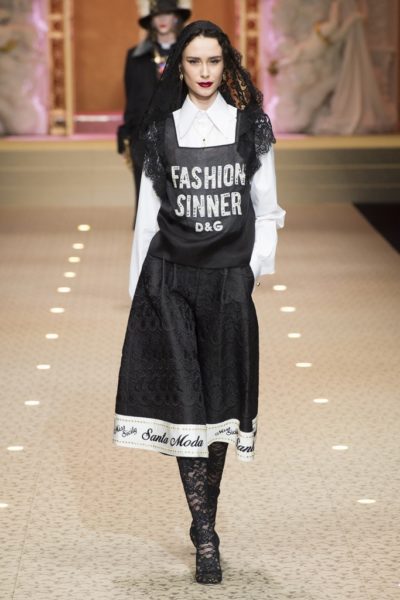 As the music switched to Rihanna's Te Amo, the first fashion model strutted out with a nun-inspired ensemble, plastered with the wording of fashion sinner in a reflective shine across her chest. Setting the tone with such an audacious yet bafflingly humorous statement, the show went on with no shortage of its consistent inclusion of catholic symbolism and iconography; the image of Virgin Mary, the resemblance of pope's silhouette and the luxurious colour adaptation of stained glass windows. The juxtaposition of classic and stereotypical representation weaved into their collection in both assertively – like the fully embellished gold dress with a bejewelled waist apron that resembles the upside down version of the pope's Papal tiara – and subtly like the colour palette of cardinal red, gold, venetian pink and green.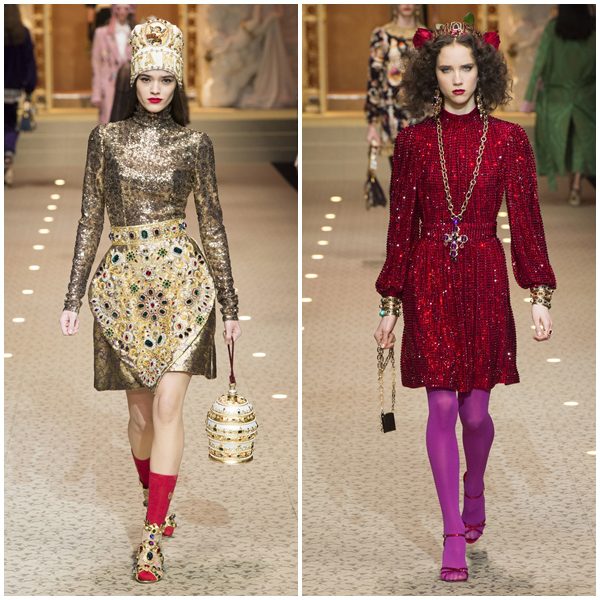 Tacky as we thought it could have been, it was surprisingly refreshing in an aesthetically modernised form. Or at least to the taste of the show's millennial-constituted crowd as atheleisure ensembles emerges towards the later part of the show in a more watered-down version of Fashion Devotion motifs for relevancy and wearability.
Donning those really beautifully tailored trousers suiting looks with matching panama style hats, the show closed in a high note for us. Yet the question still prevails: how long more can Dolce & Gabbana stretch their iconic Sicillian black widow style and their religious play before the apostasy of their preachers? Only time will tell.
Watch the runway below.