SocietyA: Fall/Winter 2018 Collection Roundup
CONTENT: Henry Boen
LIE
We are pretty sure that the characteristic of being gutsy aren't part of the designer's inspiration, but it sure takes some to rock LIE's Fall/Winter 2018 collection out. Here's why: the colours chosen this season weren't necessarily fluid and silhouettes were distorted with cutouts and textural additions. In fact, the line-up went into an edgy blocking façade with a sprinkle of reworked plaids, athleisure-based prints and an emphasis of the upper torso. Cue ruffles on blouses, shoulder sleeves, and detachable fur collars on top of drawstring collars.
The colour plays were undoubtedly a familiar territory for LIE too. With going as far as 5 clashing hues in one look, the options work really well for ladies that wish to expand their neural-dominant wardrobe without overcompensating it. Satorical motif of 'It's Not JustICE' are imprinted on shirts to make a stance on global warming. It is political but humorous at the same time.
Peggy Hartanto
When we first laid eyes on the collection, there was almost an instant flashback to the 80's colour-screen advertisement era. Everything was slightly off saturated, primary colours were non-existent and overalls/jumpsuits ruled the scene. Or at least strong horizontal silhouettes for the ladies.
Hartanto studied flowers for this season – be it the delicate veins behind petals or the queer abnormalities reflected in the way flowers were. Her big leap this round lies in her structural exploration. One adopted an eerily similar form to a white calla lily – a tube dress with symmetrical flaps that projects into the frontal body while the other interprets into an image of cascading white petals with handkerchief pleats. Her designs remained minimal and her avant-gard-ish construction continued to impress us. If you're looking to stand out from the crowd by looking sharp, edgy and strong, Hartanto's pieces needs to be in your wardrobe.
SOE Jarkata
Monique has continuously banked her rustic presentations by infusing her own culture with a contrasting western influence that still fits the brand. This time, an American artist, Georgia O Keeffe, landed in the spotlight of SOE's Fall/Winter 2018 collection. The focus was on the idea of having a monochromatic wardrobe that spoke against one's colourful floral artworks, which landed Monique with a bizzare lineup of soft and tough, light and dark.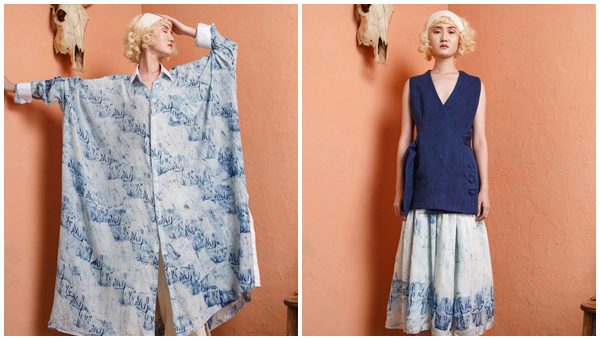 The line-up also went through a tidy up of excessive detailing to favour a simpler outlook of exterior contrasts. It's an understandable choice that left us feeling heavy, but a look into the house's past collections and we are very certain that those coveted detailing will be deployed once again in no time. Indigo dyes were used in delicate batik prints that went against weightier fabric of hand-spun denim. An oversized batik shirtdress with an oversized bell-bottom denim pants takes on the essence of the collection but considering Singapore, we would rather you go for the denim vest with the batik-printed pleated dress look.