The LOEWE Gate Bum Bag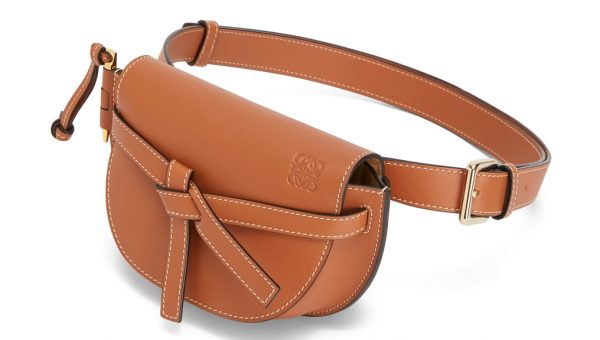 LOEWE first unveiled the Gate bag at the Spring/Summer 2018 runway show and it became an instant LOEWE icon. Its unique half-moon shape was inspired by an equestrian saddle bag, and the pure pared-down design belies its skilful and precise construction. Owing its name to the distinctive rounded design featuring a knotted front belt, the Gate is both functional and stylish, embodying versatility and unsurpassable craftsmanship.
The Gate family has expanded since to include the Gate Top Handle Bag, Gate Bucket Bag, Gate Pochette, and scaled down to smaller sizes, like the Gate Mini Bag which is a novel mini size with enough space for daily essentials. Rich neutral hues complement the supple tactility of the original Gate bag, making it as indelible to the hand as it is to the eye. Bright, saturated hues were introduced, making bold splashes of colour and brightening neutral looks, and woven textures were added for a more modern, daytime look, perfect for summer getaways.

Joining the Gate family this season is the new Gate Bum Bag, embodying functionality and of-the-moment aesthetic. Refined utility bags have continued to prevail season after season, blending seamlessly into ensembles, whether carelessly slung over the front or tied around the waist. The Bum Bag is skilfully handcrafted in soft calfskin, exuding a different personality from the crossbody versions. For those who prefer to go hands-free, the thick adjustable belt is suitable for use as a belt or crossbody, and the Bum bag has a wider body to fit larger phones while keeping its iconic saddle shape. The Gate Bum Bag is available in more neutral hues of Tan, Black, Steel Blue, Wine and a bright Pastel Pink.