Women's Fashion Week and Haute Couture Week 2012 Singapore
Witness the best of the fashion world as Singapore's Women's Fashion Week 2012 returns for the second year running starting from 23 to 25 November, Haute Couture Week 2012 will follow from 29 November to 2 December.
Held inside a custom-built 1,700 square meters marquee, this highly-anticipated event will see top designers, ambassadors, celebrities, opinion leaders and distinguished guests from around the world gather at Marina Bay Sands in celebration of world-class fashion. With an expected 6,000 attendees over the eight days, this year's event is set to mark another milestone in the international fashion scene.
The three-day Women's Fashion Week 2012 Singapore will unveil this season's latest ready-to-wear fashion from a number of international labels who will showcase their Fall/Winter 2012/13 collections. These shows aim to keep shoppers up-to-date with the season's hottest looks and coolest trends.
This year's Haute Couture Week features the most exquisite and luxurious collections which aim to push the creative boundaries of the highest form of fashion. The spotlight will be on the future of Haute Couture with several storied Haute Couturiers from Paris, who will be joining the three returning Parisian Couturiers who wowed the Singapore audience at the inaugural event last year are Christophe Josse, Gustavo Lins and Alexis Mabille.
Making their debut at Haute Couture Week 2012 Singapore are Haute Couturiers Bouchra Jarrar, Julien Fournié, Maurizio Galante, On Aura Tout Vu and Yiqing Yin. Both Julien Fournié and On Aura Tout Vu presented six of their stunning collections to the audience during the Haute Couture Week 2012 Singapore's Press Conference.
On top of the Parisian couturiers, this year there will be a Japanese Couture Showcase on November 28, 2012, featuring three of Japan's most respected fashion designers – Junko Shimada, Somarta and Yumi Katsura, who also showed at the recent Asian Couture Fashion Week 2012 in Bangkok.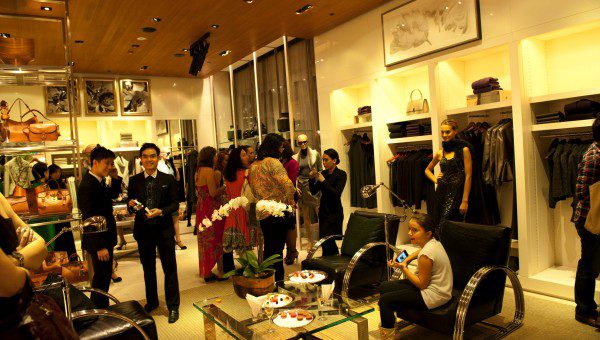 The Shoppes Marina Bay Sands also held its third VIP Fashion Night on the 5 October 2012, where invited guests and media were hosted to a cocktail reception followed by a dazzling evening of special events, including an exclusive Ralph Lauren trunk show, free manicure at pop-up nail bar Vedure, complimentary champagne popcorn, candy floss, photo booth fun.
The highlights of the night were the two roving fashion shows by 30 models who paraded a stunning selection of the newest Fall/Winter 2012 outfits from boutiques available at The Shoppes.
Women's Fashion Week 2012 Singapore will run from November 23 to 25; the Japanese Couture Showcase will be held on November 28, and Haute Couture Week 2012 Singapore will run from November 29 to December 2, 2012.
More show information and updates on Women's Fashion Week 2012 Singapore and Haute Couture Week 2012 Singapore can be found on www.fidefashionweeks.com/?property=wfw and www.fidefashionweeks.com/?property=hc and its Facebook Fan page – www.facebook.com/fidefashionweeks.