ARTpartment Thailand: Alluring and Artistic vibes in a secluded enclave away from the heat!
CONTENT: Yiew Kai Jie
As globalisation has shrunk the world over the years, the amount of tourists and travellers has only grown exponentially and Thailand is one of the top destinations for wanderlusters globally. While some travellers seek to stay in luxurious hotels, there are those who prefer to go off the beaten track to and stay in local apartments or try out couch surfing as a way to get to know the local culture and interact more with the people living in Thailand.
However, with the recent launch of Airbnb Plus in Bangkok, travellers need not worry about uncomfortable living quarters and are still able to interact with the locals during their stay- combining comfort and quality under one roof!
Airbnb Plus is a selection of homes of the highest quality offered by hosts with great reviews and attention to detail. As travellers look for more unique stays based on trusted recommendations by peers and key influencers, every Airbnb Plus home has been verified for quality by a third party, giving added assurance to guests about the quality of their stay.
Airbnb Plus hosts themselves are highly rated (4.8+ out of 5) and receive excellent reviews, due to their inspection by a third party against a 100+ point checklist that covers cleanliness, comfort and design.
We had the opportunity to stay in one beautiful apartment in the city's buzzing Thonglor district when we visited Bangkok during our recent visit. After half an hour taxi ride from the airport, we arrived in a dimly lit alley in front of the four-story apartment which initially gave off a foreboding vibe due to the poorly lit surroundings.
After unlocking the main gate and glass door, we were greeted with a well decorated double purpose living room and kitchen that would put most private apartments in Singapore to shame. The kitchen was well-stocked with ample amounts of food such as instant noodles, fruits, cereals and other essential kitchen equipment for us just in case we felt peckish or if we wanted to cook a meal of our own during our stay.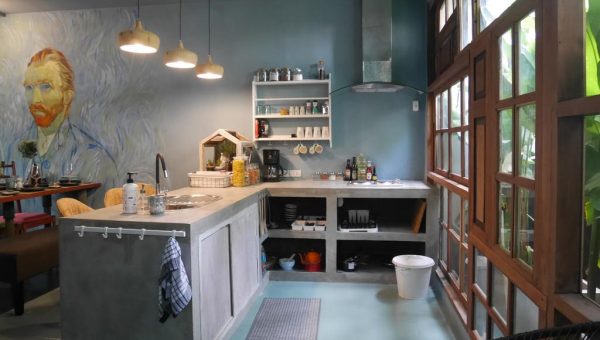 With 3 different rooms with differing themes, we were rather spoilt for choice as each room had its own distinctive theme for friends or couples to stay in. Each room is bursting with artistic elements and personal pencil paintings of Andy Warhol, Vincent Van Gogh and Frida Kahlo. The bed, furniture's and various decorations were all handmade and imported from other countries to enhance the essence of art in the apartment. Additionally, each room comes with a private balcony area and a bronze bathtub- perfect for escaping Thailand's infamous scorching heat wave.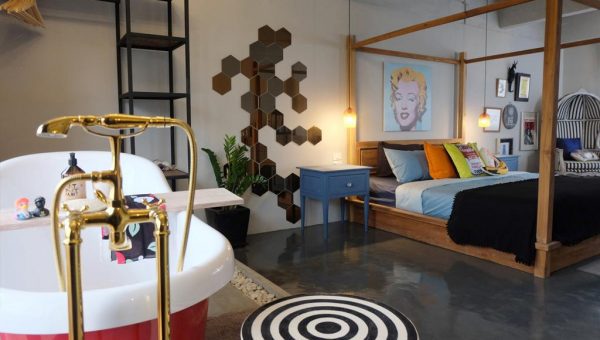 Throughout our stay, our host was extremely gracious with us, constantly keeping in contact with us to see if needed any recommendations for places to eat, if we had any trouble getting from one place to another and if there were any issues with the rooms. The apartment and the host reflected the high standards of homeowners who are part of the Airbnb Plus programme. We will definitely come back to stay at this apartment during our next trip to Bangkok!
Do check out Airbnb Plus on your next travel plans for that added comfort, luxury and security!