Experience bonafide Peruvian cuisine in the heart of Singapore
CONTENT: Yiew Kai Jie
IMAGE: Kevin Cheung for Luxe Multimedia
Incorporating influences from Asia, Europe and far back as the ancient Incas, gastronomers will wander off the beaten track and into the heart of Bugis for a Latin American weekend fanfare with family and friends over authentic Peruvian dishes for a satisfying weekday business lunch, at Asia's first authentic Peruvian restaurant, TONO Cevicheria.
Located at the lobby of Duo Towers, get ready to get salsy with la familia with classic Latin American favourites served all day. The restaurant resembles a seaside getaway combined with the cozy feel of a home that helps guests feel welcome and at ease instead of being intimidated by a relatively unknown cuisine that they have never heard of. Guests will tap their feet non-stop to the beat of the Mexican/Peruvian music playing through the dinner session as they embark on a culinary journey across Latin America with Mexican-born Head Chef Tamara Chavez Lopez as they journey through the region for South American food.
Expect Peruvian appetizers such as Chiffles & Canchita (S$5++), Patacones (S$10++), and Yukitas (S$10++)– which is a batch of tapioca fritters with a mimolette cheese filling and served with a black mint sauce that is mouth-watering enough on its own without the sauce.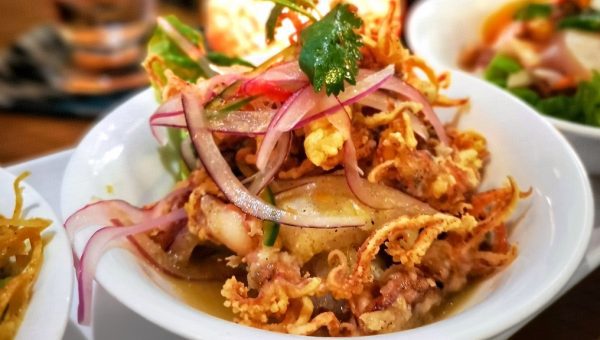 As the restaurant's name suggests, diners can indulge in a range of house favourites ceviches like Ceviche Tono (S$28++), a ceviche filled with fish and potato that is coupled with a savoury kick due to the smoked and minty taste of the protein while the calamari bits helps to give it definition to an otherwise pulpy feeling dish. The restaurant's Ceviche Verde (S$28++) is a definite must order on the menu- with its combination of three different seafood ingredients of prawns, fish and crab, this protein packed dish was well-seasoned till the sour taste of the other ingredients married well with the seafood. The only thing that was missing was a taco shell as the ceviche would make an excellent filling for a taco!
Dive into Latin American small plates like Eggs Colombia (S$25++) or Eggs Rancheros (S$25++) served on fried tortilla and pork or beef Mexican Tacos (S$24++; S$25++), are perfect to be shared around the table.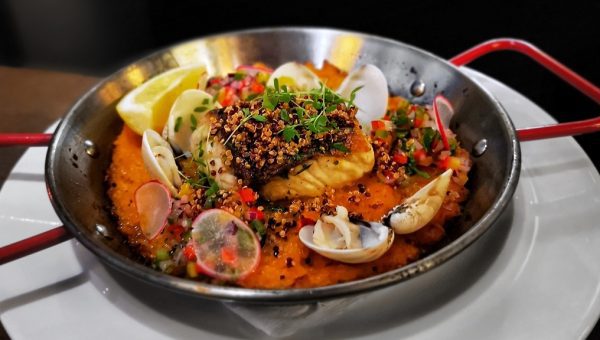 Leave some space in the belly for the main courses that are about to hit the table: they include the quintessential Peruvian "Paella" (S$36++), seasoned bomba rice served with fish, clams, pork sausage with a generous serving of quinoa for all the health nuts out there! The Black Tallarines (S$34++) or squid ink pasta is a classic spanish dish that one can't go wrong with a generous amount of pasta nicely mixed in with the sauce and seafood. Word of caution: watch out for the sauce as it can cause a rather embarrassing stain on the lips and clothes if one isn't careful!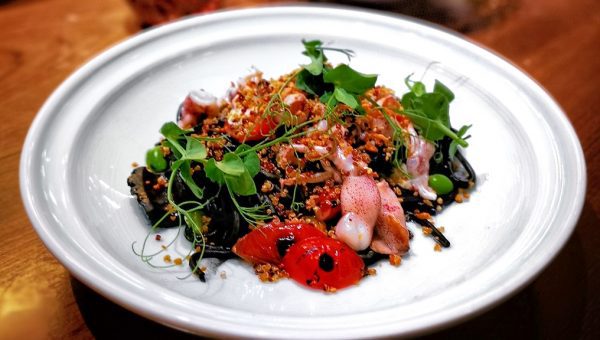 For office dwellers who are looking for a quality lunch, they will be pleasantly enthralled by a monthly rotary of Peruvian Set Lunch (S$28++) for an appetizer and a main) showcasing authentic dishes that are both hearty and bursting with authentic flavours of Peru.
Commence the meal with a starter of Causa Sol Terito, an airy potato salad with black olive mayo, chalaquita and haloumi cheese, fava beans and sweet potato; or a soothing Sopa Crolla, a warm bowl of cream of chicken soup with aji panca, spaghetti and canchita. For something to awaken the palate, opt for the house favourite of a Ceviche Clasico (supplement of S$8++).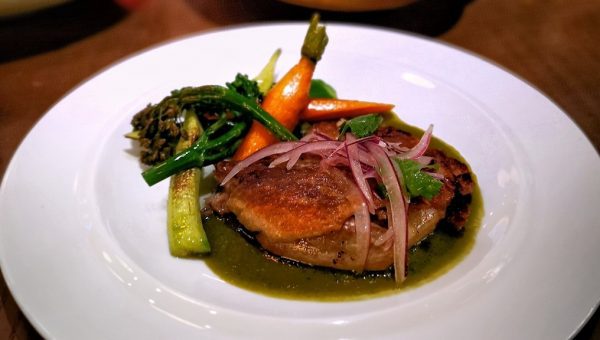 Be spoiled for choice with mains like Aji de Gallina, a Peruvian yellow chicken stew with garlic rice; Tacu Tacu A La Pobre, a rice patty with lima beans served with beef shirt plantain and adobo sauce; and Pato A La Chiclayana (supplement of S$8++) – a duck confit served with garlic rice.
Bring a sweet end to the meal with Tres Leches (supplement of S$6++) with pineapple and passion fruit compote, or Combinado (supplement of S$6++) of vanilla rice pudding with purple corn "mazamorra".
TONO Cevicheria is located at 7 Fraser St, #01-49/50 Duo Galleria, Singapore 189356.
TONO Cevicheria is open from Tuesday to Saturday, 12pm-3pm and 6pm-10.30pm.