39 Outstanding F&B and Hospitality Proffessionals Honoured at World Gourmet Summit Awards of Excellence 2017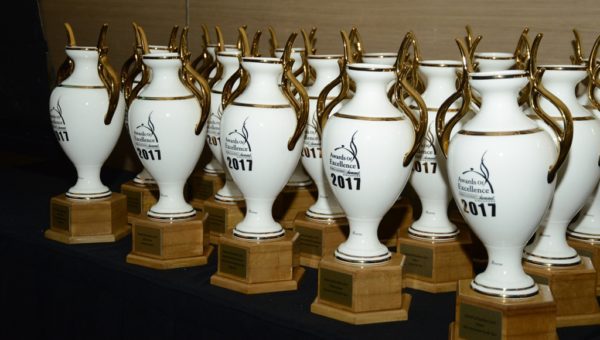 World Gourmet Summit Awards of Excellence (AOE) 2017 honoured 39 outstanding professionals and establishments from the F&B and hospitality industries last 27 March 2017. Widely regarded as one of the most respected accolades in Singapore and around the region, the AOE ceremony was held at One Farrer Hotel & Spa, with Guest of Honour, His Excellency Dmytro Senik, Ambassador of Ukraine, in attendance.
This year's record number of public nominations is a clear indication of the appreciation for and acknowledgement of the pivotal role that the industry professionals play in the evolution of the F&B and hospitality scene in Asia. The AOE 2017 were presented under five main voting categories: Chef Awards, Establishment and Hospitality Awards, Wine Awards, Industry Awards, Chef's Choice Awards and Recognition Awards. New awards include Baker of the Year presented by Redman by Phoon Huat, Restaurant of the Year (Regional) presented by Bangkok Ranch Group and Restaurateur of the Year presented by Bangkok Ranch Group.
Lifetime Achievement were awarded to Chef Eric Teo, Singapore and Mr Lee Loong Sheng, Taiwan for their invaluable contribution to the F&B Industry and uplifting the culinary standards in their country.
"This year's Awards of Excellence recipients are the best of the best and they are truly the outstanding professionals that not only set but raise the industry bar. As the Overseas Development Program goes from strength to strength as we have seen for our past winners, we know that our talents will flourish from their valuable experience. In time, I am sure that we will achieve more recognition of Singapore's culinary scene on the global front," said Mr Peter Knipp, CEO of PKH Pte Ltd, which manages and curates the Awards of Excellence and the World Gourmet Summit.
Other distinguished winners who walked off with the top honours include:
AT-SUNRICE GLOBALCHEF ACADEMY Apprentice Chef of the Year
Samuel Quan Xing Liang, Element on Tras Street
KÜHLBARRA Asian Cuisine Chef of the Year
Javed Ahamad, Punjab Grill Singapore
SCRIPPS NETWORK INTERACTIVE Asian Cuisine Chef of the Year (Regional)
Tan Kim Weng, Shang Palace, Kuala Lumpur
REDMAN BY PHOON HUAT Baker of the Year
Woon Thai Suan, The Fullerton Hotel & The Fullerton Bay Hotel
MKN Chef of the Year
Julien Royer, Odette
HALTON GROUP Executive Chef of the Year
Christopher Christie, Marina Bay Sands
ACADEMY OF PASTRY ARTS MALAYSIA Pastry Chef of the Year
Kenny Kong, Resorts World Sentosa
KITCHENAID Pastry Chef of the Year (Regional)
Yves Matthey, Mandarin Oriental, Hong Kong
MEAT & LIVESTOCK AUSTRALIA Rising Chef of the Year
Kenneth Oh, Gattopardo Ristorante Di Mare
CHOPE Asian Restaurant of the Year
Blue Lotus Eating House
TUNGLOK Asian Restaurant of the Year (Regional)
Mozaic, Bali
HENNESSY Bar of the Year
Manhattan
WINTERHALTER Caterer of the Year
Lavish Catering
LUZERNE Food & Beverage Manager of the Year
Nicolas Mercier, Swissotel The Stamford
SICO ASIA MICE & Banquet Manager of the Year
Joseph Pua, Sofitel Singapore Resort & Spa
HOBART New Restaurant of the Year
Salted & Hung
MEIKO Restaurant Manager of the Year
Sally Chan, Yan Ting, St Regis Singapore
HUBER'S Restaurant of the Year
Morsels
Bangkok Ranch Group Restaurant of the Year (Regional)*
Fook Lam Moon, Hong Kong
Bangkok Ranch Group Restaurateur of the Year*
Wee Teng Wen, The Lo & Behold Group
WELBILT Restaurateur of the Year (Regional)
Gaggan Anand, Gaggan Bangkok
CULINA New World Wine List of the Year
Salt Grill & Sky Bar by Luke Mangan
CULINA Old World Wine List of the Year
Jaan
BOTAS DE BARRO SOMMELIER MENTOR
Lim Hwee Peng, Winecraft Marketing & Services
UNIQUE FOOD & WINE Sommelier of the Year
Daisuke Kawai, La Terre
EPICURE Wine Distributor of the Year
Asia Wine Network
CUISINE AND WINE ASIA Wine Retailer of the Year
Artisan Cellars Pte Ltd
Bangkok Ranch Group Gourmet Distributor of the Year
Classic Fine Foods
KÜHLBARRA Gourmet Retailer of the Year
Huber's Butchery
MARRONE Hospitality Institution of the Year
The Culinary Institute of America
ELECTROLUX Hospitality Institution of the Year (Regional)
Berjaya University College of Hospitality, Malaysia
LEE KUM KEE Chef's Choice (Asian Cuisine)
Martin Foo, VLV
Chef's Choice (Western Cuisine)
Petrina Loh, Morsels