Alma Celebrates 3rd Year Anniversary with Brand-New Dinner Menu That Evokes The Soul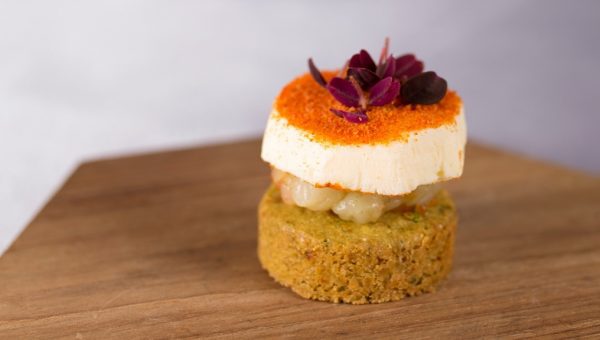 CONTENT: Yiew Kai Jie
Fresh from its victory of retaining its One-Michelin-starred rating for the third year running, Alma by Juan Amador has unveiled its latest dinner menu in celebration of its 3rd year anniversary! The new dinner menu is a reflection of the restaurant's unrelenting passion, refinement and fruit of labour from Executive Chef Haikal and the entire Alma team which led the restaurant to hold its Michelin star for 3 consecutive years.
Ever since his life-changing motorbike accident back in 2015 which left him paralyzed from the neck down, Chef Haikal has been making great strides in his recovery. The Alma team stayed up for countless nights together with Chef Haikal after his physiotherapy sessions, to experiment and create bold new dishes which challenge culinary boundaries. Inspired by Japanese cuisine, Chef Haikal has amalgamated his homegrown European cuisine with traditional Asian flavours and ingredients to create thrilling dishes that are exhilarating and familiar to diners.
Start the night off with the unmistakable waft of a traditional bread service approaching the table. However, their signature Potato Bread with Smoked French Butter that they serve is light years beyond compared to a run-of-the-mill kind of bread! Laid upon a bed of toasted coffee beans, the beans help to infuse the bread with a mild coffee scent and help to keep the bread warm and retain its soft yet springy centre. Once the special serving box is opened, diners will be immediately enticed by it's aromatic scent and helps to awaken the taste buds for the upcoming courses.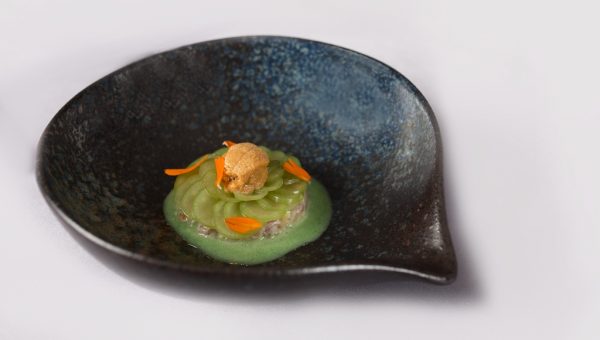 The first appetizer is the Okayama Muscat Grape***– a delightful reciprocating union of the sweet and savoury flavours with gorgeous julienned Okayama green grapes and Hokkaido uni delicately perched atop fatty Japanese bluefin chutoro tartare seasoned with a touch of Yuzu koshō sorbet.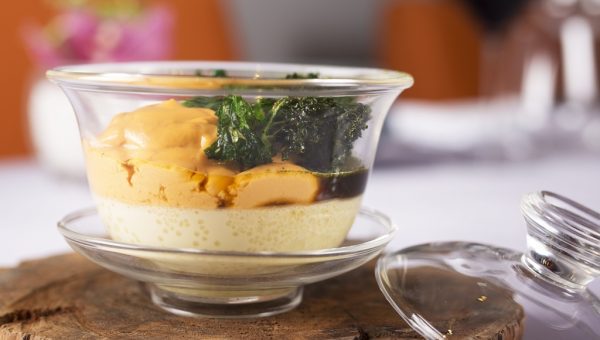 A star appetizer on the menu, the umami-rich flavoured Muirgen Oyster**, is an appetizer that will definitely leave its mark on diners. Envisioned as a duo-layered rendition of a classic chawanmushi, the creamy creation is infused with sweet botan ebi, creamy homemade Sauce Choron enlivened with uni, truffle jus and topped off with crispy kale. The strong flavour of the oyster is balanced out by the kale, helping diners enjoy the taste of oysters without being overwhelmed by its strong scent. The hint of truffle jus was helped to add on to the symphony and further complement the dish as a whole.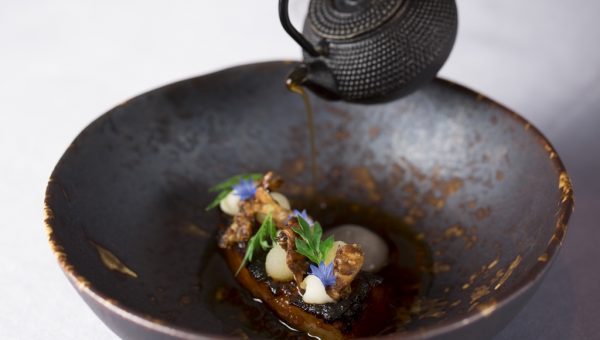 Full of a rich smoky aroma, Chef Haikal's Spanish-Japanese interpretation of a classic Iberico Pork Jowl** will leave diners wanting for more! Glazed with aka miso is sous-vide, then grilled on a traditional binchotan grill, paired with crisp artichoke and earthy black sesame purée. This meticulous style of cooking on the grill results in a uber soft yet well textured and seasoned piece of Iberico pork. The pork reduction provides a form of hydration for the protein so that it does not taste too dry- as it is notoriously famous for drying out within minutes of cooking.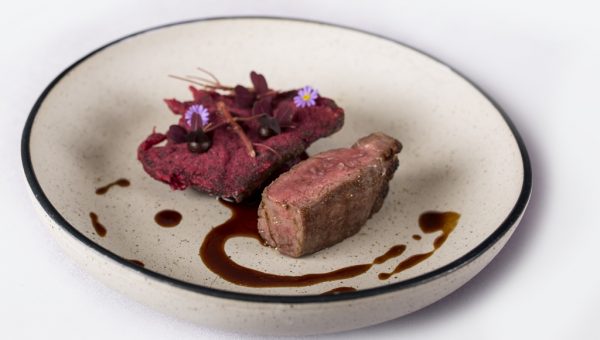 Chef Haikal has saved the best for the last by serving up one of the best wagyu beef brands in Japan- tender Ōhmi Beef*** served on a warm plate that is sure to melt instantaneously in the mouth! The protein is paired together with an intense wine and beetroot reduction sauce, fine horseradish potato and crispy seaweed. The sauce lends a sweet and smoky taste to the beef while the seaweed provides a salty aftertaste should diners need a change of pace or flavour in their mouth. The mashed potato acts as an extra layer of creaminess to the beef that gives it a smooth finish.
Cap off the gourmet experience on a sweet note with the Mango*** dessert, a beautiful tangy mango cremeux, yogurt with a touch of myoga (Japanese ginger) that acts as a refreshing palate cleanser.
*4-Course menu **6-Course menu ***8-Course menu
Wine-lovers will be delighted to discover a vast range of wines at Alma, one of the biggest American wine importers in Singapore. With over 450 wine labels from around the world mainly from USA and especially from Napa Valley, Alma is a wine connoisseur's heaven. The restaurant has the biggest collection of wines from USA, with a rare highlight being the Screaming Eagle range including Second Flight, with prices up to $25,000 per bottle – served by the glass here at Alma.
Alma's wines are specially curated and selected by their experienced in-house sommelier, Mr Saravana, with over 21 years of F&B industry experience and sommelier experience at famous establishments such as L'Atelier Joel Robuchon and Verre Modern Bistro. The wines are shipped in twice a year directly from Alma's supplier, offering the best wine prices in the market for connoisseurs.
The new dinner menus come in 4-course ($117++), 6-course ($158++) and 8-course ($197++) options. Diners can pair the menus with the great wine flight to go with the dishes at $38++, $58++ and $68++ respectively.
Alma is located at 22 Scotts Rd, Goodwood Park Hotel, Singapore 228221.
Alma is open for lunch from Mon – Fri: 12.00pm – 2.30pm, and dinner from Mon – Sat: 6.00pm – 10.00pm. (Closed on Sundays)
Note: From 3 Nov, Alma will be opened on Sat 12.00pm – 2.30pm, and closed on Mon 12.00pm – 2.30pm
For reservations, please email them at reservations@alma.sg or contact +65 6735 9937.