Blue Lotus Chinese Grill House Continues To Trail Blaze with Second Outlet at Stevens Road
Since opening earlier this year in the heart of the CBD at Tanjong Pagar Centre, Blue Lotus Chinese Grill House's casual, high-energy yet Chinese-in-essence dining concept has thrilled diners with its unique repertoire of dishes. Now, Blue Lotus fans and avid foodies can enjoy the same innovative modern Chinese menu on the other side of town in the prime location of Stevens Road.
As part of the newly minted complex of Novotel Singapore on Stevens, the opening of Blue Lotus Chinese Grill House last 16 December 2017 makes it the fifth outlet in the Blue Lotus Concepts International family, helmed by entrepreneur and highly acclaimed restaurateur Ricky Ng. Its quirky design, intimate 66-seating capacity space and renowned Blue Lotus quality of dishes make it an ideal destination for business lunches or dinners, leisurely gatherings with friends and family and any special occasion.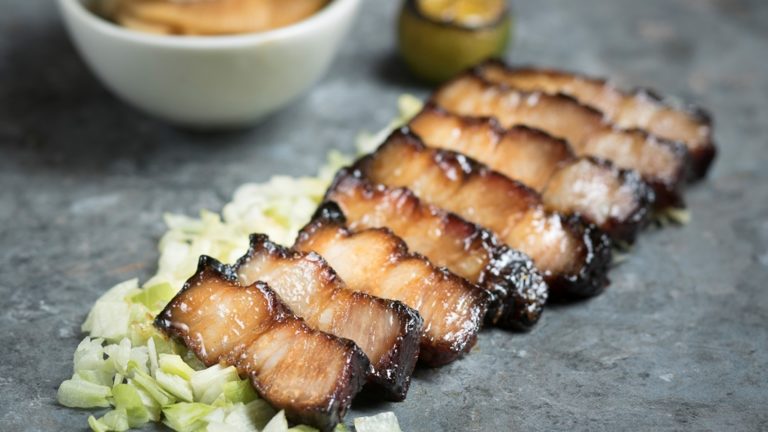 The Blue Lotus Chinese Grill House, open every Monday to Saturday for lunch and dinner, offers the city's wider audience new perspectives on Chinese food that are both exciting and always relevant. Diners will relish traditional Chinese and local favourites that are given innovative and modern culinary twists – a trait which continues to make the Blue Lotus brand a talking point among Singapore's discerning foodies.
Outstanding Blue Lotus Dining Experience
As with its sister outlet at Tanjong Pagar Centre, the Blue Lotus Chinese Grill House at Stevens Road offers a distinctive menu selection with the same dynamic avant-garde take on Chinese cuisine. Remixed presentations of classic comfort foods include much talked-about dishes, such as Hot Stone Pork Lard Truffle Flavoured Fried Rice; Hickory Smoked Honey-Glazed Kurobuta Pork Belly; and Claypot Mapo Tofu Rice, Onsen Egg. Not to be missed is a quintessential part of the Blue Lotus dining experience, featuring the famous pomelo chilli sauce – the Crab Balls with Chilli Pomelo Sauce and the Chilli Pomelo La Mian Soup with Crabmeat.
As part of the Blue Lotus food philosophy, the restaurant never uses MSG and focuses on Western techniques married with ingredients and flavours from all over Asia. Incorporating the Josper oven in many of the signature dishes, must-tries include a delicious take on the classic lamb rack, Wagyu beef and Iberico suckling pig, all presented with the unique Blue Lotus new age Chinese twist.
Quintessential Chinese food with a twist, quality and value are always top priority alongside innovation and creativity, driving the seasonal menu which will evolve quarterly.
Blue Lotus Chinese Grill House is located at: 30 Stevens Road #01-03 , Singapore 257840.
For reservations or enquiries please call: : +65 6838 0880 or visit: www.bluelotus.com.sg for more information