Celebrate the Festive Season at Akira Back with Six New Exquisite Dishes
CONTENT: Andrew Kho
IMAGE: Luxe Multimedia
Christmas is fast approaching and we can feel the festive season in the air with Christmas decors and songs being played everywhere.
At JW Marriott Singapore South Beach's, award-winning modern Japanese-Korean fusion restaurant Akira Back, they have launched six new delectable dishes invented from various Akira Back restaurants over the world that will surely whet your appetite with a promise of something for every taste bud this festive season.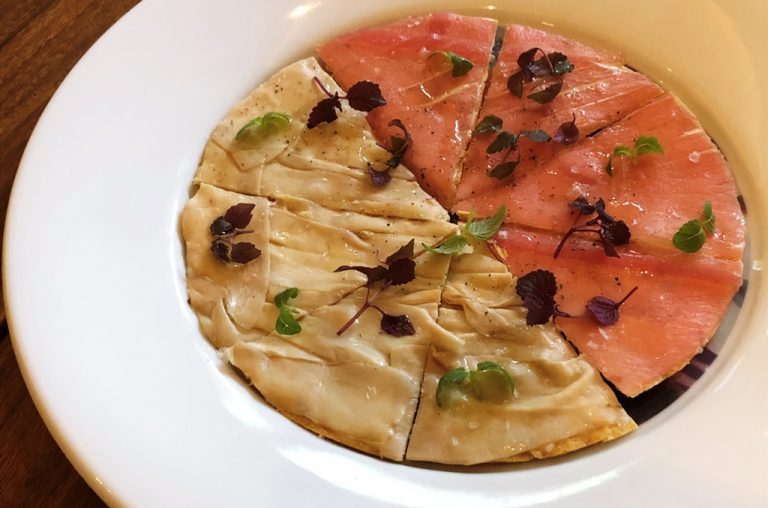 Start off with the very thin and crunchy Tuna & Mushroom Pizza which resembles the Yin Yang symbol. The pizza is topped with Umami Aioli, Micro Shiso and Truffle Oil. Sashimi lovers will enjoy the Toro Caviar, presented in a traditional ice filled wooden square box, the Toro is rolled and topped with Oscietra Caviar and Kochujang Miso. The Toro is buttery and melts in your mouth, one is simply not enough. Next is the thick sliced Salmon Tiradito drizzled with Yuzu Lemon and Coriander Oil, very fresh and delicious.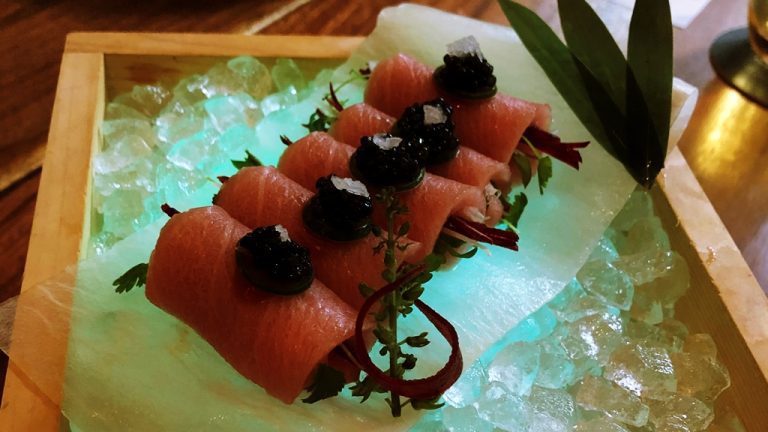 For the mains, The Porterhouse is perfectly cooked and locked in flavour. The beef is tender and juicy that you can opt to enjoy the beef by itself or dip it with the black garlic borderlaise. Served on the side is crispy brussel's sprouts which will make you change the way you enjoy this vegetable. Those who prefer to opt for non-beef, the Pork Secreto is an alternative option with its thick cut tender, juicy and flavourful pork with Samjjang dip and endive kimchee. Both of these dishes are a must try when you visit Akira Back.
Apart from the new dishes, you can never go wrong with two of Akira Back's favourites , the Soul Mate which has a sweet ameibi and uni on top of a soft canape. You can taste the freshness of the ingredients in every bite. This is paired with Tosa Jelly which balances the flavour. The Yukhoe is filled with "Tajima" Wagyu striploin drizzled with sesame oil and presented in a maki style nashi wrap. Enjoy it by mixing and mashing the ingredients all together. Surprisingly, there is no raw taste to this at all.
Cap your meal with the Christmas Bell, a dessert created just for this Christmas. Break the bell to enjoy the chocolate bell made from araguani chocolate, with inspiration passion and pineapple compote to balance the overall flavour.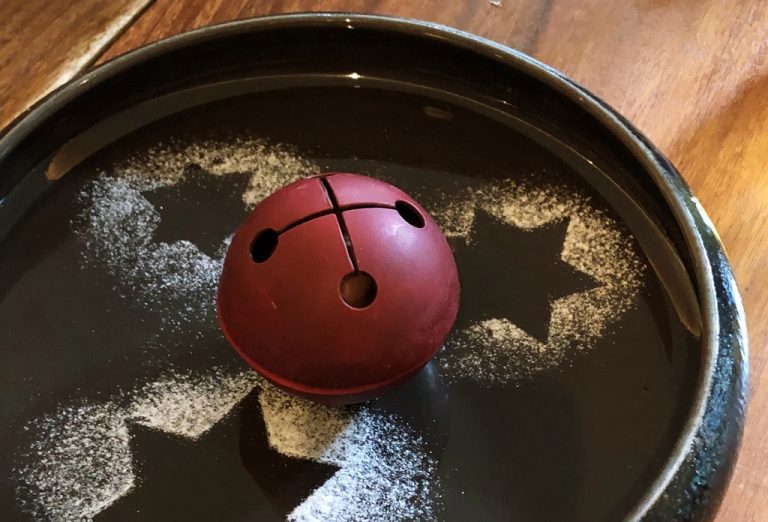 Akira Back is introducing a special 8-course set dinner menus available on Christmas Eve, Christmas Day and New Year's Eve priced at S$250++ for two persons.
Akira Back is located at JW Marriott Singapore South Beach is located at 30 Beach Road, Singapore 189763
For reservations, please call +65 6818 1908, email jw.sinjw.dining@marriott.com or visit: jwmarriottsingapore.com.