Enjoy an exclusive wine pairing dinner with Louis M. Martini Winery at Mitzo
Mitzo at Grand Park Orchard will be showcasing an exclusive 5-course wine-pairing dinner with Louis M. Martini Winery on Friday, 29 March 2019 from 7pm-9pm. The menu, curated by Executive Head Chef Nicky Ng, features delectable favourites, perfectly paired with three different wines from Louis M. Martini Winery.
For this one-night-only dinner, Aubrey Buckingham, the Fine Wine Ambassador of E&J Gallo Winery, the world's largest family-owned winery, will introduce diners to the wines produced from this winery based in Napa Valley, USA. Aubrey's journey into the world of wine has taken him to vineyards in Austria to the Yarra Valley. Currently based in Hong Kong, Aubrey brings his knowledge of California's finest wines to the Asian market.
Opening the dinner is the trio of appetisers, Mitzo Special Barbeque Pork, Wasabi Monkey Head Mushrooms and Salted Egg Yolk Prawn, paired with a vibrant glass of Sonoma County Cabernet Sauvignon, 2015. This wine best reflects the warm, narrow Dry Creek Valley, and the hot yet wind-cooled Alexander Valley; combining these unique features creates a rich, superbly balanced Cabernet Sauvignon with copious yet supple tannins. This approachable young wine brings flavours such as wild berries, plum, liquorice and mocha.
Delight in a hot bowl of Double-boiled Fish Maw, Assorted Mushroom & Fungus in Chicken Consommé. Expertly prepared by Chef Nicky, this traditional and healthy soup showcases his commitment to staying true to the philosophy of Cantonese cuisine by focusing on quality ingredients.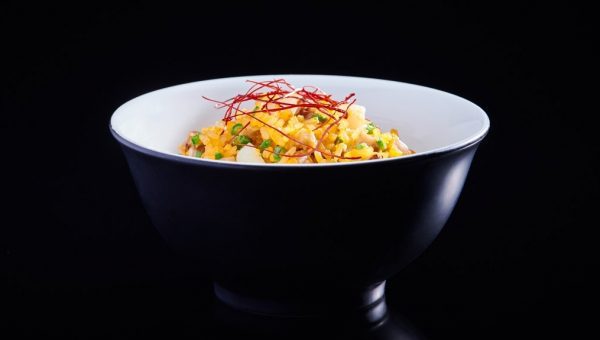 Complementing the tender Stir-fried Wagyu Beef in Black Pepper is the Alexander Valley Cabernet Sauvignon, 2015, a bold and dynamic wine known for its deep and rich flavours of plum, cherry compote, fig, cranberry, and hints of spices. This dense and well-structured wine accentuates the characteristics of the savoury beef, bringing exciting combinations to the palate.
The tantalising fourth course is the Fried Rice with Scallops & Preserved Radish. The fluffy rice is served with sweet scallops, enhanced by the salty preserved radish. This flavourful dish is the perfect finisher to the whole affair.
The decadent dessert, Plum Wine Osmanthus Jelly served with Deep-fried Chocolate Baileys Dumpling is paired with the Napa Valley Cabernet Sauvignon, 2016's layered flavours of black currant, sage and ripe dark plum. This full-bodied wine is perfect to end the satisfying meal.
Mitzo x Louis M. Martini Wine Pairing Dinner 5 course pairing dinner menu is priced at S$108++ per person, happening from 7pm-9pm on Friday 29 March 2019
For reservations or enquiries please call +65 6603 8855 or email ChunKiat.Ng@parkhotelgroup.com