Have yourself a Porky Chinese New Year with The Butcher's Kitchen new CNY dishes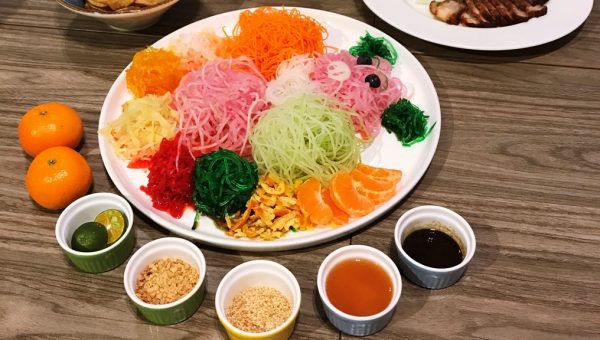 CONTENT: Yiew Kai Jie
IMAGE: Luxe Multimedia
Staying true to this year's zodiac sign, the new dishes will consist of CNY classics with a twist
Well known for their outstanding protein dishes, The Butcher's Kitchen has produced a variety of dishes to pay homage to the year of the pig! In honour of this year's theme, the new dishes will feature pork as the star ingredient, utilised in unique styles and paired with familiar and all-time favourite flavours!
Straying away from the customary fish-based yusheng, The Butcher's Kitchen has introduced the 3 Treasures Porky Yusheng (S$38.80) comprising of golden roast pork belly, pork lard and char siew. The auspicious dish will be drizzled with a classic yusheng sauce, a unique blend of char siew and plum sauces — tangy, sweet and savoury. The yusheng is also topped with The Butcher's Kitchen's very own freshly made chips, an addictive alternative of the traditional golden crackers. Due to the usage of pork in this dish, there is a huge disparity of flavour compared to conventional yushengs, as it contains more of a fatty, savoury flavour in the yusheng. However diners will have to keep a rigid balance with the pork to vegetable ratio, or else the dish could become too overwhelming to eat after a while. The enormous portion of the yusheng is suitable to share among eight to 10 people and is a huge boon for those who are unable to eat raw fish at CNY gatherings.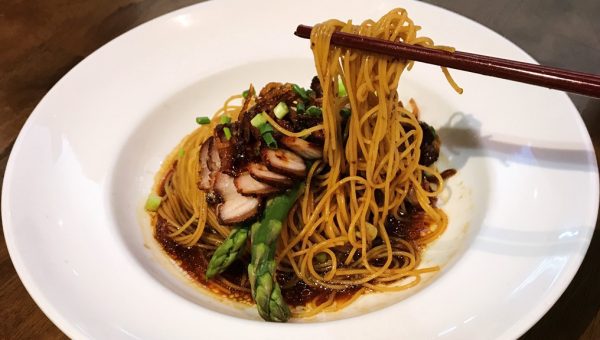 The Butcher's Kitchen has also created two pork-based pasta dishes for CNY! The Char Siew Pasta with Truffle (S$18.80) is more for diners who prefer western cuisine with an asian touch. The noodles are cooked till al dente, tossed and infused with the restaurant's homemade char siew sauce. Afterwards, it is topped with fragrant pork lard and the main star of the dish- the melt-in-your-mouth pork belly char siew. Glazed with a sweet sauce, the char siew contains a perfect meat-to-fat ratio to satisfy any meat lover's taste buds. Finally, a touch of truffle oil is then added for an unmistakable finish to the dish. However, in this instance, it permeates and overshadows the main star of the dish! While the char siew was extremely delicious, the dish could have been better on its own without including truffle in it, simply to let the main star stand out on its own.
The new Mala Pasta with Roasted Pork Belly (S$18.80) will be a classic favourite for any mala hotpot fans or for diners who prefer a classic spicy Asian dish. The mala pasta is tossed with fresh cabbage — a signature element in mala stir-fry for an extra, satisfying crunch. The Butcher's Kitchen's signature sliced roast pork belly is slowly placed onto the bed of pasta, and once bitten into, the crunchy crackling and burst of fat from the pork belly is pure bliss. The end result is almost akin to a spicy mee goreng, with a spicy fragrance and taste that will overwhelm the palate with its piquant essence!
The Hebi Hiam Pizza (S$18.80) is an absolute marvel of a pizza. It comprises of a generous helping of cheese, fried crispy pork lard marinated with prawn chilli, and topped off with a sprinkling of dried sambal prawn. It is then drizzled with prawn chilli for a powerful spicy kick and garnished with coriander for a fragrant boost. A single bite of the pizza will result in a almost creamy fatty union that will eventually mild out to a smooth cheesy finish!
The restaurant has also launched the Original Fresh Chips (S$10.80/bottle) and Spam Chips ($16.80/bottle),which would make for a perfect snack during the Lunar New Year. These all-natural, highly addictive chips are made fresh daily and come in beautifully designed bottles for diners to share and gift the goodies with their loved ones. What makes the chips different from the multitude of competitors, is that they are non-oily and taste twice as better as any other counterpart out there in the market. (Without any additional salt, oil or preservatives!)
The Butcher's Kitchen is located at Suntec City Mall, #02-472, Singapore 038989.
For more information, please visit: https://www.thebutcherskitchen.sg/