Usher In The New Year With Mitzo's Modern Take on Traditional Delights
CONTENT: Michelle Ng
IMAGE: Luxe Multimedia
The Lunar New Year is a time to welcome a prosperous year ahead, and often celebrated with plenty of feasting with friends and family. Mitzo Restaurant & Bar has whipped up a luxurious menu this festive season that features he lo hei classics like peng cai and yu sheng but with a modern twist courtesy of Executive Head Chef Nicky Ng.
Pick from a delectable selection of 12 set menus, all of which includes a classic Yu Sheng toast the New Year at the start of your meal. Depending on your preference, you can choose from 4 to 7 course meals, and catered for 2 people and groups of 4 to 10. All of Mitzo's ala carte menus and drinks will also be available if you're a group of particularly big eaters.
Made with freshest salmon and fried salmon skin, the colorful Salmon Yu Sheng is drizzled with a citron tea jam, corn oil and home-made bean sauce mix. Everyone gets to join in the fun as the mixing sauce will go one round the table for everyone to shake – something different than the usual lo hei where everyone stands around waiting to start tossing. Diners can also indulge in a King Fish Yu Sheng or the Auspicious Abalone Yu Sheng, and Mitzo hasn't forgotten the vegetarians with a Fruits Yu Sheng that is a healthy mix of tropical fruits and vegetables.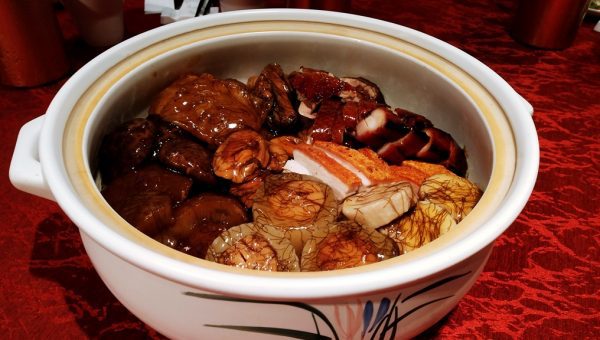 The Superior Peng Cai is definitely not to be missed. The huge pot is filled with 10-head abalone, dried scallop stuffed with radish, sea cucumber, deep-fried fish maw, dried oyster, flower mushroom, roast duck, lettuce, lotus root, poached chicken, barbecued pork, roasted pork belly, and "fa cai" (black moss), all simmered in a rich broth. The roasted meats were absolutely scrumptious, full of flavor and not too dry, but star of the dish is the abalone that will satisfy even the heartiest of all eaters.
Other than those two dishes, other must-tries include the truffle Ee Fu Noodles with Scallop, Fish Maw Soup, Steamed Grouper with preserved pork liver, and Mao Tai Wine Lobster.
All the course meals end with a sweet treat. The Chilled Pineapple Sago is a sweet dessert with a sharp citrusy kick to cleanse your palette after a heavy meal. As tradition goes, nian gao is also eaten at the end of the meal to increase prosperity, and Chef Nicky Ng presents it as a warm nian gao tart that you can easily pop into your mouth. Paired with a flaky crust, the Nian Gao Tart is not overwhelmingly sweet or sticky. If they sold these individually, we probably would have bought them by the dozen!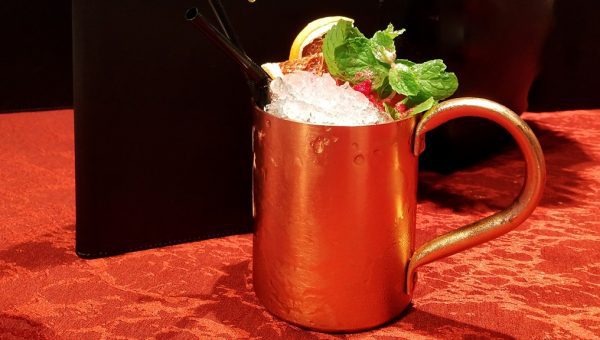 If you're one for a tipple, Mitzo's head bartender Azlam Kadir has also whipped up a limited edition Divinity Cocktail. The ginseng-infused vodka cocktail is mixed with maraschino liqueur, goji berry syrup, and ginger beer for a herbal-inspired brew. It might taste a little like those traditional Chinese brews from medicine shops, but it pairs well as a contrast to the heavier dishes in the CNY menus.
Mitzo Restaurant & Bar is located at Level 4, Grand Park Orchard S238857.
For reservations or enquiries please call +65 6603 8855 or email rsvn@mitzo.sg