In Vogue with Antoinette Couture Cakes
CONTENT: Yiew Kai Jie
Known for its visually breathtaking cakes and parisian-inspired decor, Antoinette has released its brand new line of couture cakes that were inspired in iconic fashion luminaries from Coco Chanel to Issey Miyake. Every piece of the collection was passionately designed by the talented and award-winning Chef Pang Kok Keong. With four new charming cakes in the collection, experience the lavish taste of style and glamour!
For the body conscious fashionista, indulge in the sugar-free Haute Café. (S$11, S$48, S$96) Using traditional roasted coffee beans, sugar-free chocolate and Maltitol (a sugar substitute), the Haute Café is made with layers of espresso-dipped chocolate sponge cake and coffee-infused chocolate mousse, topped with a pretty frill of cold brewed coffee Chantilly crème and sprinkled with coffee powder. The look is further accentuated with a cube of coffee bean crumble and a touch of 24K gold leaf from France. With a beautiful blend of rich aromatic coffee and dark chocolate, the Haute Café gives you the satisfaction of your daily dose of espresso without stressing out about the calories!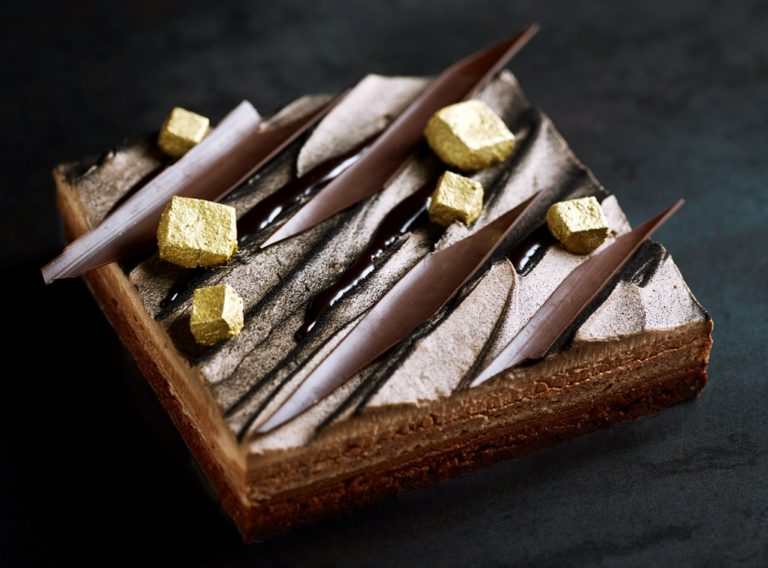 Paying tribute to the iconic Chanel No. 5 perfume, the Chocolat No. 5 (S$11, S$48, S$96) showcases premium dark chocolate from France and Belgium. With a slender silhouette, it is assembled with chocolate Sacher sponge cake, coated with almond hazelnut feuilletine, light chocolate ganache, chocolate chiffon cake, topped with chocolate crème Chantilly and finished with a charcoal spray for a classic look. A gold-dusted crumble is added for a touch of elegance. With a light texture and mild sweet taste, fashionistas can indulge in it without being overpowered by the typical sweetness one gets from over sweetened chocolate cakes.
One of the biggest trends from make-up to apparel is to go nude! With that in mind, Chef Pang has created a show-stopping NUDE (S$11,S$40,S$80) cake fit for the trendy. It is constructed with a coconut crème Chantilly, over a layer of finger sponge with sea salt caramel parfait encased within a tropical mousse made from a delectable blend of passionfruit, mango, pineapple and lime. Beautifully presented in the colour of nude, stripes of bright summer hues representing the tropical fruit ingredients are added to amp up the chic look. Holding an uber strong mango flavour and passionfruit aftertaste, this cake is perfect for fruit lovers.
Finally, behold the Cheese Please (S$9,S$40,S$80) that was inspired by the bold and playful style of Issey Miyake and his iconic 'Pleats Please' creation. This is a savory, sweet and salty cheesecake for The Individualist! The savoury mousse is of a good mix of cheddar cheese, cream cheese and Parmesan cheese, layered with thin almond shortbread, topped with a piece of apricot jelly and sprinkled with grated Parmesan cheese. With a rich and creamy cheese flavour, the Cheese Please is the best dessert for all cheese lovers. Despite it being made out of three different kinds of cheese, this cheesecake tastes incredibly light so that one won't feel so guilty after finishing this cake.
Apart from the gateaux, Chef Pang has also created a new brunch menu that are sure to astound and amaze his guests with a mix of sweet and savoury dishes. Embodying wholesomeness across both taste and presentation, Antoinette's new savouries and brunch dishes are a showcase of European flair and Chef Pang Kok Keong's culinary finesse.
Straddling between the line of sweet and savoury, the Watermelon & Smoked Duck Salad (S$24) presents a head-turning interplay of green, red, purple. The watermelon is processed in two ways: compressed and pickled. Cubes of watermelon are cooked in a sous vide style so that they have a firmer bite and a sweeter flavour. The others are brined in vinegar syrup for a delightful acidic contrast. Sorghum grains, promising a firm bite, are added to the salad for a textural contrast. A splash of beetroot yoghurt dressing gives the salad an earthy lift, and it also decorates the plate with an artistic touch. The dish is completed with a 6 minute cooked egg that releases an oozing yolk. The salad is an uber healthy option and aesthetically pleasing to the eyes, but it felt like there were too many things going on at once. Despite the various flavours of the vegetables working together in harmony, some of the ingredients could have been taken or left out as they were unnecessary to the success of the dish.
The Double Prawn Linguine (S$26) is a definite show-stopper. Inspired by the local prawn noodles that one would find at a hawker centre, a lobster is sautéed and deglazed with white wine; prawn bisque and Antoinette's homemade spicy shrimp paste. Afterwards, ribbons of linguine are added to the mix, the paste imbues the noodles with an umami-spicy note. The dish is then finished with zucchini strips, before it is served, garnished with ebiko, sakura ebi, nori and shiso cress for a cumulation of flavours. The linguine tastes extremely rich due to the prawn bisque and meat, but they could have used instant or ramen noodles as compared to the boring texture of the pasta. Afterall, the dish is meant to be a spin off of our famous prawn noodles right?
Another pasta dish bound to delight is the Wagyu Beef Tagliatelle (S$26), which features Chef Pang's homemade whole wheat pasta. The ragout is cooked with red wine, a medley of herbs and hunks of rich-tasting wagyu beef. At the centre sits a luscious onsen egg, which when pricked into, coats the pasta with its irresistible lava goodness while grated parmesan cheese punctuates the dish with its nutty note. However, more of it could have been used to make the creamy dish more visually appealing.
The new menu will also offer toasts during Tea Time, which is given an inventive spin at Antoinette. Each toast is homemade, and boasts a crispy crust and soft texture. The Banana Toast (S$12) is a tower of pain de mie toast with salted butter and Nutella; fresh banana; homemade caramel popcorn; and coco pops. Chocolate sauce is drizzled all over for a sweet finale. However, it is a rather common dessert dish that can be found at other cafes that fails to stand out.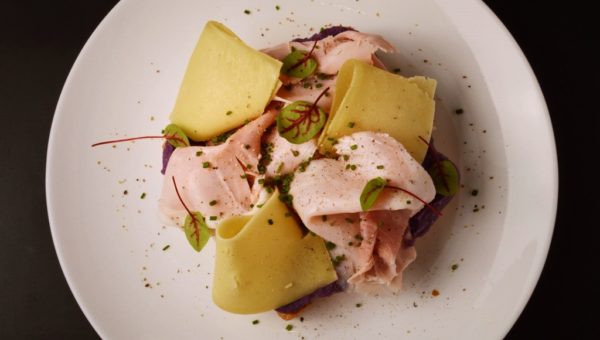 Therefore, it is highly recommend for one to instead opt for the savoury counterpart — the familiar Kurobota Ham & Cheese (S$14) toast is now given an upgrade. Pain de mie is brushed with butter, then toasted. Kurobuta ham and emmental cheese are perched atop an enticing layer of sweet potato mash. This toast is the better out of the two due to the exotic ingredients used to top the toast that helps to elevate this classic dish to the next level. Up the indulgence by adding a scoop of ice cream (S$3.50) or two eggs to the savoury toast (S$4).
As a testament to Chef Pang's playful penchant, the Prescription (S$14) drink is a fun combination of various elements: Houjicha latte, Okinawan black sugar syrup, yuzu ice cubes and a pill sachet with fairy grass- grass jelly cubes. Drinking this beverage is akin to taking your medication- it requires some self-assembly! First add the grass jelly cubes into the glass, pour the houjicha latte in, and then add the sugar syrup so as one desires. Sweet, fruity, earthy all at once — medicine has never tasted better. All the beverages can also be served without alcohol, so teetotalers can enjoy them as well. Possibly the most interesting drink on the menu, this latte is a must order drink! The overall sweetness of the latte can be adjusted to your liking and the grass jelly breaks apart in the drink when it is stirred- creating a custom coffee version of a typical cup of bubble tea!
Conclude the gourmet experience with Antoinette's signature dessert- the Watermelon Kakigori (S$20). Here, watermelon is presented in its original state in cubes, as well as in a kakigori (shaved ice) form. Earl grey chiffon cake is layered with yuzu cream, fresh strawberries, rose petal foam, almond crumble, fresh watermelon and topped with watermelon kakigori (shaved ice). A classic combination that is both refreshing and indulging, it appeals to the senses in both taste and presentation.
It is garnished with rose petals, and served on a dry ice platter for a complete jaw-dropping factor. The moment this dessert piece is placed on the table, there are sure to be wows echoing through the restaurant as all eyes will be fixated on this particular dessert piece. The dessert is served in a transparent cube that is doused with dry ice to keep the dessert cooled and camera ready. The flavour profile of this spectacular dessert is nothing short of amazing! Upon the first bite, the lightness of the watermelon reveals itself with the texture chiffon cake that evolves to the palette being permeated with the rose foam and finishes with a mild yuzu essence with just a tinge of strawberry!
All of the four cakes are available in petite and big size.
Selected dishes will be available at the Mandarin Gallery outlet from 3 September 2018.
Antoinette's is located at Mandarin Gallery 333A Orchard Road, #02-33/34 Singapore 238897 and 30 Penhas Road Singapore 208188.
For reservations please call 6836 9527 (Mandarin Gallery) or 6293 3121 (Penhas Road).