Milksha (迷客夏), Taiwan's Leading Bubble Tea Opens Its First Outlet in Southeast Asia, in Singapore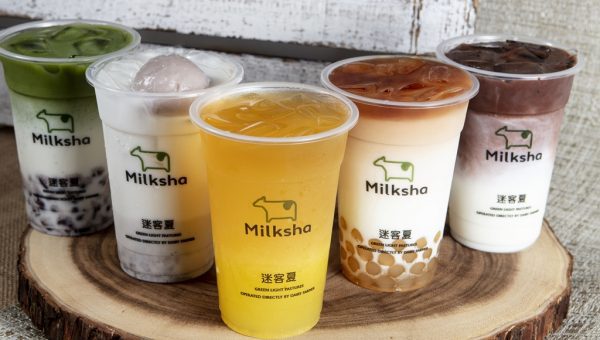 Known as "Milkshop" (迷客夏) in Taiwan and "Milksha" in the international market, the brand was founded by dairy farmer Kevin Lin in 2002. The first Milkshop outlet was opened in Tainan, circa 2004. Since then, the brand has grown from strength to strength, boasting over 230 outlets in Taiwan, 20 in China and two in Hong Kong. For its first-ever outpost in Southeast Asia, the brand has chosen Singapore to be their first outlet.
"We chose Singapore as the city has an established, stable and encouraging growth in the food and beverage industry. Singapore is the gateway to Southeast Asia, and our entry to Singapore opens a whole new range of opportunities geographically," says Peter Huang, General Manager of Milkshop International.
Driven by the brand mission of "Natural, Handmade and Unique Milk Beverages", Milksha insists on using 100% natural fresh milk, not creamer, as well as natural ingredients such as sugar from sugar cane to create its products. No preservative, chemical ingredient or artificial colouring is used in the beverages.
One quintessential key ingredient of 'Bubble Tea' is its 'bubbles', otherwise known as pearls. Milksha features honey pearls which are freshly cooked and then frozen before being air-flown directly to Singapore. Instead of using dried pearls, Milksha invests in quick freeze technology to maintain the texture and taste consistency of each pearl.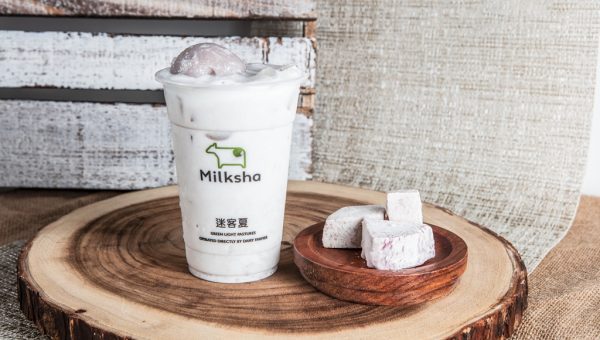 In Singapore, the brand has launched four series: Fresh Milk Series, Fresh Milk Tea Latte Series, Premium Tea Series and Special Concoctions. The five signatures include Azuki Matcha Milk, Fresh Taro Milk, Valrhona 100% Cocoa Milk, Refreshing Orange Green Tea and Earl Grey Latte with Honey Pearl. Toppings include honey pearls; grass jelly; and pudding.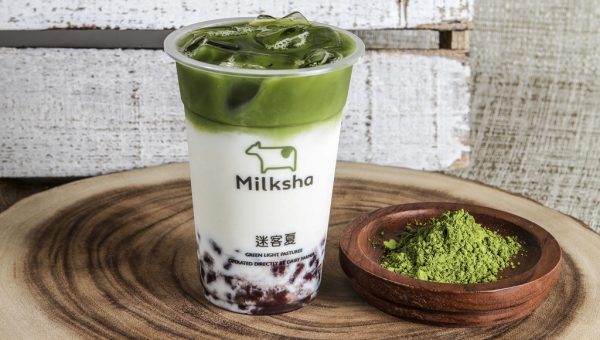 Sweet and earthy, the Azuki Matcha Milk features matcha specially imported from Izumo Tousuien (桃翠園). Milksha works with the hundred-year-old brand Izumo Matcha to procure the matcha. The matcha is first chilled, then directly air-flown to Singapore. Bound to delight bubble-tea lovers of all ages, the Fresh Taro Milk is made with unique taro from Dajia (大甲), Taiwan. The taro is mashed by hand, then blended with the fresh milk.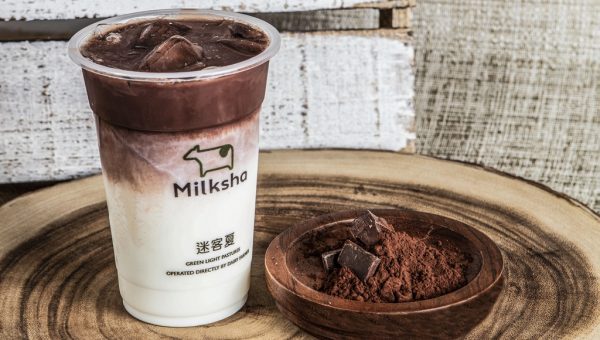 Next is the indulgent Valrhona 100% Cocoa Milk, which calls for the use of premium Valrhona cocoa from France. Every sip is sweet, rich and addictive. For the Refreshing Orange Green Tea, whole oranges imported from Taiwan are juiced, including the zest. It boasts a sweet, not sour, note. Finally, there is the Earl Grey Latte with Honey Pearl. Sri Lankan earl grey leaves are used for this invigorating beverage.
Opening Promotion
Bring home Milksha's uniquely designed cup sleeves with every purchase of drinks whilst stock last. Suntec City and Funan outlets each offers two of their own store-exclusive cup sleeves designs.
Milksha is opening their second outlet at Funan today 28 June 2019.
Milksha Flagship outlet is located at: 3 Temasek Boulevard #02-375/376 Suntec City Mall Singapore 038983