Rang Mahal Revamps Menu, Showcases Unorthodox Yet Traditional Dishes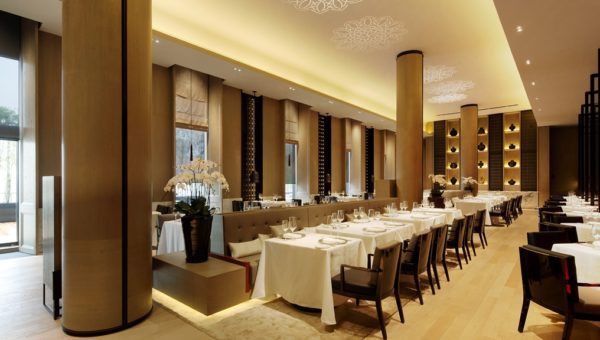 Walk through a corridor of lights and settle into a fine-dining setting to savour contemporary indian dishes whipped up by award-winning Chef Milind Sovani
CONTENT: Yiew Kai Jie
IMAGES: Rang Mahal
Rang Mahal, the award winning fine-dining indian restaurant at Pan Pacific hotel, is making a comeback with a brand-new menu! Whipping up dishes known for its impeccable quality, Rang Mahal now cooks up dishes that are perfect for communal sharing, and will appeal to the broad palates of millennials, families as well as indian-food connoisseurs. With this new menu, Rang Mahal aims to redefine Indian cuisine by putting a modern spin on its classic dishes while still honoring their heritages. Additionally, the new menu also offers healthier, less greasy alternatives to the usual indian fare.
Contemporary Yet Traditional
Curated by the award-winning Chef Milind Sovani, who holds a large number of awards and accolades under his belt over the years that involves being the private chef to India's former prime ministers Mr Indira Gandhi and Mr Rajiv Gandhi. While exploring various regions of India over the past five years, he aims to share his insights with his guests through putting what he has learnt into the innovative menu for them to taste what he has learnt for themselves.
Instead of following the fusion-cuisine trend that most restaurants are taking nowadays, Chef Milind believes that food should keep pace with modern times and lifestyle trends but continue to retain its roots and distinct original flavours. As such, the dishes at the restaurant are first broken down and then reconstructed to ensure that despite the dishes are modern, they still safeguard their original flavours.
Chef Milind takes his inspiration from Ayurveda- one of the world's oldest holistic healing systems. By using Ayurvedic herbs in his dishes, diners can enjoy its unique health properties while pampering their taste buds. Most of the herbs and spices used are directly imported from India and they help recreate the signature flavours and aromas of Indian cuisine.
Signature Favourites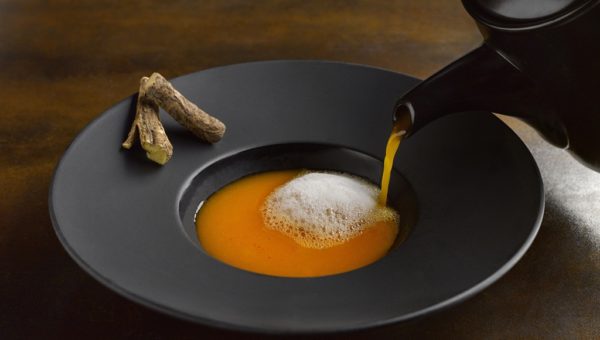 Start off the meal with a light Tomato Saar, Mulethi Herb Foam (Classic Tomato Soup Enhanced with Ayurvedic Mulethi Herb)- S$20. The broth is poured over a dollop of mulethi foam,the mulethi herb foam helps to soothe and prepare the throat for the spiciness of the next few courses and enhances the soup. A perfect starter, this light and airy take on the classic tangy tomato soup packs enough flavour and tang to wet the appetite which imparts a sweet and light tinge without being overly rich. The soup has a slight spice to it, but it is quite creamy for a soup that looks rather plain.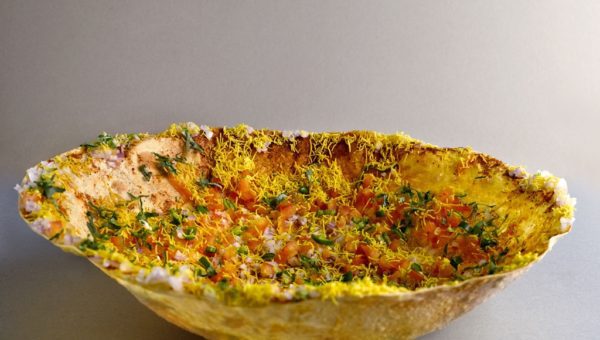 Roomali Masala Papad (Giant Papad topped with Lentil Crispies) S$15- Taking the papad to a whole new level, Chef Milind made this dish with the theme of cohesion in mind, to get everyone talking about this dish and sharing it. The papad is shaped and rolled like a pizza and then cooked on a hotplate like an upside down wok, ensuring that no excessive oil is used in frying the dish and making it quite healthy. The taste of this dish is phenomenal, to the point that the combination of toppings on the dish makes it feel like there are strings of cheese on it- even through there are none used in this dish. So gently crack the papad apart and don't be shy to get your hands dirty! (P.S: The dish goes very well with beer or whisky.)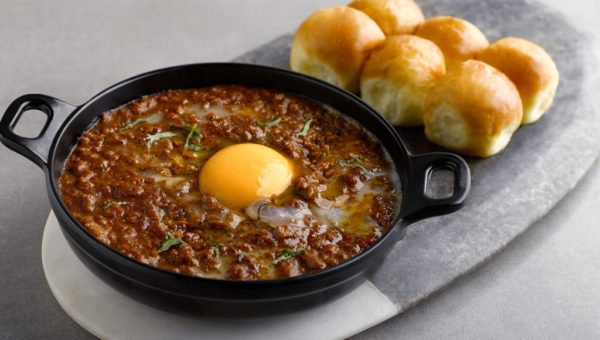 Parsi Kheema Per Eeda Maska Bao (Minced Masala Lamb with soft eggs and buttered buns) S$55- The lambs was nicely seasoned and went well with the buns. The buns themselves will remind one of a chinese bun or man tou- a bread that is famously paired with a tantalizing and spicy chilli sauce. The dish could have been improved if there was more buns provided or at the very least, a side serving of several slices of naan bread.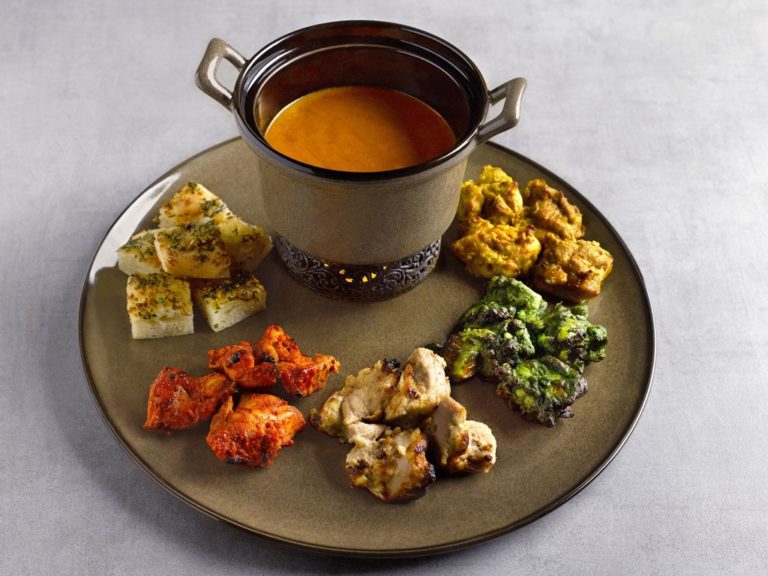 Tandoori Fondue with an assortment of tandoor grilled chicken kebabs and garlic naan cubes with 5-cheese tomato makhani dipping sauce S$58- Rang Mahal has pulled off the first ever tandoori fondue with 4 different types of chicken being served up in unique marinades like holy basil, kasuri fenugreek, cashew cheese, Punjabi chicken tikka and garlic naan cubes- allowing diners to savour different flavours at one go. The luscious sauce itself was inspired by a butter chicken sauce and has 5 different cheeses along with a hint of tomato makhni. in it. It is obvious that dipping the various chickens into the cheesy fondue will ensure that the flavour of the tandoori chicken will be lost, but the fantastic flavour of the cheese dip will help to compensate for it! It is ideal for sharing amongst two to four people, and it is a great dish that friends can bond over. (Note: There is also a vegetarian option.)
Butter Chicken Pao S$42- Like an Indian variation of a typical burger, the bun itself is very soft and delicate, just biting into it will make the bun collapse and reveal its delectable filling! The minced butter chicken is nicely seasoned and exhibits a rich, creamy and fragrant finish. However, the burger could be better positioned as a bar snack rather than an appetizer on the main menu, due to it's relatively small portion size and flavour profile.
Dhuwandaar Lamb Chops S$42- One of Chef Milind's signature dishes, a beautiful piece of an Australian rack of lamb is marinated for 12 hours with a special spice blend along with a homemade caramelised pineapple, garam masala and ginger garlic marinade. Smoked to perfection with applewood, the grilled lamb chops have a lovely yet robust crust to it. The chops were surprisingly tender and easy to cut into it and has a very sweet overtone to it. Best of all, there isn't a gamey taste to the protein- one can only taste the marinate and applewood smoke in there.
A Paradise for Indian Vegetarians
For all those vegetarians out there, don't fret as there are multiple vegetarian options to choose from the menu!
A reinterpretation of a classic indian street snack, the Bonbay Panin Poori (Crispy Semolina Puffs served with spiced water and Masala moong sprouts) S$25 – gives the chance for the consumer to try to put the dish together on his own. An interactive and experimental dish, the homemade puffs must first be stuffed with the masala sprouts, then fill the puff with the chutney spiced water and finally consume it in one whole bite. The explosion of flavours reminded me of a chinese vegetarian dumpling, the texture of the puff was soft yet thing enough to hold the weight of the ingredients in it until it enters the mouth.
Tandoori Duet of White and Green Asparagus S$35 – Another one of Chef Milind's signature dishes, the pair of fresh premium white and green asparagus is extremely crunchy and full of flavour. Being lightly grilled in a tandoor, don't forget to dip the asparagus in the red beetroot sauce, yellow mustard sauce and green mint sauce to fully compliment the asparagus. While the dish is extremely appetizing, the price tag that comes with it is slightly unjustified due to the small portion yet high price one needs to shell out for it.
Alternatively, the Subz Moilee (Assorted vegetables in kerala coconut curry) S$36- is a slightly better choice. The coconut curry has the right amount of spiciness to it, there are a decent portion of vegetables in it as well! Order a portion of flatbread, naan or saffron rice to go along with the dish, if not the dish is good enough to eat on its own and not excessively salty.
A Literal Sweet Ending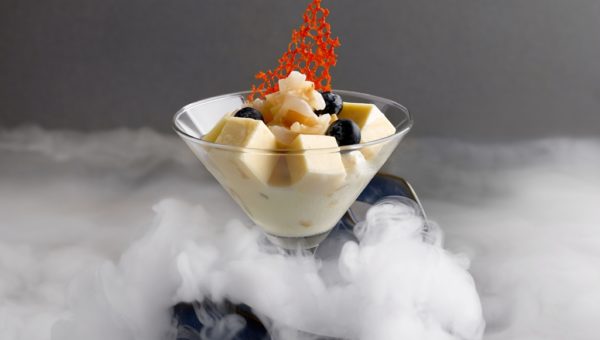 No meal is complete without a tantalising dessert and Rang Mahal's desserts are not just literal eye candies, they taste breathtakingly sweet as well.
Gulab juman Flambé (Tiny Golden dumplings in rose saffron nectar syrup, served flambe with liquor S$25) – Drenched in rose saffron nectar syrup, these golden dumplings are covered with generous portions of fresh fruits, and then served flambé style with Drambuie liqueur.
The white balls are made of melon while the red ones are made mainly of sugar and syrup. While the dessert could be a little too sweet for most Singaporeans, it is rather normal for an Indian sweet treat. Refrain from consuming the whole ball of goodness in one mouthful if thy taste buds are not used to a tsunami of sugar.
Lychee Kulfi (Homemade Indian Lychee Frostie S$20)- A homemade traditional ice cream created with all-natural ingredients, and topped off with fresh lychees. The dessert is then served in a dry ice bowl and engulfed in smoke for a pleasing artistic touch for both the eyes and the tongue.
Rang Mahal is located at Pan Pacific Singapore, 7 Raffles Boulevard, Level 3, Singapore 039595
Rang Mahal is open for its Buffet Lunch from 12 noon to 2.30pm and Dinner from 6.30pm to 10.30pm.
For reservations or more information: please call +65 6333 1788, email: rangmahal@rangmahal.com.sg or visit: www.rangmahal.com.sg