Recover at Crackerjack Singapore Cocktail Festival Brunch
This Singapore Cocktail Festival, Crackerjack, the all-day drinking and dining joint offers not only a place to imbibe morning, noon and night, but also a recovery haven for festival goers to get back on their feet.
Available for a limited time only, the Recovery Brunch ($16+) comes in two variations: Naughty (Chilaquiles and a mezcal bloody mary) or Nice (house bone broth and spinach superfood shake) with your choice of coffee.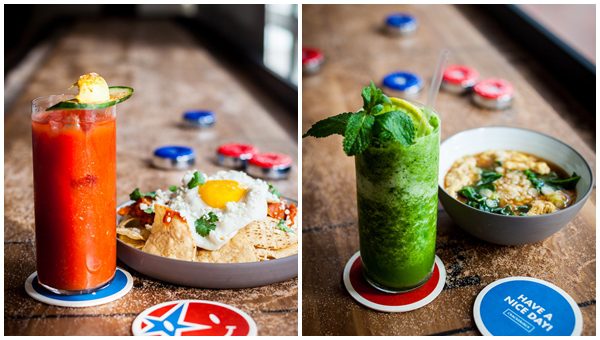 The Crackerjack home-made bone broth with egg stracietella, barley and kale is the ultimate comfort food that will no doubt soothe a hangover, while the virtuous green smoothie will put vitamins back in your body. The Chilaquiles and bloody mary may just be the solution for those who wish to drink it off. Typically served in Mexico for brunch, the tortilla dish is also popular as the last meal or midnight feast in a long wedding party. The hearty combo of carbs and protein will line weary stomachs, preparing you for the next night of Cocktail Festival shenanigans. Crackerjack will also be ready to revive you with a team of massage therapists on standby to rub that sore head throughout the week.
While you're recovering, you may also try the Kopi Ol' Fashioned by Greg at Crackerjack which is in the running for Singapore Next Top Cocktail, Kopi Ol' Fashioned will be available at the SGCF Festival Village from 16 – 19 March, 2017.
Crackerjack's recovery brunches are available daily from 16 – 22 March, 2017 (8am-3pm).
Check our Crackkerjack Singapore Cocktail Festival specials at 43 Tanjong Pagar Road, Singapore 088464. For more details please visit: www.crackerjack.sg