Sanrio Celebrates it's 60th Annivesary with Gudetama and Bad Badz-Maru at Kumoya's Pop-up Café
CONTENT: Michelle Ng
IMAGE: Luxe Multimedia

The celebration continues over at Kumoya as they welcome the double trouble duo Gudetama and Bad badtz-maru! The adorably cute and lazy characters are perfect for each other, with the surly, scowling penguin and Gude serving up delicious meals.

Contrary to the sugary sweetness of most of Sanrio's other characters, Gudetama and Bad badtz-maru is a refreshing change, and even adopts our local mannerisms with a SingapoLAH! theme. Catch them spouting Singlish phrases in their signature moods as they take on the iconic tourist spots in the limited edition menu!
The mains and desserts are the highlights, with the menu seeing favourite dishes and new ones all designed by LittleMissBento. The Relax Lah! Japanese Curry Seafood Rice sees Bad badtz-maru getting up close and personal with Gudetama in his omelette form in a bed of comforting curry and cheese. Another dish that is worth trying is the Shiok Shiok Seafood Aglio Olio Pasta, that sails onto your table in a Singapore River bumboat. The pasta also comes in a vegetarian version, and you can even customise it to your preferred spice level.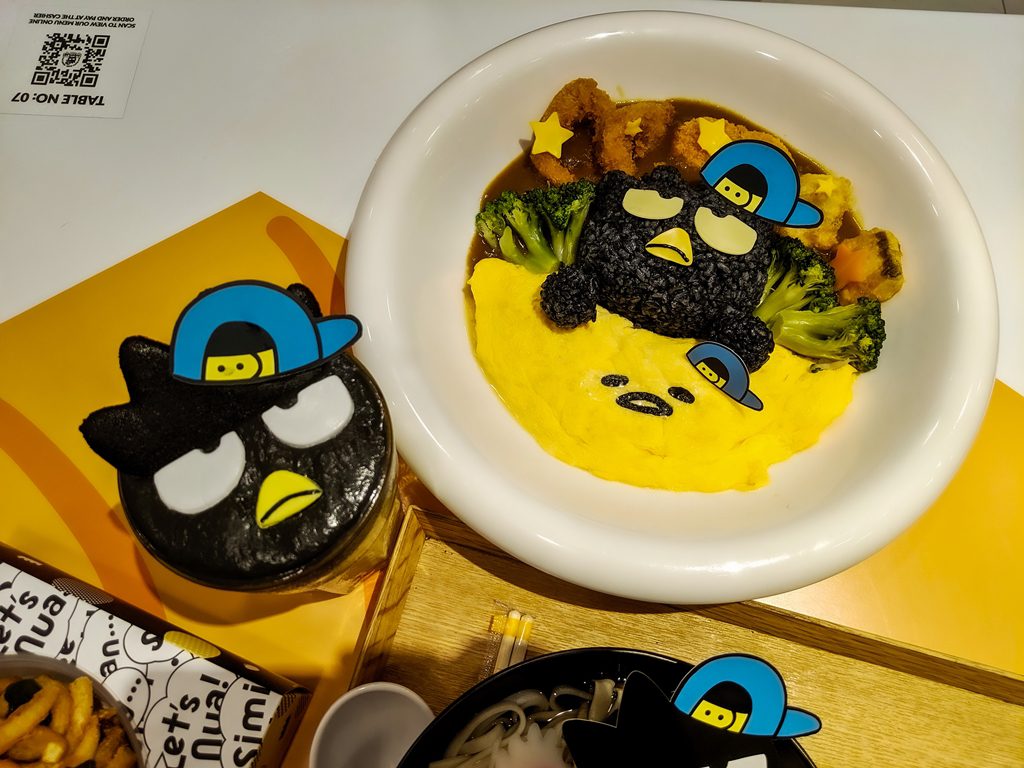 And then there are the desserts. You no longer have to choose between pancakes and waffles as both make an appearance on the menu. The Super Nua Charcoal Pancakes and the Charcoal Waffles With Attitude? Simi Sia? comes with fresh fruits, whipped cream, plenty of mangoes, and Kumoya's signature soft serve. Kids will also love the Lazy Chocolate Ball of Surprise, where you can use a hammer to break open a choco ball full of cereal, cookies, and fruits.
If you're there to snack, try out their share plates, which has a selection of fries, fried chicken, and wedges in cute themed cutouts. The Curry Fries With Curry Mayo dip makes a long-awaited return, and the crunchy fries makes for a good snack or even a starter.

For those who want a souvenir, every drink comes with a specially designed coaster that you can bring home. Joining the crowd pleasers of iced lattes and hot chocolates is the Yah Lah! Mango Frappe!, a sweet, thick concoction of fruity goodness.

But that's not all – Kumoya will also be seeing a new guest from Sanrio every month till December. August just happens to be the playful frog, Keroppi's birthday, with a special kawaii matcha cake added to the menu just for the month. Each month's Friend Of The Month will only be revealed at the start of the month, so do check back to see if your favourite character is making an appearance.

Do note that the café doesn't take reservations, and you should be prepared to wait a bit during peak timings.

The Gudetama x Bad badz-maru Café pop-up is ongoing from today till end December 2020

Kumoya
8 Jln Klapa, Singapore 199320.