SKIRT x Auchentosan Presents an Exclusive Whisky Pairing Experience
CONTENT: Andrew Kho
IMAGES: Nicholas Lau for Luxe Multimedia
SKIRT is presenting a spread of modern European-Asian twist paired with the renowned triple distilled whisky Auchentosan from 20-29 September 2018.
Curated by W Singapore's Culinary Director, Justin Dingle-Garciyya, the Four-course set menu features unique dishes specially created one-off to pair with each malt.
The dinner kicks off with a welcome drink called Bacon Fashionable – a Bak-kwa (Chinese salty-sweet dried meat ) infused Auchentosan American Oaks, Maple and Old Fashion Bitters.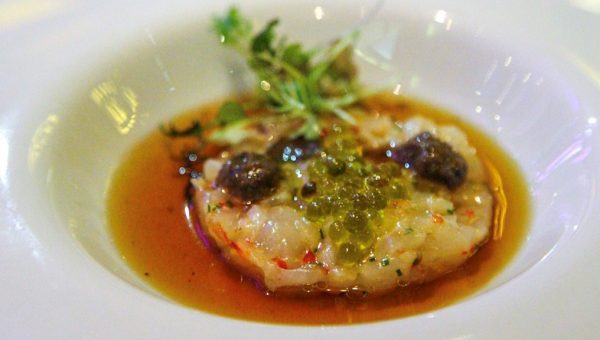 Start off your meal with the Argentina Wild Ted Prawn Tartare with truffle, tomato water, and basil caviar. Taste the prawn at its freshest with all the flavours locked in into the whole piece of tartare.
This dish is suggested paired with Auchentosan 12 Years, Peach Bitters
Second course is the Cape Grim Smoked Beef Tongue with balsamic pearl onion, Daikon (white radish), dehydrated capers and Sauce Verte ( green sauce made from herbs). This is surprisingly our favourite course in this meal. The beef tongue was cooked perfectly that the meat is so tender and bursting with flavour. One wouldn't have guessed it is a beef tongue without someone telling them, it tasted just like a diced steak.
This dish is suggested paired with Auchentosan 18 Years, Minty Apple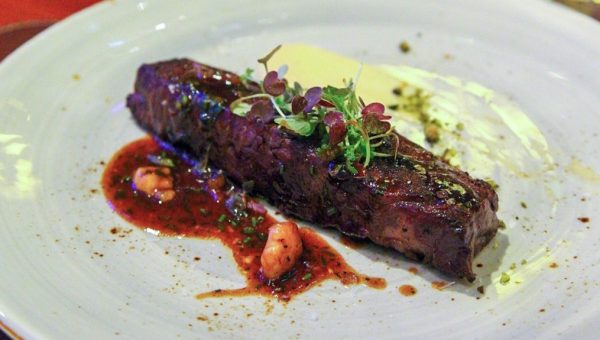 Next is the main course, American Oak-Dry Aged Sher Wagyu Striploin MS4-5 served with Potato Gratin, Kimchi Slaw and Boderlaise on the side. The beef comes with a marble score of 4/5 which means that the wagyu beef is marbled with light streaks of white fat with a possibility of prominent fat webbing. with its soft texture, buttery bite and mouth-watering taste, this is considered a high quality of eating experience.
This dish is suggested paired with Auchentosan Virgin Oak, Whiskey Barrel-Aged Bitters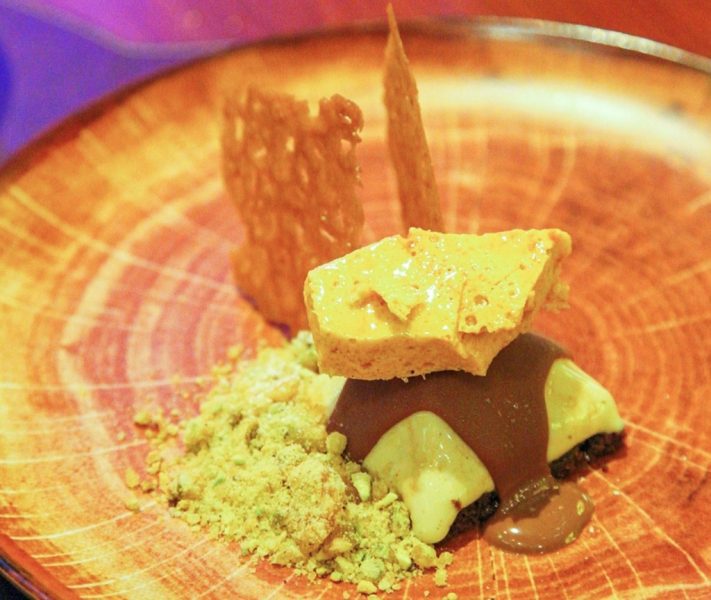 End your meal with a Golden Gay Time – dulce de leche ice cream with honeycomb. Dulce de Leche is prepared by simmering milk and sugar for a long time and is the base of many desserts in Latin America. One can't go wrong serving Dulce de Leche as an ending to any meals as it helps to clean your palette from all the flavours inside your mouth. The honeycomb adds the crunch and balances the sweetness coming from the ice cream. We loved this ending!
This dish is suggested paired with Auchentosan Threewood, Xocolatl Mole Bitters
The W Singapore x Auchentosan Aged to Perfection Dinner is priced at S$118++ (Food) or S$158++ (whisky pairing), available from 20 September till 29 September 2018 at SKIRT, W Singapore – Sentosa Cove. Reservations is highly recommended
For reservations please email: skirt.singapore@whotels.com or call: +65 6808 7278