Taiwanese Freshly Bubble Tea Chain CHICHA San Chen (吃茶三千) opens Its Flagship Store in Singapore!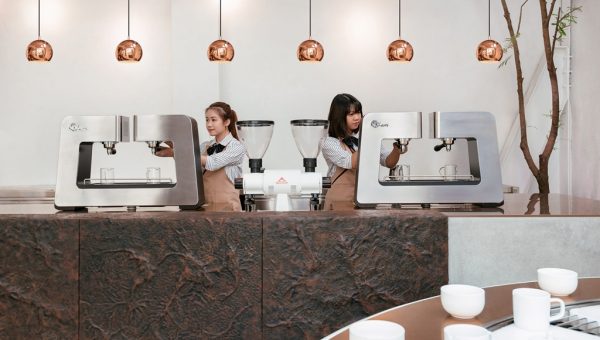 The much-anticipated CHICHA San Chen (吃茶三千) is finally in Singapore, the popular Bubble Tea chain from Taiwan opened its doors to the public last 14 May 2019 at 313 Somerset.
The tea boutique delves into the delicate nuances of Taiwanese tea, tantalizing your taste buds with a fresh brew that comes to life in a modern interpretation; artisanal flavours and toppings deftly blended in a concoction of your own.
Originated from Taichung, CHICHA San Chen prides itself on using only high-quality ingredients and tea leaves harvested from the local farms, to emulate the authentic bubble tea experience akin to having it in Taiwan. Melding Taiwanese tea culture with technological innovation, each order is individually prepared on the spot using a patented, second-generation Teapresso machine LION II to brew the tea leaves – all within one minute. Led by a team of trained staff, the tea base is consistent in its quality, yet unique in its aromatic and flavour profile, as the water temperature, time and tea-to-water ratio is set accordingly to the different tea varieties.
There are a total of six tea varieties available at CHICHA San Chen, from classic favourites Green tea and Black tea, to Cassia Black tea, High Mountain Pouchong tea, Osmanthus Oolong tea and Dong Ding Oolong tea, which was awarded three golden stars – the top accolade for superior taste and quality – by the prestigious International Taste and Quality Institute (iTQi).
Once you have selected their tea base, you can choose from an array of flavours to layer the fresh brew with a tropical note, a hint of honey, or an extra creamy kick. Each CHICHA San Chen creation is then topped with a choice of coconut jelly or the perfectly chewy, caramelflavoured bubbles which are 1.5 times bigger than usual; the bubbles are cooked and served in batches every three hours. Those looking for a warm indulgence can also opt for a hot version of the drinks, and customers will be able to select their sugar and ice levels.
The first-of-its-kind in Singapore, is their tea appreciation counter wherein customers get to taste Taiwan's Lishan Qingxin Oolong tea in five different roast levels, CHICHA San Chen also retails a selection of tea varieties available in loose leaf tea cannisters and tea bags to enjoy in the comfort of your home, as well as tea gift sets for that special one.
Ms. Kun Miao Seah, Marketing Manager of franchisee Yu Kee Group said, "We are extremely thrilled to introduce CHICHA San Chen to Singapore as they bring with them a fresh new concept that uses their patented Teapresso machine to serve freshly-brewed-to-order bubble tea. Crafted with high-quality ingredients and tea leaves harvested from their own tea mountains in Taiwan to ensure flavour and quality consistency, CHICHA San Chen makes the pleasures of tea-drinking easily accessible in a modernized experience that satisfies the desire for traditional tea and bubble tea. Instead of just a regular cup of bubble tea that gives you a flavour kick, CHICHA San Chen offers discerning tea lovers a fresh brew with an authentic tea flavour that is tailored specifically to your taste buds."
For more information, visit www.chichasanchen.com.sg.